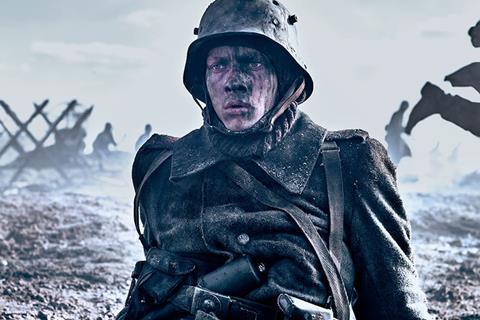 German First World War drama All Quiet On The Western Front leads the nominations for the Bafta Film Awards 2023 with 14 nods, tying for the most ever received by a foreign-language feature.
Scroll down for full list of nominations
Edward Berger's Netflix title secured nominations in all but three categories for which it was eligible including best film, director, supporting actor for Albrecht Schuch, adapted screenplay, film not in the English language, casting, and all eight technical categories.
It is the first film to receive 14 or more Bafta nods since The King's Speech in 2011 and the only other foreign-language feature to ever receive as many nominations is Ang Lee's Crouching Tiger, Hidden Dragon, which went on to win four awards in 2001.
Martin McDonagh's The Banshees Of Inisherin and Everything Everywhere All At Once by Daniel Kwan and Daniel Scheinert both scored 10 nominations, and Baz Luhrmann's biopic Elvis secured nine.
Todd Field's Tár received five nominations while Aftersun, The Batman, Good Luck to You, Leo Grande, Top Gun: Maverick and The Whale each scored four.
Receiving three nominations apiece were Babylon, Empire of Light, Guillermo del Toro's Pinocchio, Living and Triangle of Sadness.
First time nominees feature heavily this year, with 14 of the 24 nominees in the performance categories receiving their first Bafta Film nomination. They include Ana De Armas (Blonde); Angela Bassett (Black Panther: Wakanda Forever) Austin Butler (Elvis), Colin Farrell (The Banshees of Inisherin); Brendan Fraser (The Whale); Paul Mescal (Aftersun), and Ke Huy Quan (Everything Everywhere All At Once).
All six nominees for the outstanding debut by a British writer, director or producer are women. However, all but one of the six nominees for best director are men, with a sole nod for US filmmaker Gina Prince-Bythewood for The Woman King. This is down from three in 2021 and four in 2020, bringing the total number of best director nominations for women to 15, compared to 229 for men.
Netflix leads the way among distributors with 21 due to All Quiet On The Western Front as well as Blonde, Guillermo Del Toro's Pinocchio, The Good Nurse, The Swimmers and The Wonder.
Searchlight and owner Disney ranked second with a combined 19 nominations, buoyed by The Banshees Of Inisherin, while A24 secured 14from Everything Everywhere All At Once and The Whale. Warner Bros reached 13 nods with Elvis and The Batman. Focus Features and owner Universal also secured a combined 13 nominations, led by five nods for Tár. Lionsgate reached 10 with Good Luck To You, Leo Grande, Living and Triangle Of Sadness.
Notable independent distributors include Altitude with one apiece for Blue Jean and documentary All The Beauty And The Bloodshed; Curzon Artificial Eye with two for Irish-language drama The Quiet Girl; and Dogwoof with nominations for documentaries All That Breathes, Fire Of Love and Navalny.
International film platform Mubi secured six from Charlotte Wells' British indie favourite Aftersun and Park Chan-Wook's South Korea drama Decision To Leave, while Amazon just managed one nod for Santiago Mitre's Argentina, 1985.
A total of 45 films were nominated (down from 48 in 2022), plus eight shorts.
The nominations were announced from Bafta's headquarters in London by actors Hayley Atwell and Toheeb Jimoh. This year's Bafta rising star nominees were announced last week.
The Bafta Film Awards ceremony will take place on February 19 at the Southbank Centre's Royal Festival Hall in London, having been held at the Royal Albert Hall for the past five years, and will be hosted by Richard E. Grant for the first time.
As previously announced, the final four categories will be broadcast live on BBC One in the UK for the first time. It has not yet been confirmed which four categories those will be.
The final round of voting opens tomorrow (Jan 20) to determine the winners.
Bafta 2023 film award nominations
Best Film
All Quiet On The Western Front – Malte Grunert
The Banshees Of Inisherin – Graham Broadbent, Pete Czernin, Martin McDonagh
Elvis – Gail Berman, Baz Luhrmann, Catherine Martin, Patrick McCormick, Schuyler Weiss
Everything Everywhere All At Once – Daniel Kwan, Daniel Scheinert, Jonathan Wang
Tár – Todd Field, Scott Lambert, Alexandra Milchan
Outstanding British Film
Aftersun – Charlotte Wells, producer(s) TBC
The Banshees Of Inisherin – Martin McDonagh, Graham Broadbent, Pete Czernin
Brian And Charles – Jim Archer, Rupert Majendie, David Earl, Chris Hayward
Empire Of Light – Sam Mendes, Pippa Harris
Good Luck To You, Leo Grande – Sophie Hyde, Debbie Gray, Adrian Politowski, Katy Brand
Living – Oliver Hermanus, Elizabeth Karlsen, Stephen Woolley, Kazuo Ishiguro
Roald Dahl's Matilda The Musical – Matthew Warchus, Tim Bevan, Eric Fellner, Jon Finn, Luke Kelly, Dennis Kelly
See How They Run – Tom George, Gina Carter, Damian Jones, Mark Chappell
The Swimmers – Sally El Hosaini, producer(s) TBC, Jack Thorne
The Wonder – Sebastián Lelio, Ed Guiney, Juliette Howell, Andrew Lowe, Tessa Ross, Alice Birch, Emma Donoghue
Outstanding Debut By A British Writer, Director Or Producer
Aftersun – Charlotte Wells (writer/director)
Blue Jean – Georgia Oakley (writer/director), Hélène Sifre (producer)
Electric Malady – Marie Lidén (director)
Good Luck To You, Leo Grande – Katy Brand (writer)
Rebellion – Maia Kenworthy, Elena Sánchez Bellot (directors)
Film Not In The English Language
All Quiet On The Western Front – Edward Berger, Malte Grunert
Argentina, 1985 – Santiago Mitre, producer(s) TBC
Corsage – Marie Kreutzer
Decision To Leave – Park Chan-Wook, Ko Dae-Seok
The Quiet Girl – Colm Bairéad, Cleona Ní Chrualaoí
Documentary
All That Breathes – Shaunak Sen, Teddy Leifer, Aman Mann
All The Beauty And The Bloodshed – Laura Poitras, Howard Gertler, Nan Goldin, Yoni Golijov, John Lyons
Fire Of Love – Sara Dosa, Shane Boris, Ina Fichman
Moonage Daydream – Brett Morgan
Navalny – Daniel Roher, Diane Becker, Shane Boris, Melanie Miller, Odessa Rae
Animated Film
Guillermo Del Toro's Pinocchio – Guillermo Del Toro, Mark Gustafson, Gary Ungar, Alex Bulkley
Marcel The Shell With Shoes On – Dean Fleisher Camp, Andrew Goldman, Elisabeth Holm, Caroline Kaplan, Paul Mezey
Puss In Boots: The Last Wish – Joel Crawford, Mark Swift
Turning Red – Domee Shi, Lindsey Collins
Director
All Quiet On The Western Front – Edward Berger
The Banshees Of Inisherin – Martin McDonagh
Decision To Leave – Park Chan-Wook
Everything Everywhere All At Once – Daniel Kwan, Daniel Scheinert
Tár – Todd Field
The Woman King – Gina Prince-Bythewood
Original Screenplay
The Banshees Of Inisherin – Martin McDonagh
Everything Everywhere All At Once – Daniel Kwan, Daniel Scheinert
The Fabelmans – Tony Kushner, Steven Spielberg
Tár – Todd Field
Triangle Of Sadness – Ruben Östlund
Adapted Screenplay
All Quiet On The Western Front – Edward Berger, Lesley Paterson, Ian Stokell
Living – Kazuo Ishiguro
The Quiet Girl – Colm Bairéad
She Said – Rebecca Lenkiewicz
The Whale – Samuel D. Hunter
Leading Actress
Cate Blanchett – Tár
Viola Davis – The Woman King
Danielle Deadwyler – Till
Ana De Armas – Blonde
Emma Thompson – Good Luck To You, Leo Grande
Michelle Yeoh – Everything Everywhere All At Once
Leading Actor
Austin Butler – Elvis
Colin Farrell – The Banshees Of Inisherin
Brendan Fraser – The Whale
Daryl Mccormack – Good Luck To You, Leo Grande
Paul Mescal – Aftersun
Bill Nighy – Living
Supporting Actress
Angela Bassett – Black Panther: Wakanda Forever
Hong Chau – The Whale
Kerry Condon – The Banshees Of Inisherin
Dolly De Leon – Triangle Of Sadness
Jamie Lee Curtis – Everything Everywhere All At Once
Carey Mulligan – She Said
Supporting Actor
Brendan Gleeson – The Banshees Of Inisherin
Barry Keoghan – The Banshees Of Inisherin
Ke Huy Quan – Everything Everywhere All At Once
Eddie Redmayne – The Good Nurse
Albrecht Schuch – All Quiet On The Western Front
Micheal Ward – Empire Of Light
Original Score
All Quiet On The Western Front – Volker Bertelmann
Babylon – Justin Hurwitz
The Banshees Of Inisherin – Carter Burwell
Everything Everywhere All At Once – Son Lux
Guillermo Del Toro's Pinocchio – Alexandre Desplat
Casting
Aftersun – Lucy Pardee
All Quiet On The Western Front – Simone Bär
Elvis – Nikki Barrett, Denise Chamian
Everything Everywhere All At Once – Sarah Halley Finn
Triangle Of Sadness – Pauline Hansson
Cinematography
All Quiet On The Western Front – James Friend
The Batman – Greig Fraser
Elvis – Mandy Walker
Empire Of Light – Roger Deakins
Top Gun: Maverick – Claudio Miranda
Editing
All Quiet On The Western Front – Sven Budelmann
The Banshees Of Inisherin – Mikkel E. G. Nielsen
Elvis – Jonathan Redmond, Matt Villa
Everything Everywhere All At Once – Paul Rogers
Top Gun: Maverick – Eddie Hamilton
Production Design
All Quiet On The Western Front – Christian M. Goldbeck, Ernestine Hipper
Babylon – Florencia Martin, Anthony Carlino
The Batman – James Chinlund, Lee Sandales
Elvis – Catherine Martin, Karen Murphy, Bev Dunn
Guillermo Del Toro's Pinocchio – Curt Enderle, Guy Davis
Costume Design
All Quiet On The Western Front – Lisy Christl
Amsterdam – J.R. Hawbaker, Albert Wolsky
Babylon – Mary Zophres
Elvis – Catherine Martin
Mrs. Harris Goes To Paris – Jenny Beavan
Make Up & Hair
All Quiet On The Western Front – Heike Merker
The Batman – Naomi Donne, Mike Marino, Zoe Tahir
Elvis – Jason Baird, Mark Coulier, Louise Coulston, Shane Thomas
Roald Dahl's Matilda The Musical – Naomi Donne, Barrie Gower, Sharon Martin
The Whale – Anne Marie Bradley, Judy Chin, Adrien Morot
Sound
All Quiet On The Western Front – Lars Ginzsel, Frank Kruse, Viktor Prášil, Markus Stemler
Avatar: The Way Of Water – Christopher Boyes, Michael Hedges, Julian Howarth, Gary Summers, Gwendolyn Yates Whittle
Elvis – Michael Keller, David Lee, Andy Nelson, Wayne Pashley
Tár – Deb Adair, Stephen Griffiths, Andy Shelley, Steve Single, Roland Winke
Top Gun: Maverick – Chris Burdon, James H. Mather, Al Nelson, Mark Taylor, Mark Weingarten
Special Visual Effects
All Quiet On The Western Front – Markus Frank, Kamil Jafar, Viktor Müller, Frank Petzold
Avatar: The Way Of Water – Richard Baneham, Daniel Barrett, Joe Letteri, Eric Saindon
The Batman – Russell Earl, Dan Lemmon, Anders Langlands, Dominic Tuohy
Everything Everywhere All At Once – Benjamin Brewer, Ethan Feldbau, Jonathan Kombrinck, Zak Stoltz
Top Gun: Maverick – Seth Hill, Scott R. Fisher, Bryan Litson, Ryan Tudhope
British Short Animation
The Boy, The Mole, The Fox And The Horse – Peter Baynton, Charlie Mackesy, Cara Speller, Hannah Minghella
Middle Watch – John Stevenson, Aiesha Penwarden, Giles Healy
Your Mountain Is Waiting – Hannah Jacobs, Zoe Muslim, Harriet Gillian
British Short Film
The Ballad Of Olive Morris – Alex Kayode-Kay
Bazigaga – Jo Ingabire Moys, Stephanie Charmail
Bus Girl – Jessica Henwick, Louise Palmkvist Hansen
A Drifting Up – Jacob Lee
An Irish Goodbye – Tom Berkeley, Ross White
Rising Star Award (public vote)
Aimee Lou Wood
Daryl Mccormack
Emma Mackey
Naomi Ackie
Sheila Atim