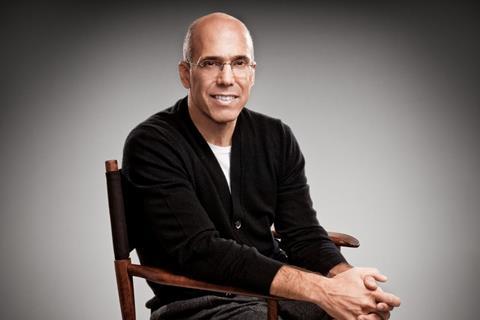 Short-form content platform Quibi launches in North America with 50 shows on Monday April 6. Quibi (a contraction of 'quick bites') was founded by Jeffrey Katzenberg who also serves as chairman, while former eBay and Hewlett Packard executive Meg Whitman is CEO.
Katzenberg has spent over 40 years in Hollywood. He co-founded DreamWorks and led DreamWorks Animation, and served as chairman of Walt Disney Studios, and president of production at Paramount. He is renowned for his willingness to take risks and his near-religious zeal for new technologies. Quibi sees him tap into booming mobile phone usage with a mobile-only app containing serialised scripted, unscripted, and news and information shows of up to 10 minutes each.
Content creators and on-screen talent working with Quibi on the so-called 'Movies In Chapters' scripted shows include Antoine Fuqua (#FreeRayshawn), Sophie Turner (Survive), and Christoph Waltz (Most Dangerous Game). Steven Spielberg is working on a horror show that can only be activated after dark. The Daily Essentials news and information line-up includes daily bulletin Around The World By BBC News, which will be produced in London.
The service is utilising a proprietary technology called Turnstyle that allows viewers to switch the screen orientation and enjoy full-screen in the vertical alignment. The company plans to harness the unique qualities and experience of the mobile phone in other ways on select shows.
Katzenberg and Whitman have raised $1.75bn from two rounds of funding. Lead backers include Alibaba and Madrone Capital, with each of the Hollywood studios owning a small piece of Quibi. The platform pays to produce content which it then licenses for a limited time from the creators, who eventually get back all the rights. Quibi says it has no plans to own content.
The platform will launch in the US and Canada and be available on Apple's App Store or Google Play in 30 countries. There is a 90-day free trial, after which time the service will cost $4.99 with short ads and $7.99 without.
One week ahead of the launch, Katzenberg talks to Screen about his plans to eventually create local-language content for Quibi, why he believes content creators have responded to the challenge of making short-form content, and why the business model allows them to own their content.
Quibi is about to launch into a world in lockdown because of the coronavirus pandemic. This could be a great time to launch a fresh product to a captive audience. Are you revising your forecasts?
It hasn't changed our forecasts but we wanted this to move forward and we made a decision to do something that is different, to embrace that we are in a distressing time. We went from offering a two-week free trial to 90 days. The decision was to give it to everybody free for three months and let them have fun with it. In the long run it will be good for our brand.
And then on the other side of that we'll figure out how to get it into paid subscribers. People talk how many subscribers will we get on day one etc, but we're in this for the long run.
With how much content are you launching?
Fifty shows and 300 episodes in week one and then another seven new shows and 225 episodes in week two. After that we'll be about 30 new episodes every day.
Where are you launching?
We're launching in North America but it's available in 30 countries. [For example] in the UK, you will be able to get Quibi through iOS or Android on the Apple Store and Google Play.
I understand your target demographic is 25-35?
That's the bullseye, but it's really 18 to 44 so that slightly more adult audience is a sector of that.
Do you see Quibi as complimentary to people's existing entertainment consumption or, given the rise of mobile use, do you see it becoming much more dominant?
I think that it's incremental. I don't think we're going to take any market share from linear long-form television, no matter what device you're getting in on. Our content is made exclusively for the phone app with new technology that makes it a beautiful watching experience. It's not just the storytelling, but a visual image that makes the phone suddenly become a beautiful device in which you're not looking at a postage stamp or something that's cut off on the sides. There is a real piece of innovation here.
Those tools in the hands of a new of a set of storytellers, telling their stories in a new form, is the convergence here.
What people are doing today on YouTube and Instagram Live and Facebook and TikTok and Snap – that's all great stuff, there's nothing wrong with that, I'm a fan of it. I literally have my phone here today and was messing around with it on TikTok. It's all good, just different.
Verizon's mobile-oriented entertainment app go90 didn't work – what makes you confident this will take off?
They weren't doing what we're doing. No disrespect to Verizon and go90 but that's like comparing apples and submarines. go90 was trying to do an upscale version of YouTube. Well, YouTube didn't need an upscale version of itself, it was fine.
There's nothing that you [will have] watched [on Quibi], whether you liked it or not, that you can say, 'You could see that on YouTube.'
Let's talk about the model. Bite-sized scripted and unscripted content no longer than 10 minutes that is serialised. Quibi pays for the content and licenses it from the producer, studio or some other creator.
For a limited time, and the upside is theirs.
What else do the content creators and suppliers get?
They own the merchandising rights, they own the music rights, licencing rights, theatre rights. They own all ancillary rights from day one and can exploit them.
Do you see Quibi owning content in future?
No. I don't want to compete with my suppliers. They're happy. The greatest thing in the world that could happen for us is if they get rich. If they get rich, it means it works. If it works, we have a hit – Quibi is a success. I will never, ever begrudge anybody from getting rich off of the concept that they made from Quibi. I pray for it.
What are your international local-language plans?
We just want to get it right here [in North America] and then the next thing up will be quickly to pivot globally. We have global rights to all our content, particularly in terms of Daily Essentials, which is a very huge part of our content.
All of those will have to be bespoke, made in each country. In the UK [for example] we will do sports, weather, entertainment news, gossip news. All of those shows we will make locally for each country.
Is there a timeline for Quibi to engage in local-language content?
As fast as we can. You've got to do it right. The one rule that has never failed me – not yet, anyway – is when you have really good content, it works. Maybe it doesn't work on day one or week one or month one, but it will work, they will find it. And they will reward us. I've never, ever had content that was really good that didn't work.
Are you in talks with local-language content creators yet?
Too soon. You've got to get this right. Right now let's just nail it here. We're not going to get it all right, right out of the box. We're starting the conversation and we're going to find in two to four months what people are gravitating to and what they're talking about and what goes viral. And you know, that's the exciting part of it. There's 50 shows and I have the ones that I'm betting on will be the most successful.
Which ones are they?
I'm not telling you. We're having a contest within the company in which everybody gets to pick their five.I have spent my entire career in which my boss has always been the audience, and the audience never, ever misleads you. They always speak truth and once that audience starts talking to us, we will know exactly what we need to do to be in service of them.
Your content owners can take it back after two years and repurpose the content as a feature if they want to. Are they excited by that, after it will have aired in short-form format?
Think about it. We've been doing it for 100 years. These are not all brilliant ideas of mine. You put a movie in a movie theatre and what happens after it's played in a movie theatre? It will go on home video and then cable, then broadcast TV, and then it goes into a library. And we're still watching this stuff.
I'm not that smart. I've just seen things that have worked time and time again, and taken old science and applied it in a new way. I've been doing this long enough to have seen things that seem like they're new today, but they're not.
When I was growing up in the business as a young kid in the 70s and 80s, the greatest successes, the greatest fortunes that were made in the entertainment business were by TV producers, showrunners. Why? Because they licenced their show to network broadcasters who were not allowed by regulation to have any financial interest in their primetime schedules. It was called the Financial Interest and Syndication Rules [Fin-Syn]. It sun-setted in the 90s, but in the 70s and 80s by federal regulation, they couldn't own any. So Happy Days, Laverne & Shirley, I Love Lucy, Mash, Seinfeldon and on and on, the biggest Aaron Spelling, Norman Lear, Jim Brooks – they made these giant fortunes because they owned their IP and when something was successful on broadcast, they owned the future windows on it.
We've created what will be the next generation of syndication of library. But we're letting the IP owners, the creators, the studios, the producers, own their content. There's no risk because we paid for it, we paid the cost of making it and we took the downside out of it.
We gave them a fantastic upside, and most of all a creative challenge that made them want to try it. It's in the nature of who the people are that come to this town to do it. They're risk takers. You don't come to Hollywood unless you're a risk-taker: you're prepared to start in the mailroom and claw your way up.
We've all done it. I did. I was Barry Diller's gopher. I was his PA.
What gave you the initial idea for Quibi?
The very first time I got interested in this was 1999. Steven Spielberg, Ron Howard and Brian Grazer and I started a little company called Pop.com and the idea was to make short comedy videos for internet when the internet was just getting going. That didn't work out very well.[the platform fizzled out before launch]. But it was the first time I started playing with short-form.
Once YouTube came along I was pretty fascinated by it. Google bought it and invested quite a bit of money and also invested money in up-and-coming creators and somewhere in there I met Brian Robbins, who'd founded a company called Awesomeness TV. I had known Brian a little bit and watched how he was bringing a whole different level of storytelling to the platform with this sort of 'chapter-ised', bite-sized storytelling. I consider him my Yoda and he was the one that really showed me how this could work.
Dan Brown [author of The Da Vinci Code] was quite an influence on me. He did a brilliant job of telling a big story in small chapters. It was a combination of those things.
[While at DreamWorks Animation] I bought Brian Robbins' company in 2013 and gave him a lot of financial resources to build out and he was quite an incredible success. When I sold DreamWorks about three or so years ago I got really serious about this and noticed these trends that are so powerfully moving towards what we're wanting to do.
I always love that Wayne Gretzky line – 'You've got to skate to where the hockey puck is going' – and I think that's what we've done. I think we skated to where the hockey puck is arriving, if not already arrived, which is several billion people watching two billion hours of video content every day, on the go on the phone.
The idea you could bring them a super-premium [platform] with the best and brightest storytelling talent in Hollywood practising their craft in this new form and format is kind of how it came together.
What were those early conversations like with content creators? Did they need much persuading to work in this new format?
Maybe it's because I've spent my entire life in this particular pond with these fish. I know how they move and I understand them. We're all storytellers: movie storytellers, animation storytellers, comedy storytellers, TV storytellers, Broadway storytellers… they're all entrepreneurs.
Here's what a storyteller does: They have an idea and it's a blank sheet, there's nothing there. Somebody has to sit down and actually write that idea. And then when they have that idea in a form that can be presented to others, they have to run around and get the money to make it, then they have to get the talent to help them make it both in front of and behind the camera. And then when they make it, they actually have to go market it and they have to go find customers.
How is that different from any start-up that we've heard about in the last 25 years? You're coming to that talent with a big idea and a set of new tools to do it in a way that is not just different and unique and new and challenging in terms of storytelling, but also in the way in which you shoot it. And I just have to say, there isn't anybody that didn't go, 'Well, that's a challenge, that's exciting, let me go [make it].'
Then we created a business model for them that gave them such fantastic incentive beyond anything that exists anywhere else in Hollywood today, that the combination of being able to go do a new type of storytelling with a beautiful set of new paintbrushes that we gave them, and then give them the reward that in success so the fruits of their success would go back to them. Who would say no? Nobody did.
Has coronavirus halted any Quibi productions?
We have three that were actually in the middle of production. Two were animated and one was actually about halfway done so we are able to finish off the first half of that. We had one movie that was shooting in Los Angeles called Swimming With Sharks and we shut that down. We've been paying the crew and we'll start it back up as soon as the all-clear sign is there.
We had about three or four that were getting ready to shoot in the next weeks, but we were caught minimally. Fortunately we had actually done a lot of pre-planning. We had anticipated that there might be a writers' strike in May, so we had accelerated a lot of our production to get done before May 1. Based on what we have either completed or have in the pipe and will get completed or have in post-production, we will have enough content to take us into October /November, maybe as long as Thanksgiving.