Dir. Martin McDonagh, UK/Belgium, 107mins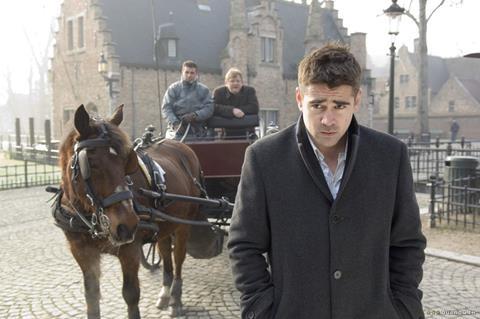 In Bruges wrings yet another movie out of the hit man comedy-of-violence genre, as two Irish professional killers lie low in the immaculate medieval Belgian town after a botched job, and the violence that they are fleeing follows them there. Playwright Martin McDonagh's debut feature of his own script shows still-tentative cinematic skills, yet his flair for dialogue and inanity delivers the laughs as the bodies hit the cobblestones.
The playwright's loyal stage audience (he was nominated for both Olivier and Tony awards) will turn out for In Bruges in English-speaking countries, where his plays have been huge hits, and beyond. A more cinephile audience will also have been intrigued by his Oscar win for the short film Six Shooter in 2004.
Pairing brash, surly Colin Farrell in the fugitive duo with gentle, fatherly Brendan Gleeson may help mobilize Farrell's fans worldwide. Scenes of canals and architecture and goldish-brown interiors might even draw in the travelogue crowd. The film could also have an extended novelty shelf life as McDonagh's first feature and as an improbable look at Bruges. Breakout success is unlikely, however.
As Ray (Farrell) and Ken (Gleeson) cool their heels in a Bruges hotel, flashbacks show Ray, in his first hit — on a priest - killing a child in the collateral damage. Mentor and youth take in the Belgian sites - Gleeson with intense interest, Farrell begrudgingly - as they await further orders and Ray stews with guilt. Soon Ray meets Chloe (Clemence Poesy), a drug-dealing coquette supplying the cast of a film shooting there, in which Jordan Prentice is a dope-addled actor. The dwarf actor triggers a torrent of politically incorrect jokes from Ray — a feast for a famously irreverent writer like McDonagh.
McDonagh has packed his script with quirky characters - no surprise to those who know his plays like The Beauty Queenof Leenane and The Pillowman — including the hit men's boss, Harry (Ralph Fiennes), a foul-mouthed violent hood who orders Ken to kill Ray and joins him in Bruges to make sure the death sentence is carried out. The story perks up here, with Ken protecting Ray like a father, and Ray mulling the dishonour of taking an innocent life (also a theme of The Pillowman). The notion of killers anguishing over honour is as improbable as hit men hiding out in Bruges, but it darkens an already dark story. Amid the hand-wringing, odd characters move in and out of the chase, giving the comedy a Big Lebowski ensemble feel in a bizarre landscape populated with freaks.
McDonagh the novice director meanders into his film, as if he has time on his hands to tell his story with images of the two men 'on the town,' as fish out of water. (He was more efficient in his only previous film, the punchy, funny short, Six Shooter which also starred Gleeson) We get mostly atmosphere and two wise guys griping until loutish Harry enters to quicken the pace. When the dialogue takes over, the interplay among characters takes on rhythm and intensity, reminding you that, like it or not, McDonagh is still a man of the stage, and an adept one when crafting drama with the voice.
Stylistically, McDonagh borrows widely. Farrell and Gleeson's father-son buddy relationship finds new oddness in the 'Odd Couple' formula, although much of the time you're thinking of the Coen Brothers, thanks to Eigil Bryld's camera, which finds jewel-like detail in decorated buildings and in lithe prostitutes who cater to Dinklage's odd needs. Michael Carlin's production design adds to that feel. Misty costumed scenes from Prentice's film-within-a-film suggest Fellini. Violent fits from Fiennes and Farrell seem like homages to Tarantino.
No surprise, McDonagh so far shows better instincts for directing actors than for the camera. Gleeson is tender as a culture-loving killer with a paternal duty. Farrell is true to type as he curses beautiful Bruges ('a boring shit-hole') and mocks ubiquitous American tourists, flooring one, who turns out to be Canadian, for objecting to cigarette smoke - 'that's for John Lennon.' Prentice is hilarious, cock-sure in a drug stupor, ringed by whores, as he predicts a global race war.
In Bruges won't win any awards (Sundance openers don't), yet it does make you laugh, and it makes you wonder what might happen when McDonagh's eye catches up with his ear.
Productions Companies/Backers
Blueprint Pictures (UK)
Film Four UK)
Focus Features (USA)
Film4 (UK)
Scion Films Limited (UK)
US Distributor
Focus Features
International Sales
Focus Features
Producers
Graham Broadbent
Peter Czernin
Executive Producer
Jeff Abberley
Julia Blackman
Tessa Ross
Screenplay
Martin McDonagh
Cinematographer
Eigil Bryld
Editor
Jon Gregory
Ian Seymour
Original Music
Carter Burwell
Production Design
Michael Carlin
Main Cast
Colin Farrell
Brendan Gleeson
Ralph Fiennes
Jordan Prentice
Clemence Poesy
Zeljko Ivanek