The Iran protest movement is making Holy Spider — about a real-life serial killer acting with impunity in an Iranian holy city — especially resonant for audiences. Émigré director Ali Abbasi and actress Zar Amir Ebrahimi talk about shining a light on their home country.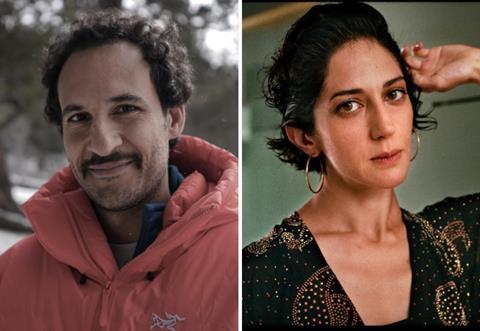 Though it has ended up as Denmark's submission for the international feature film Oscar, Holy Spider marks the first teaming of two Iranian natives now based in Europe.
Director Ali Abbasi (who wrote the script with Afshin Kamran Bahrami) moved to Denmark to study film 20 years ago, made his feature debut with 2016 Berlinale entry Shelley and followed up with 2018's Border, which won the top prize in Cannes' Un Certain Regard strand.
Zar Amir Ebrahimi was a film and TV star in Iran, but left the country in 2008 after becoming the target of a smear campaign. She now lives in Paris, appearing in European films such as Bride Price Vs Democracy and Tomorrow We Are Free. She served as casting director on Holy Spider before taking on the lead female role as well.
Shot in Jordan and based on a real case from the early 2000s, the at times graphic Persian-language thriller follows an Iranian journalist who travels to one of the country's holy cities to investigate a serial killer targeting sex workers, and faces misogyny — and worse — as she tracks the story.
The film, produced by Denmark's Profile Pictures and Germany's One Two Films, and represented for worldwide sales by Wild Bunch International, had its premiere in Competition at Cannes where Ebrahimi won the best actress award. That exposure brought condemnation from the Iranian government — and since the festival, the mounting protests in Iran sparked by the death of Mahsa Amini in the custody of the country's morality police have made Holy Spider look even more like a timely critique of Iranian society.
Screen International: Ali, your first two features were set in Europe with European characters. What made you feel ready to do a film set in Iran with Iranian characters?
Ali Abbasi: I don't see myself as an Iranian filmmaker or a European filmmaker. And I don't feel this is my retrospective look at Iranian society. This film was a difficult proposition to begin with, even without Covid and without the Iranian government opposing it — financing a Farsi-language movie independently outside of Iran is tough. I had to prove I was a credible filmmaker before I could get that kind of money.
For you, Zar, was stepping in as the female lead a big decision?
Zar Amir Ebrahimi: It was, because I knew from the beginning that this was going to be very different from other diaspora movies and movies from inside Iran. When the actress who was supposed to play this role — a very talented young actress still working in Iran — said she couldn't because she was afraid of acting without a hijab, I was really angry with her but at the same time I understood. But I had seen Border and, for me, Ali is a great director, especially in terms of working with actors. So when he asked me to play the character, I didn't ask myself if this would make my life harder.
As an actor, what was it like working with him?
Ebrahimi: He gives you so much space to improvise. In the beginning, all the actors were a bit confused but by the second scene everyone loved this way of working because you discover something new every time.
Abbasi: I like to approach it more as a rock concert than a classical music concert. It's less about virtuosity and control and more about deviating from the plan into interaction with real people in real places.
Ebrahimi: The casting process over three years helped me understand how he works. We took time with every actor, trying to get to know them and then trying improvisation.
Abbasi: Working that way takes a few years, but it makes me feel I'm starting to prep with people before we shoot. There was stuff that came up while improvising during casting that I stole and put in the script.
Since you both live in Europe, did you feel you had creative freedom making the film or did you have to be aware of how this subject matter might be viewed from Iran?
Abbasi: As difficult as it is to make a movie under censorship, it's also difficult to make a movie trying not to be anti-censorship. Sometimes your knee-jerk reaction is, "If they don't want me to show tits, let's show five tits, let's show 20 sex scenes, let's break the taboos." But if I got into that game of doing things I knew would be controversial for the Iranian government and culture, then I would not be doing my job. My job is to make the best movie possible as if all the possibilities in the world exist. It was interesting because almost all the partners involved in the making of the movie at some point floated the idea of censoring it. So this is not only the Iranian government.
Iranian authorities criticised the film's selection for Cannes. Has there been any more reaction since it was picked as Denmark's Oscar submission?
Abbasi: No more than that I'm a sexual pervert and a blasphemer and I'm going to get it like Salman Rushdie got it. It's super-irritating and scary, but there's also a strange satisfaction in it. You get cynical talking about film like it's ice-cream; but then you realise that for some people, for some places in the world, this is a matter of life and death. It can change things; it can create real resistance.
You both recently signed an open letter urging filmmakers to support the current wave of anti-government protests in Iran. Where do you think the country is headed?
Abbasi: This is like May '68 meets the women's movement meets something that should have happened with the revolution in Iran in '79. It's an explosion of people's suppressed demands and ideas. For the first time women are in the forefront, with men supporting them knowing that if women get their rights then men are better off too. I get teary-eyed thinking it's happened in my lifetime. There's no doubt we'll never be in the same place we were two months ago. Where is this going? I think there will come a time when this sort of leaderless, organic movement would need to translate into a political movement with structure and direction.
Is Holy Spider being seen differently since the protests began?
Ebrahimi: Totally. When the movie came out in France after Cannes, I heard lots of critics — especially men — talking about pornography and why there's so much close-up violence. But in the past two months, nobody has commented. At first, this movie seemed really brutal to people; for me it's not brutal because I have [lived] in Iran as a woman and the brutality happens. The images coming out of Iran right now show how brutal it can be. So I think people have just started to understand the movie.
How do you see the future of the Iranian cinema industry, after the crackdown earlier this year and the imprisonment in July of renowned director Jafar Panahi?
Ebrahimi: I worked in Iranian cinema for years. I have many colleagues and friends there and I know that, at the beginning of this movement, if they tried to support it they got a call from the security service saying, "Don't say anything or you're going to end up like Jafar Panahi." I don't know if they are in the streets [protesting] or not. If they are, they are afraid to post even one photo of themselves. And I don't want to judge them. But they haven't really changed their behaviour and they have to come out and support this movement.
Is there any chance Holy Spider will be seen in Iran?
Abbasi: I think it will find its way to Iran soon, one way or another. The reaction we're getting is incredibly positive — positive in a way I never dreamed of. So I think it would find its audience.