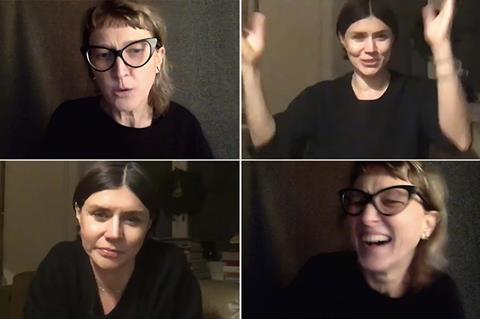 Two highlights of the 2020 Venice Film Festival came from Eastern European directors at the top of their game: Polish director Malgorzata Szumowska's Never Gonna Snow Again and Bosnian director Jasmila Zbanic's Quo Vadis, Aida?. Both films are now in the race for the international feature Oscar and the equivalent category of the Baftas.
Never Gonna Snow Again, which Szumowska made with DoP, co-writer and co-director Michal Englert, stars Ukraine-born, UK-based Alec Utgoff as Zhenia, a masseur from the east who seems to offer magical powers to the rich residents of a gated Polish community. Szumowska's credits include Happy Man, Elles, Body, Mug and her 2019 English-language debut The Other Lamb.
Quo Vadis, Aida? tells the story of the 1995 Srebrenica massacre through the eyes of Aida, played by Jasna Djuricic, a woman torn between her work as a translator for the UN and trying to help her own family survive. Zbanic, who splits her time between Sarajevo and Berlin, previously directed Golden Bear winner Grbavica: The Land Of My Dreams, On The Path, For Those Who Can Tell No Tales and Love Island.
Screen International brought the two directors together for a Zoom conversation in December 2020.
Malgorzata Szumowska: Thank you for your film, Jasmila, I was crying when I watched it. If I could be this character of Aida, I think I would have done the same. She was so strong. Only women can be that strong. Your actress Jasna Djuricic was amazing. Do you talk a lot to your actors, to explain a lot, or do you not use a lot of words?
Jasmila Zbanic: I prepare a lot for my films. I spend a lot of time with the actors reading the script, going over it, and rewriting it. Then I rehearse with them, going through the whole film. We had a very difficult shooting schedule, so for me it was important the actors had time to go through the whole film, and I was directing them even in this rehearsal period. Then during the shoot we tried different things. For our editing, it was important I had a more emotional version and a less emotional version, so we can have this palette to work with.
Also, I want to congratulate you for your film, and for your films. What I like very much about your work is that you are always brave to experiment, to do different kinds of work. There are not many directors who do this. When you are writing the script, do you already know what kind of film language you want to try?
MS: It's a constant searching. Michal [Englert] and I start with one character, in this instance it was the masseur. We always work step-by-step. Even during the shooting, I'm changing the dialogue or other things, but never the whole scene. As a director it's hard for me to work in theory, I have to be on the ground, which means on location and also in the actors' rehearsals. Then I start to build everything. It's always dynamic.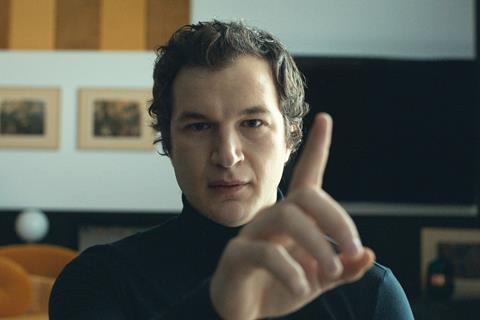 JZ: I'm interested in your process of preparing a film, because you are very quick. How do you know it's time to do another one?
MS: I've done nine films and I feel a bit tired with telling my own stories. I'm ready to have a new adventure, to meet new people, to try something new. Not every film I make has to be a masterpiece; it has to be good, solid, I have to learn something.
My American agent United Talent proposes many English-language scripts, and I reject so many. But I enjoyed The Other Lamb script, so I said, "Why not try to make a film not based on my own script, and treat it more as a job? Let's see how this works." It was a great experience. Now I'm working on my second English-language project.
I like [Roman] Polanski's career model — he tried many different genres. It's also about my nature, I love to learn and learn and learn. But I'm not like [Ingmar] Bergman making three films a year! I'd love to hear about your approach.
JZ: It's interesting to listen to you because I also have a US agency, CAA, and for the first time I'm receiving scripts. As you said, I'm curious, and writing my scripts takes a lot of time and research and I like to do that, but I would love to direct more. I will keep writing but now I have an idea that will take three years. So receiving scripts is very liberating. I don't ever think of a career path or things like that. I'm much more interested in subjects that I want to talk about and people I want to work with. I love good actors so if a script can bring me to fantastic actors, that would be enough for me.
MS: I'm not thinking about the career, I'm thinking about freedom. Freedom would be being in a position that you can do what you want as a director, with whom you want. I would never choose to do a James Bond movie because I don't know how to do that.
JZ: I would love to do a James Bond movie!
MS: You can do James Bond, I can do Marvel… I think the best actors are English-speaking, they are very experienced and some of them [have been] working with the camera since they were teenagers. It's very different than working with European actors who have much more amazing skills from theatre.
JZ: There are fantastic actors that I watch in US films, but with some — especially the younger generation — I just don't read a lot of life experience. I don't find so many interesting faces. There is a certain life experience that you get when you have actors coming from different fields, who were, say, carpenters before.
MS: The US film industry is accepting only pretty faces, and that's a problem. A pretty face is not always interesting. The English-speaking industry really needs directors like us, they need female directors, but experienced ones. So they are calling us right now, that's my feeling — it's a perfect moment for us to try.
Screen: Jasmila, have you shown your film in Bosnia yet?
JZ: We started to show the film in October [last year]. Because the Srebrenica [massacre] is such a heated political topic in my region — Serbian politicians deny the genocide happened, Srebrenica's mayor denied the genocide happened — we knew there would be a lot of heated media articles. So we really wanted to say that film is not to divide people, but to talk about our difficult past in a new way.
We organised the premiere for young people, we didn't invite any politicians or VIPs, just young people from Serbia, Croatia and Bosnia. Almost all of them were born after the genocide, so we said to them, "We want to organise this for you because you are our future. And you have to be free from what happened, you have to be emancipated. You are not guilty and you should not be victimised if you are [a descendant] of these people." I have a feeling they really appreciate this idea because it can be liberating.
In cinemas, reactions are really good, but the Serbian part of Bosnia blocked the film, so we decided to go on VoD. With our first film Grbavica: The Land Of My Dreams, that was also very controversial, and we were not able to show the film. So the pandemic and new technologies have made this possible. VoD is actually destroying censorship in a way.
Screen: Malgorzata, has Never Gonna Snow Again been seen in Poland?
MS: It's a different kind of film, but I must say that it's also touching something that people might not feel comfortable with. It was the same with my previous film Mud. I have my audience, which is more or less 200,000 people in the cinemas — I have my niche and that's good. We haven't had distribution yet for Never Gonna Snow Again, but I was in the national Polish film festival and I was in the competition of 14 films, and our film was completely ignored. It was the same story with Mud. Maybe I'm a bit persona non grata, not for the audience but more for the jury heads and that industry world.
It's a kind of paradox, because there is always a huge conversation about female directors and how we are so important. I was the only female director in that competition. Also I have this kind of outside perspective on my own country. I started to travel in the 1990s with my films — to festivals around the world — and I learned very early that I felt part of European cinema. I think my relationship with my own country is complicated.
Screen: Jasmila, do you feel like you're making films for local as well as international audiences? Do you feel like you're part of a Bosnian film scene?
JZ: Yes, I feel I'm part of the Bosnian film scene. Of course, there were things about being a woman [filmmaker] that were not privileged. Even in our language, we have male and female versions for each profession, and we didn't have the female form for the word 'director' or 'screenwriter'. I insisted on the female form of the words, so there was this struggle to find your place, but I feel very accepted now.
I think I'm making films about subjects that are painful for many people and sometimes they are taboo, sometimes not. Even if people have problems or make threats when I'm preparing the film, at the end I feel they appreciate them. I also live part of the year in Berlin, so I like to be in a country where I am not so well-known. It can be nice to be anonymous in Berlin.
Screen: Do you think the film industry will see a long-term impact from the pandemic?
JZ: I read an interview with Bill Gates saying that until 2022 we won't go back to normal life. I think we need to establish a way of supporting each other and find solidarity, how to overcome all of this mentally, physically, economically. On one hand, we need more content because people are staying at home and they are watching a lot of TV series and films. But on the other hand, filming [during Covid-19] is not so easy. But still it's possible, so I want to be on the optimistic side and say that even more stories will be needed.
MS: I agree. I'm trying to be optimistic about content. There is also hope around the [Covid-19] vaccine. But it won't be 100% like it was before. Travel for every meeting isn't necessary anymore. And it's also good for the planet. Maybe it's going to be a good lesson. I'm in a privileged position because the industry wants me to make content for them. But many friends of mine struggled during the pandemic — theatre actors who are now Uber drivers.
Screen: What gives you hope for the future?
MS: My hope for the future is the fact that I can work. My next project is a very coronavirus-friendly project: two actors on a mountain with me and a DoP. And I have hope that we can stop a little bit of climate change. Also, love. I have people who I love, and who love me. That's my hope.
JZ: One thing that was interesting during the pandemic is that we [were spending time in] the interior of our apartments and also the interior of our souls and bodies. We are with ourselves and we can find many rooms that we didn't explore before.