The directors of The Blue Caftan and Under The Fig Trees — Morocco and Tunisia's entries to this year's Oscars — discuss how the collision of tradition and modernity in their work reflects a region in transition.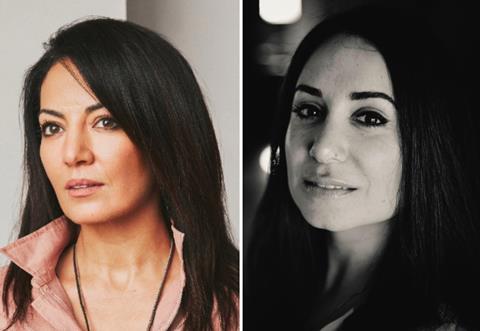 Morocco and Tunisia both made a splash at the 2022 Cannes Film Festival with two well-received films with more in common than the fact both were directed by women. Maryam Touzani's The Blue Caftan (in Un Certain Regard) and Erige Sehiri's Under The Fig Trees (Directors' Fortnight) each create complex portraits of their respective countries, loving but also perceptive and critical about the cultural traditions that are worth maintaining and those that should change with the times. The two directors have a background in documentary filmmaking, an influence that can be seen in their fiction work, and the two films have been submitted by their respective countries for the international feature film award at the Oscars.
The Blue Caftan is Touzani's second feature after 2019's Adam, and centres on a couple living in the medina in Salé, Morocco, where husband Halim (played by Saleh Bakri) is a maalem, a man who makes handmade caftans, and wife Mina (Lubna Azabal) helps him run the store. To assist with this delicate and time-­consuming work, they hire young male apprentice Youssef (Ayoub Missioui), whose presence affects them both — and in particular evokes suppressed desire in Halim.
The film is produced by Touz­ani's husband Nabil Ayouch, whose own films as writer/director include Casablanca Beats and Razzia — both screenplay collaborations with Touzani. The Blue Caftan is a Morocco-France-Belgium-­Denmark co‑production, set for 2023 US release via Strand Releasing, and in the UK via New Wave Films.
Under The Fig Trees is the first fiction feature from French-Tunisian filmmaker Sehiri, following several documentary shorts and her 2018 feature-­length documentary Railway Men. The film takes place over the course of a single day and follows several men and women hired as seasonal workers to harvest figs. They chat, flirt and argue in the shade of the trees.
Sehiri produced Under The Fig Trees alongside Paris-based Didar Domehri (Girls Of The Sun, Bang Gang: A Modern Love Story), and in co-production with Switzerland's Akka Films and Germany's In Good Company. Luxbox handles inter­national sales, with distribution including Jour2Fête for France and Modern Films for the UK.
Screen International brought the two filmmakers together for a Zoom conversation in November.
Screen International: You both have a background in documentary cinema. How did those past experiences influence your work in fiction?
Maryam Touzani: Before documentary, I came from journalism. What pushed me to journalism was my passion for what is human. I loved listening to other people's stories, finding a way to give them a voice. Then there was a turning point in my life, my father's death, which made me want to go towards fiction. I felt the desire and need to explore other things I felt, and I believe I couldn't do that through documentary.
My inspiration comes from the things I feel around me, the places I go, the people I encounter, which work their way into me, collide with each other, and one day find themselves expressed through a story and a film.
Erige Sehiri: I also started as a journalist. Reportage filmmaking led me to documentary filmmaking, and documentary filmmaking was my school. But I knew I wanted to work in fiction. I think there can be a kind of frustration for a journalist, because you're doing news, but behind the news there are faces, voices, stories, an entire sociology, the whole history of a country. With Under The Fig Trees, I could take inspiration from reality — but at the same time, I could direct it all, shape it.
This isn't just a desire to make fiction; it is a desire to say important things about us, about our country, and those things can perhaps be more accessible and reach more people through fiction.
Maryam, what was the writing process like for you on The Blue Caftan?
Touzani: I wrote the film in collaboration with my partner Nabil Ayouch, with whom I share a specific gaze on the world. Writing can be a very solitary experience, and when I write I am in my own bubble. With Nabil, I have the chance to share his gaze, to know his feelings and his opinion. He is there to sometimes push me and can be totally objective. Our collaboration is mostly based on a lot of conversations — about the characters, about what I really want to say…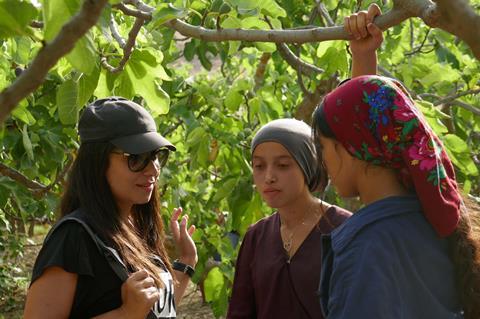 Erige, you wrote Under The Fig Trees together with Peggy Hamann, and also Ghalya Lacroix who worked on several films by Abdellatif Kechiche. What was your collaboration like?
Sehiri: Ghalya is a friend and I told her about the project from the start. She freed me by telling me to just go for it, even though we didn't have any production money in place. I wrote a rough draft, she read it and made some comments. Then during filming, I would send her some scenes and we would rewrite as we went. What I wanted for this film was for it to feel like it wasn't written in advance — to give the feeling we were living this day as if no-one knew what would happen.
Peggy, who comes from theatre, was a very spontaneous collaborator. She ended up taking part in every stage of the production. Their advice was precious, because they helped me define what my intention was with the film, Peggy most of all. Ghalya helped me to construct this ensemble film without a main character. It was a very beautiful collaboration — not very well prepared perhaps, but very instinctive and organic.
Touzani: Same for me. I never know in advance what I will write or what I want to write. For example, on this film, I was location scouting for Adam in the medina when I met a man out of the blue, and this encounter really left a mark. I went on making my previous film, but I kept thinking about him. Until one day, I was in Toronto to present Adam. It was 5am, I was very jet-lagged, I sat down and wrote the long synopsis of the entire film.
I felt like my characters were just there, I hadn't thought them into existence. I didn't know why the hairdresser I'd met in the medina was becoming a maalem in my script. Only later, when I looked back, did I realise why — the caftan goes back to the one my mother gave me. I think we can learn a lot about ourselves through the films we make.
Both of your films explore the relation between tradition and modernity.
Sehiri: The young girls in Under The Fig Trees are profoundly modern in the way they think and even in the way they harvest figs. But there are also the older women, who work there year-round and have remained anchored to a more conservative milieu. It's through the lens of work that I took an interest in the question of generations. And it's those questions about generations that took me to the question of tradition.
Touzani: I think there are traditions that are part of our DNA and which we must protect. At the same time, there are others we must shake up and question. Halim loves the tradition of handmade caftans and tries to keep it alive, even though it is precisely because of tradition that he cannot live openly in society. I think people's relation to the world often lacks nuance, and I wanted to address this complexity by talking about the beautiful aspects of tradition while at the same time touching on things that need to change.
Erige, what was it like to be the producer on your own fiction feature debut? Maryam, what was the production like with Nabil?
Sehiri: I created my production company a few years ago and produced some documentaries, so it felt natural to produce this film. I believed it would be made without financing, otherwise it would take years to get made. I had already met French producer Didar Domehri. I showed her some images of rehearsals and asked her if she would be willing to co-produce the film with me. She replied that this was not the usual way to do things, that a co-producer needs to be here at the start and look for financing, etc. But I warned her the film wouldn't be made that way, that I needed collaborators to be okay with that, and that we would find money during production or post-production. So we entered into a co-production, and as soon as we showed the first images, we started to see some interest in the project. I wrote during and after, throughout the entire process, and we went looking for financing after.
Touzani: Nabil produced my film and we had co-producers outside of Morocco. I was lucky to have a producer who understands the kind of films I want to make. Nabil knows how important it is for me to prepare everything in advance. When I write, I have very specific visual ideas, which means that I need time to find the settings and to design the sets.
Sehiri: I didn't mention Palmyre Badinier, the producer on my feature-­length documentary, who was the first to launch herself into the project. My father and my brother also put money into the film. We also looked for sponsors, and even though we were in the middle of an economic crisis in Tunisia, there were still people who decided to take part. It was beautiful, but it was difficult for me, because I was looking for money while we were making the film. I had to switch hats constantly throughout the day. We weren't always sure we would have money to keep filming.
Touzani: I imagine it must have been hard to switch hats like this constantly, but you succeeded, so congratulations.
Sehiri: Thank you. In any case, I don't think I could have done it differently. You and Nabil trust each other deeply, but I didn't have someone like this with me in Tunisia. All such potential producers would have probably been reasonable people, who would have said, "Okay, but let's apply for financing," or, "Fine, but let's wait a year." In that sense, being able to produce myself was a great freedom.
What is it like to have your film submitted for the best international feature film Oscar?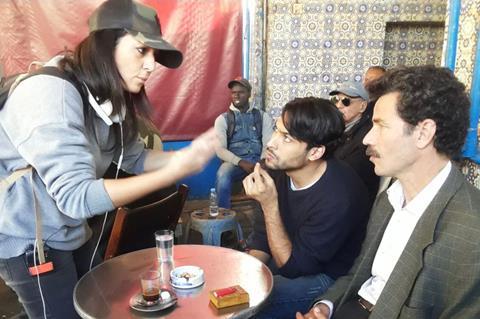 Touzani: There was a time when I didn't even know if the film would ever come out here. That it has been chosen to represent Morocco means a lot, because this is a country where homosexuality is illegal. This selection means a lot to me.
Sehiri: It [The Blue Caftan's selection] means a lot to us, too. It means a lot to Moroccan filmmakers, Arab filmmakers and filmmakers from the region as well. It's important.
It was a bit different for me, because we started so small. It was so beautiful to be selected in Directors' Fortnight, in other festivals, and to have the film so well received. Then to see Tunisia pick a film that is simple and minimalist was great.
However, I didn't understand at first the stakes of the Oscars and how it all takes place. I quickly learned that we weren't simply representing a film, but a country, and there's a lot of work to do. Because I produced the film in Tunisia and am handling its Tunisian release, I haven't yet started working on the Oscars campaign. Your country also needs to be behind you for that. Maybe these are the limits of a system I am discovering right now, with this selection.
But at the end of the day, I know we've managed to do great things with very little, so we will go to the end of it no matter what.
Do you feel like you're part of the local film scene in your country?
Touzani: I am very inspired by Morocco, and I find there are so many stories to tell here. When I make films, I most of all want them to be seen in Morocco. Of course, I want the film to also live elsewhere; what I want to talk about is human nature first of all, and what is human knows no frontiers.
On the other hand, I live in a country where there aren't many cinemas. It's one of the biggest problems for filmmakers here. There's a desire to change this, but it hasn't yet been realised. People do find ways to see films…
Sehiri: Especially in our countries! Sometimes the film is available on DVD while it's still playing cinemas.
Touzani: People can see the films, but there's a whole industry behind it that will feel the consequences of that. In Morocco, we are lucky the Centre Cinématographique Marocain supports projects. But then you usually still need to find co-­productions elsewhere if you want to have a more significant budget.
Sehiri: I didn't grow up here, I was raised in France. Tunisia, my home country where I did not grow up, opened the doors of cinema to me. This small country of modest means has a great cinema history, and the Centre National du Cinéma et de l'Image supports filmmakers. Like in Morocco, however, we have few cinemas, and therefore not a real film industry with its own economy. Yet we still make films, and film­makers and producers here are quite supportive of each other.
It's very moving for me to be representing Tunisia because when you have a dual nationality, you sometimes feel like you belong to neither. I am Tunisian, but the fact I did not grow up here means I always had this doubt, that maybe people thought, "She's French, she's not from here." So this made me feel completely legitimate, in a way.