As wifi becomes increasingly available on airplanes, how is it changing the way we consume films and TV while travelling and what impact is this having on the airline rights business?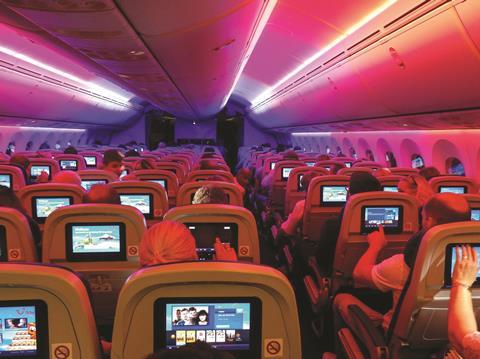 In-flight entertainment has come a long way since 1936. Passengers travelling from Germany to the US on the maiden flight of the Hindenburg airship could stroll between a bar, a smoking room and a piano lounge, and then rest in their cabin during the 61-hour and 28-minute, 4,381-mile transatlantic flight. Cut to 2016, and the bar may still exist, in first class at least, but the air is smoke-free and the pianist is out of a job. Passengers are now boarding flights with their own smartphones and tablets. They are able to access e-mail and social media via in-flight wifi and when they turn to the airline's on-demand entertainment system, they are faced with myriad viewing and listening choices, from the latest Hollywood blockbusters to award-winning independents and TV box sets in multiple languages.
Many airlines provide a mix of in-flight entertainment (IFE) systems. Some aircraft have embedded systems and others are set up with wireless streaming to airline-supplied or passenger-owned devices.
The big challenge facing the airline rights sector is how much the expected jump in wifi capacity and subsequent passenger use could erode content-deal values. Who needs an IFE system when passengers can access their own Netflix account 30,000 feet up in the air? For now, airline rights dealers are bullish.
"While the ability to load up your personal device with personally selected entertainment for a flight is attractive, for the time being these systems are not being programmed with the bigger early-window films," says Cathie Trotta, managing director of airline distribution specialist Penny Black Media, whose acquisitions include Paddington, Stephen Frears' The Program and The Gunman starring Sean Penn. "There is also the issue of limited bandwidth capacity to accommodate an entire cabin."
But as the technology improves, the threat to this business model seems inevitable. "My fear is the business could at some point have airlines provide the pipe to allow passengers to access their own accounts — whether that is Hulu or Netflix — and not provide content to passengers," warns one major airline deal-maker.
While most agree there will be an impact from wifi and an uptick in personal device usage, it is unclear when and just how damaging that impact might be. And if passengers will even want it.
"You do a bit of e-mail at the beginning and end of the flight but there's nothing better than putting on the headphones and settling back to immerse yourself in the latest rom-com at 35,000 feet, in your private space," says an advertising executive who travels regularly for work.
Dedicated distributors
Airline rights are a complicated and detailed part of any film's deal memo. There is no tracking made available of viewership on a plane so sales companies and airline distributors do not see reports on who is watching what. As a rule of thumb, airline deals mirror licensing deals struck for films in international territories. Dedicated airline distributors such as Penny Black, Jaguar Distribution and Entertainment In Motion treat IFE as cinemas in the sky. These distributors buy airline rights on a title-by-title basis, usually as a pre-sale from the international sales agent.
While some studios deal with content service providers such as IFE Services and Spafax — companies that select in-flight entertainment programming for groups of airlines and handle the logistics of its acquisition — others work directly with the airlines. The nature of studio deals with airlines has evolved from traditional per-flight, per-film arrangements into a mix of picture-by-picture deals, output or package deals and annual deals involving library as well as new titles. US rights are typically held back by producers and sold as part of the overall US rights package. Internationally, a project's local producer — usually in markets physically big enough to have long internal flight times such as Australia — can often hold onto the local rights too.
Entertainment In Motion strikes deals for titles with myriad international sales agents including Mister Smith Entertainment and Summit. Owned by US stock-listed giant Global Eagle, Entertainment In Motion struck an exclusive airline distribution deal with STX Entertainment, chaired by former Universal Pictures chief Adam Fogelson, in January this year. The deal aims to build STX brand awareness on flights throughout the world including routes to and from North America and China, two of the biggest markets in the world for studio and independent films and television shows. STX's investors include venture capital firm TPG and Chinese private equity outfit Hony Capital. It has a production deal with Huayi Brothers Media Corp, and is building a library that includes Jonas Cuaron's Desierto, the English-language remake of Argentinian thriller Secret In Their Eyes, starring Nicole Kidman and Chiwetel Ejiofor, and The Gift with Jason Bateman and Rebecca Hall.
"Early release features — movies prior to the home-entertainment window — are still the focus for the in-flight business," says Neal Rothman, president of Entertainment In Motion.
In most cases the airline release window is based on the North American theatrical rollout of the title and will play on airlines typically two-and-a-half to three months afterwards. The growing trend towards day-and-date theatrical and VoD release and direct-to-VoD could further disrupt the business.
"Airlines remain interested in getting early-window feature films, and it is becoming challenging to keep that window," Trotta explains. In order to do so, she says, a film can now show on a plane before its international rollout and alongside a North American cinema release. A recent example was Steven Spielberg's Cold War spy thriller Bridge Of Spies, which screened on international airlines in early December while still in US cinemas. For their part, sources say exhibitors are less worried by shrinkage of airline windows than they are the time between a theatrical release and the pay-TV and home-entertainment debut.
Prices paid for airline rights vary on a title-by-title basis and include the size of the screen and how many long-haul flights the airline has each day, which can determine how many times the film can expect to be screened. "It's all down to negotiating," says Rouzie Hassanova, airline deal specialist at London-based sales agent Mister Smith Entertainment. "If you have a good relationship with the airline-rights company, you can see very good returns if they have good relationships with the airlines."
Mister Smith handles the licensing and servicing of DreamWorks Studios' titles in Europe, Middle East and Africa (EMEA) alongside a roster of hand-picked independent movies such as Equals, starring Kristen Stewart and Nicholas Hoult, and EMEA territories on Spielberg's upcoming adaptation of The BFG.
Genre and content matter too. Profanity and nudity drive prices down and airplane accidents can ground a deal from the outset. Paramount's Flight, starring Denzel Washington as a drunk, drug-taking pilot who successfully lands his airliner amid catastrophic mechanical failure, was booked onto one or two carriers but it was a "difficult sell" in 2012. High-profile acts of terrorism, crashes and mysterious flight disappearances have only increased airline sensitivity about what can be programmed.
"Some genres such as rom-coms and historical Academy Award-winning films over perform," Rothman says. "Violent films do not do well."
However, although all content is edited for all cabins, as overhead systems are gradually replaced with VoD systems, many airlines have loosened the restrictions on the more sensitive, controversial topics and are providing a wider array of film and TV content in plenty of languages. "Airlines really want to keep up with the viewing streams passengers have on the ground," says Rothman.
It is in the air as it is on the ground. Nothing can tear us away from our screens. Keep walking pianists. Ns
Airline distribution specialists
Captive Entertainment
San Diego-based Captive Entertainment, co-founded 11 years ago by former Sony executive Paul Poste, distributes to international and sometimes US airlines, handling two or three titles a month. Captive picks up films individually or in small packages.
Recent acquisitions London Has Fallen, Rams, Macbeth, Dear White People, The Face Of An Angel
Contact Paul Poste, president paul@captive-entertainment.com
CineSky Pictures
Betsy Hamlin co-founded CineSky Pictures in 2005 after stints at Sony Transcom, Disc Marketing (catering exclusively to United Airlines) and Warner Bros. She is well known to international sales agents and attends Cannes, Toronto, Berlin and Sundance film festivals to source international airline film deals.
Recent acquisitions Pride And Prejudice And Zombies, The Runner, The Dressmaker, Dirty Grandpa
Contact Betsy Hamlin, co-owner and president betsy@cineskypics.com
Entertainment In Motion
Entertainment In Motion distributes indie content to airlines, cruise ships and the US military. It provides content to more than 150 airlines around the world, including first-run theatrical films from Hollywood and China, and offers dual-language dubbed and subtitled versions in more than 12 different languages.
Recent acquisitions Desierto, The Gift, Secret In Their Eyes
Contact James MacLean, vice-president, content acquisition and new business +1 310 574 9996
Penny Black Media
Penny Black Media, an independent film distribution company headquartered in southern California, buys airline rights to high-end indie and foreign-language films.
Recent acquisitions Families, Paddington, The Ones Below
Contact Cathie Trotta, managing director ctrotta@pennyblackmedia.com
Terry Steiner International
New York-based Terry Steiner International (TSI) works with film suppliers including The Weinstein Company, MGM and FilmNation and handles US and foreign-language features, documentaries and TV series. Steiner founded TSI in 1993 and likes to maintain a low profile, "working for her clients behind the scenes".
Recent acquisitions Knight Of Cups, Jane Got A Gun, The Witch
Contact Nadja K Rutkowski, senior vice-president, sales, marketing and operations nadja@terrysteiner.com