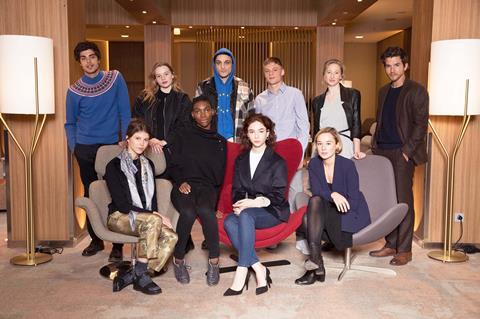 While young acting talent is spotlighted annually by initiatives such as Bafta's Rising Star award and Screen International's Stars of Tomorrow, European Film Promotion's (EFP) Shooting Stars programme is the most visible celebration of next-generation thespian talent allied to an A-list film festival.
Each year, 10 young European actors are awarded the Shooting Star accolade at the Berlinale, a five-person jury having selected the winners from submissions by the 37 EFP member countries. The recipients travel to Berlin to meet producers, casting directors and other film industry figures, and are feted at a ceremony at the Berlinale Palast, which this year takes place on Monday February 19.
This year's line-up includes UK Screen Star Of Tomorrow Michaela Coel, Norway's Thelma star Eili Harboe, Hungary's Réka Tenki, who appeared in last year's Berlin Golden Bear winner On Body And Soul, and Germany's Franz Rogowski, whose credits include Happy End and Victoria, and who stars in Berlinale 2018 selections In The Aisles and Transit.
The award has been running since 1998, and has honoured major stars down the years including Daniel Craig, Rachel Weisz, Alicia Vikander, Matthias Schoenaerts, Carey Mulligan, Cécile de France, Domhnall Gleeson, Maria Valverde, Daniel Brühl, Riz Ahmed and Baltasar Kormakur.
The 2018 Shooting Stars jury comprised former winner Eduardo Noriega, director Mijke de Jong, casting director and ICDN member Nicole Schmied, Croatian producer Ankica Juric Tilic and Norwegian film critic and arts editor Mode Steinkjer.
2018 European Shooting Stars
Alba August - Sweden
Credits: Becoming Astrid (2018), The Rain (2018), A Serious Game (2016)
"Going from one big project to another without having a single day off is really tough. You need time to get into a character, get close to a role. I shot Becoming Astrid and got thrown into The Rain, and my process was the opposite: I played the character, and it's now that I understand the character."
Michaela Coel - UK
Credits: Chewing Gum (2015-2017), Been So Long (2018), Black Mirror (2016-2017)
"My biggest inspiration is injustice. For me, at the crux of every story, of every character worth fictionalising within any genre, is injustice. It's the thing I look for as it helps me empathise: to place my feet in the shoes of a fictional character and do my best to embody them."
Matilda De Angelis - Italy
Credits: Youtopia (2017), Italian Race (2016), Tutto Puo Succedere (2015-2016)
"My biggest challenge was Youtopia, directed by Berardo Carboni, where I play a young woman who decides to sell her virginity online. It was difficult, and I had to get comfortable with my naked body and my deepest fears."
Eili Harboe - Norway
Credits: Thelma (2017), The Wave (2015)
"What's important to me when it comes to acting is that the character is complex and strong, and that the story is meaningful in some way, whether it's a main role or a supporting part. As a young actress, I feel a responsibility to do so. [Also] I really want to keep writing and work as a curator, and maybe put on an exhibition."
Irakli Kvirikadze - Georgia
Credits: Hostages (2017)
"I get inspiration from everything, mostly by absorbing people and myself. I love watching my sister; she is only six and gives me a great deal of truthful emotions — that inspires me a lot. Children are a great source of inspiration."
Franz Rogowski - Germany
Credits: In The Aisles (2018), Transit (2018), Happy End (2017), Victoria (2015)
"What's my biggest inspiration? Silence."
Matteo Simoni - Belgium
Credits: Callboys (2016), Safety First (2013-2014), Marina (2013)
"Every so often, I get this weird feeling that Belgium is maybe a little too small for me. I want to meet new people who amaze me with their imagination, creativity and vision. Directors who challenge and inspire me, and who make me achieve things I didn't know I had in me."
Jonas Smulders - Netherlands
Credits: Broers (2017), The Dinner (2013), Even Cowboys Get To Cry (2013)
"I have the strong ambition to make my own films. I am currently in my first year of the Dutch Film Academy, studying directing. Besides that, I would love to play challenging new roles in all sorts of countries around the world. I want to expand my view and vision about what filmmaking really includes and is about."
Réka Tenki - Hungary
Credits: On Body And Soul (2017), Budapest Noir (2017), The Door (2012)
"After graduating from the University of Theatre and Film Art Budapest, I had to understand what my job really meant. That I had to give a product every evening to the audience. I still enjoy this feeling."
Luna Wedler - Switzerland
Credits: Das Schönste Mädchen Der Welt (2018), Blue My Mind (2017), Flitzer (2017)
"Blue My Mind was my biggest challenge so far. I knew I had to do this role. There were a lot of scenes where I had no idea how to play it. But when we were shooting, soon it wasn't me any more, it was my character. At that point, I felt safe."