Israel continues to punch above its weight internationally but its indie producers feel under pressure at home.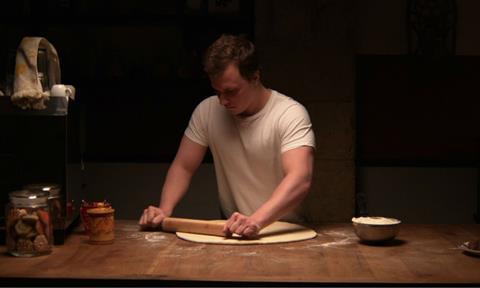 As the producer of Ofir Raul Grazier's buzzed-about The Cakemaker [pictured], veteran Israeli producer Itai Tamir of Tel Aviv-based Laila Films is set for a high-profile Jerusalem Film Festival (JFF) this year. The drama plays in the Israeli feature competition, after a well-received world premiere in competition at Karlovy Vary at the beginning of the month.
He will also present two highly anticipated projects at the rough-cut stage at the festival's Jerusalem Pitch Point event: gritty social drama No Future, set against the backdrop of the hip-hop scene in the southern city of Ashdod, and Red Heifer, which is about a young woman who rebels against her upbringing in a religious settlement.
But speaking on the phone from Karlovy Vary ahead of Jerusalem, Tamir is gloomy. "Like the title, No Future, I don't see a future. It's always been hard but right now it's really, really difficult. Many of my people have left the country," he says, rattling off a list of past collaborators including directors Nony Geffen, Daniel Mann and Grazier, as well as cinematographer Ziv Berkovich, who have recently headed to either the US or Europe.
"I have one more film I'm going to shoot in the fall [Ram Loevy's The Dead Of Jaffa] and then I'll see. I have a number of other projects in development but they haven't won the support of the funds so I can't see how I am going to get them off the ground."
Tamir's pessimism could perhaps be attributed to the fatigue of a veteran independent producer temporarily worn out by one film financing battle
too many — but his comments about a funding squeeze are echoed throughout the industry.
"It's virtually impossible to finance a film fully only out of Israel," says Eitan Mansuri, co-head of Spiro Films, one of the country's most dynamic independent production companies, which currently has an upcoming slate of films by Samuel Maoz, Talya Lavie, Yuval Adler and Nir Bergman.
The country's annual state budget for film of around $20m remains stable, at least until the end of 2018, but producers say there is increasing competition for a piece of the pie meted out by the country's cinema-focused funds led by the Israel Film Fund and the Yehoshua Rabinovich Foundation for the Arts.
"It's a small cake and we have a lot of talent," says Elad Gavish of Marker Films, whose credits include local box-office hit The Last Band In Lebanon and Tali Shalom-Ezer's Princess, which premiered at Sundance in 2015.
Part of the problem, say producers, is the withdrawal of local broadcasters from the feature film financing scene. "They've walked away from local cinema," says Naomi Levari of Black Sheep Productions, which was at Cannes in 2016 with Asaph Polonsky's One Week And A Day screening in Critics' Week.
Mansuri recounts how he went to broadcasters seeking investment for Maoz's upcoming film Foxtrot shortly after the director's Venice Golden Lion win for Lebanon. "We couldn't get any of the Israeli television channels to board his next film," he recalls. "They have all sorts of obligations but I think they prefer to pay a fine than board a film — it costs them less.
"I also get it. They have relatively few slots left in their schedules for cinema and can't broadcast the films until long after they've left cinema screens, by which time everyone's forgotten about them. Why would they make an investment from which they won't see a dime?"
This only major source of non-state film finance is Leon and Moshe Edery's distribution company United King Films, which backs a mixture of art-house and commercial titles.
Its recent investments include Scaffolding, which premiered at Cannes in the ACID section and plays in the Israeli feature competition at JFF, as well as recent local box-office hits such as The Last Band In Lebanon and The Women's Balcony. "It's an option but of course then you lose some control of the back-end," comments one producer.
International focus
Against this backdrop, Israeli producers are increasingly looking outside of the country for finance and production opportunities. Europe has long been a first port of call, although hopes of deepening this relationship were dealt a blow earlier this year by the 11th-hour failure in January of a long-negotiated deal for Israel to join the European Union's Creative Europe funding programme.
The deal fell in the final stages after Benjamin Netanyahu's government refused to sign off on an EU clause excluding Israeli settlements built on Palestinian land in the West Bank from receiving European grants. The EU does not consider these settlements to be part of Israel.
"It would have been a game-changer for the industry if it had gone through," says Katriel Schory, executive director of the Israel Film Fund.
Despite this setback, Europe — and especially France and Germany — remain key sources of co-production finance for many of Israel's independent producers, although there too the situation is getting tougher. "Germany still remains one of the best places for us to find co-production money but they're less interested in seeing films coming out of Israel," says Mansuri. "They've got new interests and there too it's becoming difficult to get TV channels on board."
New sources
Like their cash-strapped counterparts all over the world, Israel's indie producers are, of course, busy looking for other sources of funding and revenue. A number of producers are putting out feelers beyond Europe. Gavish is trying to launch feature and TV projects in the US, where he says he made a number of good contacts when he accompanied Princess to Sundance.
Gal Greenspan of Tel Aviv-based Green Productions is currently exploring the creation of a satellite company in Australia, where he has family ties. Green Productions also runs a successful commercials production arm and has secured EU funding for not-for-profit productions in the past.
Award-winning director-producer Eran Riklis is also mulling the creation of a production operation with an international remit. And several producers who were hitherto associated with cinema are now jumping into TV drama in keeping with a trend that is being seen worldwide.
Mansuri's Spiro Films has just embarked on the production of its first TV drama series, When Heroes Fly, written and directed by Omri Givon, one of the creators of hit Israeli series Hostages. The 10-part series about four Israeli special forces veterans who head to Colombia to track down a missing girlfriend was commissioned by broadcaster Keshet and aimed in the first instance at the Israeli market.
Spiro is also developing two drama series aimed at the international market in-house, including thriller Fertile Crescent, about a man who goes into war-torn Syria in search of his missing sister.
The project, co-produced with Paris-based Haut et Court, won the top prize at the Series Mania Co-production Forum in the French capital in April.
"We are trying to develop series that are completely international so there does not even have to be an Israeli angle or element in there," says Mansuri. "This is the only way forward for us as it is becoming impossible to maintain a production company that does only films."
CROSS CURRENTS
Israel's funding bodies and the projects they finance are facing increased scrutiny from the country's right-leaning administration
Beyond the immediate challenges of financing a feature film out of Israel, the country's filmmaking community is also pondering its longer-term future under the right-leaning government of Benjamin Netanyahu.
Throughout Israel's 70-year history, its filmmakers have never shied away from exploring the Israeli-Palestinian conflict or domestic social ills, alongside making plenty of comedies and feel-good dramas set against the backdrop of the country. But some fear this is changing under the rule of current Israeli culture minister Miri Regev, who believes state funding should not be given to cultural works which are critical of the country.
Early this year, Regev launched an inquiry into the New Fund for Cinema and TV's funding of the documentary Megiddo, about the lives of Palestinians held in Israeli jails, and threatened to withdraw state support for the fund. She has also recently ordered an audit of all the funds, investigating how different film projects came to win state backing. It is expected to be ready in the coming weeks, although it is not clear how its findings will be used.
Under Israeli law, Regev cannot intervene directly in how cinema spending is awarded without changing legislation, and even then she would have to wait until the end of the current spending envelope in 2018 — by which time she may not be culture minister. Producers, however, fear that filmmakers are already self-censoring and avoiding politically sensitive material, especially if they need state backing.
Others fear Regev will try to tinker with the reading committees at the funds involved in the selection of projects. "The political appointment of readers would be a red line," said one producer.
Melanie Goodfellow