A dynamic year at the Italian box office has seen distributors incentivised to release films during the traditional dead zone from May to August.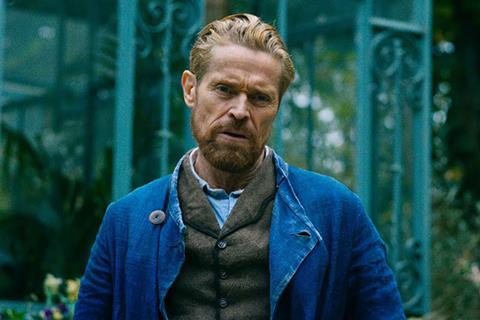 The Italian box office overcame a difficult start to 2019, which saw the first three months down 10% year-on-year. With just one month of the year remaining, total box office was up 13% to $591m for the 11 months to December 1. This equates to 85.2 million tickets sold, a 12.5% rise in admissions compared to the same period last year.
The rebound is due to strong Holly­wood product, while the highest-grossing Italian film so far this year is Medusa's comedy 10 Days Without Mother in 15th place. Market share for local product is 17% to date, compared to 22% in 2018. US films have a whopping 67% share.
Eagle Pictures is the only Italian distributor in the box office top 10 thanks to Green Book slightly overperforming in Italy ($11m). Eagle is also the only local company to have more than one film in the top 25 —it also had Mia And The White Lion ($6.3m) and The Addams Family ($7.1m).
Building on incentives
The real top performer is Lucky Red's At Eternity's Gate, which has grossed $4.4m, making Italy the film's biggest market by far — Julian Schnabel's Vincent van Gogh drama grossed just $2.2m in the US.
Similarly, Warner Bros' The Mule did well in Italy with a gross of $7.2m and Lucky Red's Hustlers made $4.8m, making Italy the third-biggest international market after the UK and Australia.
This year also marked a major breakthrough in Italian release patterns. A joint effort between producers, distributors and exhibitors saw the first year of a three-year initiative to incentivise (using tax breaks) major US and Italian distributors to put out films during the usually semi-closed period for releases between May and August. Historically, no significant Italian films are released over the summer except the occasional major Cannes title and a handful of day-and-date US releases. Italian cinemas either close or show B-movies or even reruns from previous years.
In this first year under the system, the summer box office increased by 40% although, unsurprisingly, most titles underperformed as audience viewing trends were unlikely to be transformed in a year. These included Universal's Fast & Furious Presents: Hobbs & Shaw ($7.1m) and The Secret Life Of Pets 2 ($4.2m), and Disney's Toy Story 4 ($7.03m). The only releases capable of attracting a significant summer audience were Disney's The Lion King (released August 21) and Warner Bros' Spider-Man: Far From Home (July 10) — with $33.4m and $13m respectively.
Cannes title and Oscar hopeful The Traitor grossed $5.3m for 01 Distribution in Italy to make it director Marco Bellocchio's best-performing film in his home territory — and the biggest arthouse film of the year. This was thanks to lead Italian actor Pierfrancesco Favino playing the well-known Mafia figure Tommaso Buscetta.
Pedro Almodovar's Pain & Glory grossed $3.9m for Warner Bros to make it Almodovar's biggest film ever in Italy. Roman Polanski's historical drama An Officer And A Spy ($2.6m) and Bong Joon Ho's Cannes Palme d'Or winner Parasite ($1.7m) also performed well.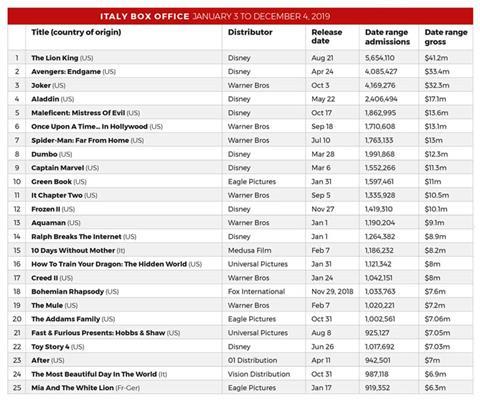 More 2019 box office reports: