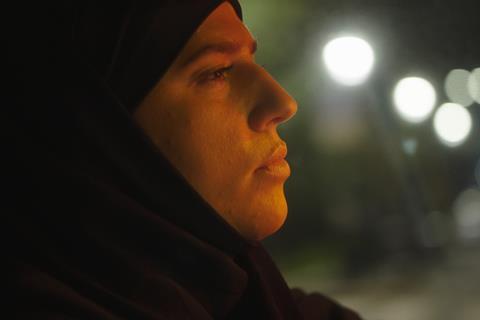 Former French rapper Diam's cut a swathe through France's male-dominated underground rap scene of the 2000s with her feminist and social activist lyrics to become one of the country's most popular mainstream artists.
She found herself in the eye of a media storm and public backlash in 2009 after weekly news magazine Paris Match ran images of her emerging from a mosque in full hijab and robe, following her decision to convert to Islam and withdraw from public life.
The ex-rapper, who was born Mélanie Georgiades to a French mother and Cypriot father, is back in the public eye with her directorial debut Salam The bio-documentary world premiered as a Special Screening in Cannes on Thursday evening (May 26) but she did not walk the red carpet with co-directors Houda Benyamina and Anne Cissé, preferring to stay away.
It was a seminal moment for Diam's nonetheless as she lifted the lid on her journey from feisty, feminist rapper hailing, from a tough Paris outer suburb, to Muslim convert, mother of two and humanitarian, living an under-the-radar life in the Gulf. "It's not a comeback film or a return. I stopped rap 12, 13 years ago. It's just that since then a lot of people have wanted to tell my story but I never felt comfortable with that. I was sure they wouldn't tell the truth as nobody but me really understood the truth," explained Diam's.
Documentary producer Eric Hannezo finally convinced Diam's to change her mind by offering her carte blanche to tell her own story. His company Black Dynamite, in which burgeoning French content group Mediawan took a majority stake in 2020, has a strong track record in personality-driven documentaries Its previous credits include Madamoiselle C, about former Vogue editor-in-chief Carine Rotfeld, Dans L'Ombre de Teddy Riner, about Olympic judo champion Teddy Riner; Le K Benzema, about soccer champion Karim Benzema and Anelka: Misunderstood. Hannezo also directed the Canal Plus-backed 2018 documentary Omar Sy, C'est Ta Chance.
"The important thing was I would have control over the project. Too often when I'd met producers in the past, they wanted to impose their own image of me," says Diams.
Hannezo then brought on board producers Renand Le Van Kim and Guillaume Lacroix, co-founders of rising French Generation Z-focused content platform Brut.
Diam's turned to French actress Adèle Exarchopoulos, who is at Cannes this year in Léa Mysius's Directors' Fortnight title The Five Devils and Quentin Dupieux's Smoking Causes Coughing in Official Selection, for advice.
"Between music, cinema and soccer it's a small world and I have a lot of actress friends. Adèle Exarchopoulos is one of my best friends. I called her and said, 'How do I make a film?' I'd produced albums and music videos but had no clue on feature filmmaking."
By chance, Exarchopoulos had recently met Benyamina, who broke out internationally in 2016 when her debut film Divines won Cannes' Caméra d'Or and was then acquired by Netflix. She has since taken directing credits on Jack Thorne's Netflix-backed Paris nightclub drama XX alongside Damien Chazelle, Laïla Marrakchi and Alan Poul.
"Houda began the process by saying, 'Tell me everything in your head, everything you want to say, the message of the film'. She was asking the same sorts of questions a journalist might ask," recalls Diam's. "In the end, it was Houda who pushed me to co-direct. She said you know where you want to go, you have to direct."
Hannezo then also brought onboard writer Anne Cissé, whose credits include the hit Sy-starring series Lupin and supernatural horror Vampires.
"The project needed to remain top secret and handled with a certain sensibility. He knew Anne would be discreet and understanding," says Diam's.
The trio took up residence in a house in the Moroccan city of Marrakech, shutting themselves off from the world to write.
Turmoil
At the time of Diam's withdrawal from the limelight, she was at the height of her fame, following the runaway success of her 2006 album 'Dans Ma Bulle' ('Inside My Bubble'), a sell-out concert tour and music awards at home and across Europe.
Behind the scenes, her life was in turmoil as she struggled with mental health issues that had intermittently left her feeling suicidal since her early teens. The situation hit breaking point after she ended up in hospital and was then prescribed a heavy regime of antidepressants.
"What people didn't understand was that I was using rap to talk about things that weren't working for me in my life. I was writing to deal with my pain and suffering, but it wasn't working anymore."
Her conversion to Islam came about after she took a copy of the Koran on holiday to Mauritius in 2008 and started reading it one night by moonlight on the beach while her travelling companion was out partying. Diam's viewed her conversion as a personal, spiritual private move but after the Paris Match story, it became a polarising cause celebre in France.
"People turned their back on me. Actors and artists were scared to be associated with me at the time. The hijab is something that crystallises opinion in France," she says. "Internationally, people sometimes have a hard time understanding that, but there is a part of France that is scared of the hijab. They can't see it as a personal religious choice but view it rather as some sort of protest. "Things are calmer now. There is more dialogue, which is a good thing, you need dialogue."
Intimate story
In the first part of the film charting Diam's spiral into depression, all the interviews are framed in such a way that only the speakers' eyes and mouths are visible on screen.
"Anne came up with the idea, she wanted people to forget my headscarf. Also, a documentary can quickly become reportage and I wanted something more intimate," says Diam's
Beyond telling her version of events, Diam's hopes the film will foster a better understanding and more sympathy around mental health issues.
The upcoming one-day release of the documentary in cinemas in France on July 1, by Philippe Godeau's Pan Distribution, to be followed by its release on Brut, has rekindled interest in Diam's in recent weeks.
The ex-rapper says she has no plans to re-seek fame.
"When I learned that the film had been selected for Cannes, I was very touched. It showed an openness of spirit," she says."I am happy it will be showing there, but walking the red carpet wouldn't make sense. It would be incoherent with my life now. I am a mother living quietly with my family. I've found my equilibrium and I don't want to break it."