"I yearn for more imaginative energy going into how women see the world."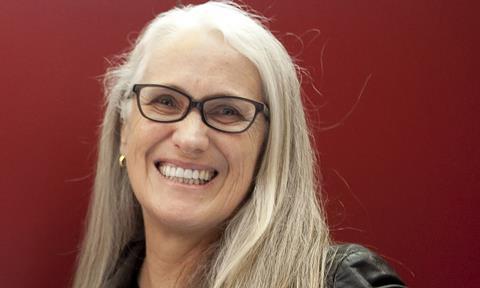 Jane Campion laughs a lot. She cannot wait to show the full six hours of her new series, Top Of The Lake: China Girl, to Cannes audiences and details with relish what she hopes will be their experience. "Two hours, a break, another two hours, another break. We take them out, have a little leg stretch and back in," she laughs.
The test audiences who have watched the series this way, says Campion, have embraced such an immersive undertaking. "They found it incredibly exciting to be engaged for so long and to be together and to talk about it together," she explains. "Screening the whole six hours in one go is a challenge but those who trust the chef, as they say, will have a really unique experience.
"That's why we're really pleased to be at Cannes, as we love to share the series more than anything in the cinema," the New Zealand filmmaker adds. "I love the idea that a limited series, especially a crime story, can be screened as a cinema experience. You can have about as much fun as you can have anywhere doing that with this."
Much has been made of the fact this is the first year Cannes has invited two TV series to screen as part of official selection (David Lynch's Twin Peaks is the other, of which two episodes are being shown). Festival director Thierry Frémaux has described it as a way of "checking in with two important filmmakers, who happen to have now made TV series".
'Long film story'
Campion, who made 1990's An Angel At My Table as a three-hour episodic TV series, describes the six hours of Top Of The Lake's second series, which she co-wrote with regular collaborator Gerard Lee, as a "limited long film story… It's one story and we see it as six chapters. [But] although the six hours is appealing, it is a lot of work. It's like doing the job of four features. That is really exhausting."
After two series of Top Of The Lake, the appeal of film is growing again for Campion, whose last one was 2009's Bright Star. "Film is so succinct," she says, confirming her next project will be a feature adaptation of Rachael Kushner's novel The Flamethrowers, set in 1970s New York. "A film is like going to an amazing restaurant that has a really curious menu. In two hours, you're tasting food you will remember your whole life."
Top Of The Lake: China Girl, while not exactly a sequel to the first series, takes place four years after the end of the first story. Elisabeth Moss returns as detective Robin Griffin, who goes to Sydney to meet the daughter (played by Campion's own daughter Alice Englert) whom she gave up for adoption years earlier; Nicole Kidman plays the girl's adoptive mother. Their story intersects gradually with the case Moss's detective is working on concerning the search for the identity of an Asian girl whose body washed up on Bondi Beach.
Sydney, where Campion now lives, is a city seen rarely on screen by international audiences, and she wanted to capture its distinct Asian identity. In particular, the series has something to say about the plight of girls arriving from poor Asian countries, whose only way to earn a living is in the city's legal brothels.
"What I love about being in this world is that it's a platform for Gerard and me to share our tone," says Campion of her desire to create a second season. "We have developed a way of seeing the world and of thinking that is quite particular to us. It's tender and serious and can also be very funny without losing ground on any of the other areas. It's not just a satire, or darkly comedic. It is quite loving as well."
The series is produced by See-Saw Films for BBC Two in co-production with SundanceTV in the US, BBC First and Foxtel in Australia, and in association with Hulu in the US, ARTE in France and BBC Worldwide. Campion executive produced the series and co-directed with rising Australian filmmaker Ariel Kleiman, whose credits include Partisan.
"At one stage, we were going to have three directors shooting two episodes each, but once Ariel came on board we knew he could take on all four episodes. He's young, talented and enthusiastic," says Sydney-based producer Libby Sharpe. "Jane wanted to direct the first episode introducing all the characters but she didn't want to direct her daughter in the episodes where she has a lot of dramatic scenes. They would rehearse her scenes on the weekends together but, on the filming days, Jane preferred Ariel to direct Alice." Campion also directed episode five.
Jury selection
Campion is back at Cannes three years after heading the Competition jury and 24 years after winning the Palme d'Or for The Piano (ex acqueo with Chen Kaige for Farewell My Concubine). She remains the only female director to do so. When asked her opinion on this in 2014, she pointed to Cannes only being able to work with what was presented, and urged a change in funding practices and parity of opportunity for women filmmakers. This year, she despairs that just three of the 18 films in Competition are directed by women. "Something has to change," she says.
She has an interesting idea. "My suggestion would be, and everybody says it to Thierry, that it would be very brilliant to have all-female juries. Not that I think the women would say, 'Oh, we'd better choose a woman winner,' but that everyone at the festival would have to think about how women think. For once, they might be just thinking, 'Well, what would women think of this?' and choose subjects that women will relate to. I yearn for more imaginative energy going into how women see the world."
Does Campion think the women on her jury (who included Carole Bouquet, Sofia Coppola, Jeon Do-yeon and Leila Hatami) thought differently? "Yes, I think they did," she says. "They are very instinctive and passionate about what they like." She guffaws when asked if she has any advice for this year's jury president, Pedro Almodovar. "I don't think Pedro needs my advice. He'll have so much fun. I really enjoyed my jury experience a lot because of the other members of the jury. All of them were great. It wasn't like I was the president. We were just a group and I did the counting."
While in Cannes, Campion hopes to see Coppola's Competition title The Beguiled (the two became close in 2014) and also They, the feature debut of Anahita Ghazvinizadeh, whose short film Needle won the Cinefondation prize when Campion headed that jury in 2013. "She has such a beautiful, unique vision that it will be a real treat for anyone with a poetic bone in their body," says Campion. Ghazvinizadeh's film is showing as a Special Screening.
Cannes itself is a thing of pure joy for Campion, a true child of the festival (as described by Gilles Jacob). "As irritating as it is when you don't win or you don't get in, the Cannes Film Festival does something unique in the world," she says. "Its curation is extraordinary and it has such beautifully high standards. I don't think there is anything else like it."
If anyone can urge Frémaux to bring in an all-women jury, it is probably Jane Campion. She'll do it with a smile.
Read more:
Sofia Coppola: 'I still think it's hard to get a theatrical release'