Congolese director Jean Luc Herbulot discusses genre and the formative influences of his childhood ahead of this week's world premiere of TIFF Midnight Madness entry Saloum.
The supernatural mystery combines voodoo and mythic elements and takes place in 2003 as three mercenaries and their bounty flee the coup in Guinea-Bissau and wind up in Senegal's haunted Sine-Saloum delta. Herbulot and his Lacme Studios partner Pamela Diop shot the film in the region in 2019 and only just completed post-production in Senegal, France, South Africa and the US. Elle Driver represents world sales and the first P&I screening is on Tuesday at 9am at TIFF Bell Lightbox. The public world premiere is at 11.59pm on Thursday.
Senegal-based Herbulot studied multimedia in Paris and became an art director on TV shows, directed the 2014 thriller Dealer and 2020 Canal+ series Sakho & Manga on Netflix. XYZ Films launched pre-sales at TIFF on his upcoming thriller Interstate, and he is about to start post on English-language thriller Zero.
Who are these mythic "Bangui's Hyenas" mercenaries and why did you insert them into a coup that actually happened?
My theory is when you when you do genre movies it's always better to have some grounding for the audience to accept the world that you're trying to pull them into. There haven't been a lot of movies like this so it was a quite a leap of faith for the audience.
Are the Hyenas real?
Let's say there are a mix of a lot of different people that have existed.
Are there stories of voodoo in warfare in Africa?
You have these legends about these guys that cannot be killed by a bullet because they have black magic items on them. It's very present. The [mercenaries in Saloum] also have their psychological guide / black magic witcher who in the movie is Minuit, the third guy, and he's maintaining their psychological and physical balance.
Why did you and Pamela set up Lacme Studios?
It's our first movie and it was also a way to show that you can do some different things in Africa… I turn to the seven-year-old version of myself and asked myself who were my heroes. I didn't have any, so this is my gift to that kid. We created that company to inspire the kids in Africa because that's our future.
What films did that seven-year-old child watch?
My father was always bringing me to this video club and that's how I got my film education in the '80s. One day I chose Conan The Barbarian and he took me aside and said no, I had to watch something else. He gave me Aliens. I was fucking excited and said to myself if I did something in my life, I wanted to do that. After that I just forgot [about it] because for me the movie business was a rich people sport. Then Tarantino came along and then I realised you could do things with characters without having money or explosions. After that I discovered Michael Mann and all those people and time did its thing and here I am.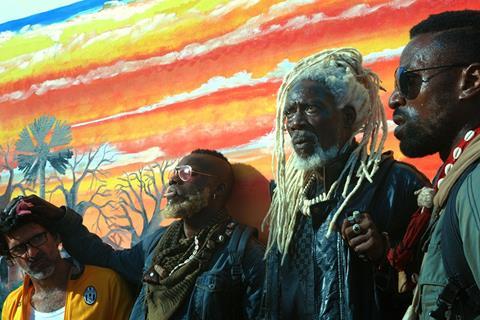 What's it like to shoot in Senegal?
The infrastructure is not that big. It was a mostly local crew. Since there are so few people there they're so passionate about what they're doing that that they were always supportive. And the great thing about Senegal as a producer is a shooting permit is equivalent to a region, not to a street…. One of the things they're lacking in Africa now is post-production facilities and experience to go with it.
Besides Interstate, what else have you got coming up?
We just produced my third feature Zero with the same partners, our executive producers Hus Miller and Douglas Jackson. I can't talk too much about it but let's say it's quite different from Saloum; it's very urban, shot in Dakar mostly with a Senegalese crew again, but this time it's in English and with American actors. It's about two Americans waking up in the car with bomb on their chest timed to go off in 10 hours. This guy calls on the phone and says, 'OK now you're my puppet'."
Will we see more of Bangui's Hyenas?
I will say we're not done with the Hyenas.