The 36-year-old director talks to Jeremy Kay about the American Zoetrope zombie drama.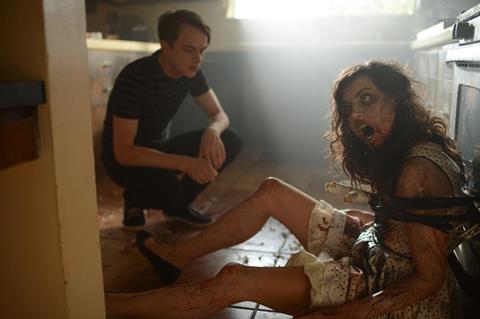 After studying film production at NYU's Tisch School Of The Arts, Jeff Baena co-wrote I Heart Huckabee's with David O Russell.
For his next trick, Baena dusted off a decade-old script and eventually US Dramatic entry Life After Beth was born. The feature directorial debut stars Dane DeHaan, Aubrey Plaza and John C Reilly.
XYZ Films handle international sales and WME and CAA jointly represent North American rights.
What's Life After Beth about?
It's about a college kid whose girlfriend passes away and he's extremely distraught and ends up hanging out with her father and one day the family shuts him out. So he starts snooping around and finds his girlfriend inside the house, alive.
He realises nobody knows why she is back and he tries to pick things up [with her] and make the relationship work as they'd been having a few issues. Before too long she devolves into a zombie and he has to make some decisions.
What gave you the idea for the movie?
There's a scene where he sees her through the window and that was the first scene that popped into my head – that fantastic element – and I went from there. Simultaneously I was going through a break-up situation and this has the hallmarks of what you go through, but I don't know how much of that was subliminal.
You shot in Los Angeles in 2013 but wrote the script a long time ago, right?
I wrote the script 10 years ago and it fell apart. I kind of let it go. One of Aubrey's agents brought it up at the time to Aubrey. I realised I wrote it for her seven or eight years before I met her. I went with John C Reilly for the father role and he responded immediately.
You believe now could be the perfect time for the movie
When I [initially] wrote it, it was before Shaun Of The Dead came out. Now is the right time for it because now people are maybe more receptive to this kind of thing.
Is the movie a comedy? Horror? Romance? Comhorrance?
[The tone] is consistent but bonkers. It's not a hard-core comedy and is weighted down by some drama. It has the elements of a horror film but I tried to avoid playing into any of those genres and keep it rooted in interpersonal relationships.
Anything spooky happen on set?
When we were scouting locations for houses I don't know if this is the universe conspiring but in every single place we used we always found a room with an unfinished puzzle.