Norwegian director Joachim Trier tells Wendy Mitchell about his first English-language feature, Louder Than Bombs, a father-son drama that elevates him into Cannes Competition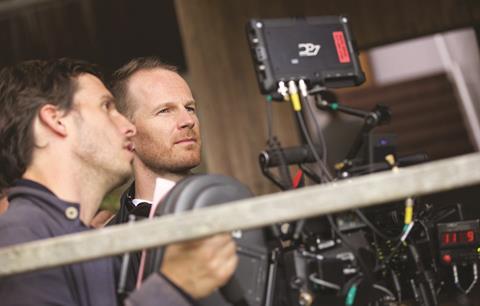 For his first English-language feature, Joachim Trier says he is "venturing almost anthropologically" into a new world. In making Louder Than Bombs, which is headed to Competition in Cannes, he even spent time hanging out with American teenagers.
"I had to go hang out in an American high school and listen to them," he says of his third film, which is about a father (Gabriel Byrne) and his two sons (Jesse Eisenberg and newcomer Devin Druid - "a real discovery", says Trier) who uncover the secrets of their late wife/mother (Isabelle Huppert) as they prepare a retrospective of her war photography.
The story's New York setting gives Trier and long-time co-writer Eskil Vogt "a new culture" to explore. While acknowledging that Louder Than Bombs has a bigger budget ($11m) and name cast, he doesn't feel making it was wildly different from his first two much-praised features, Reprise and Oslo, August 31st.
"In a way it's a natural progression," he says. "I decided not to go for offers of a studio film, but to develop from scratch our own story and our own film. I set out to make a personal film and it's turned out to be a personal film."
The journey to screen was neither quick nor easy. Trier and Vogt began developing the project in 2008, had a first draft in 2009 and were set to shoot in 2013 when the financing fell apart.
"It was a very upsetting period in my life. It was the first time I experienced getting something that close [to production] and having it collapse," says Trier, who got through the experience by writing another script with Vogt.
Seeing the passion others had to keep the project alive also kept him going (the shoot was revived in 2014 with increased backing from existing partners and ARTE joining as a co-producer).
"The actors really hung on to it and that made a difference," he says. "I got the sense of how passionate the partners were."
Louder Than Bombs scheduled an eight-week shoot in New York State, with a larger crew than Trier had on his first two features. But he made sure "we kept it simple around the camera. It was a tight team around [director of photography] Jakob [Ihre]."
The film was shot on 35mm, and Trier was keen that it "be a big-screen movie".
"As a Scandinavian, I am a fan of Dreyer, Bergman. I love watching the human face on screen. But we also have lots of VFX. It's not just a grief drama sitting in a house. It explores imagination in a visual way."
Expounding further, Trier explains that the film contains "flashbacks, flash-forwards, dreams and memories".
"Whereas Reprise was about the anxiety of career and identity in your early 20s and Oslo was about a personal crisis in your early 30s," he adds, "this is a cross-generational family story dealing with how close we are in a family, yet we can't fully connect."
Trier himself was born in Denmark and grew up in Norway, the son of a Danish father and Norwegian mother, and he defines himself as more of the latter nationality.
His father was a jazz musician who also worked as a sound technician on hit films such as 1975's The Pinchcliffe Grand Prix, while his grandfather, Erik Lochen, was a film-maker whose debut picture The Hunt (Jakten) was selected for Cannes in 1960.
"He was showing alongside Fellini, Buñuel, Antonioni, Bergman," Trier says. "It's no wonder I've gravitated towards that kind of European cinema… It feels like a very touching thing, that the family has a tradition in Cannes."
Lochen died when Trier was nine so the two never had the chance to talk about cinema, although he remembers his grandfather fondly.
"He taught me how to ski jump, and said, 'When you go through the jump, you can't stop halfway through.' That's similar to embarking on a big film project," says Trier.
Attending the UK's National Film and Television School was a pivotal step in his career.
"I began at 23, one of the youngest students, and I loved the visuals of Antonioni and De Palma, so I needed to learn character," he says. "Years later, I understood how much I learned. I'm really interesting in character-driven storytelling."