Kenneth Branagh cast untrained Northern Irish youngster Jude Hill to play the child version of the director in autobiographical drama 'Belfast'. Screen talks to Hill about playing "a very innocent, funny little kid".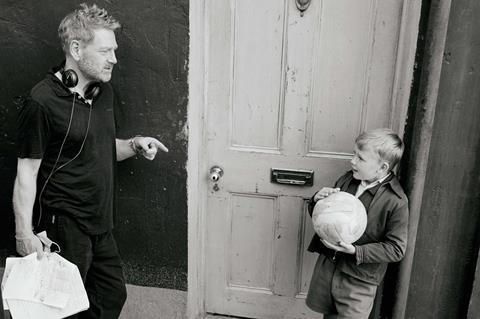 When Jude Hill learned he had been cast in Kenneth Branagh's Belfast, he recalls, "The email came through, I read two words and I ran around my house screaming."
When he calmed down enough to read the screenplay, he was thrilled to discover that "honestly, the script was fantastic. It's so well-written. It's such an honour to be in Belfast."
Hill, who had just turned 10 when filming started, had no previous professional acting experience and had earned the role through a rigorous process of interviews and auditions. Having initially sent an audition tape recorded by his speech and drama coach, who is now his agent, Hill then cruised through a series of virtual conversations and callbacks. "It was quite intense at times, the entire process, but I loved every single Zoom interview," says Hill. "The last interview was in real life, in person. That was the first time I got to meet the amazing man, Kenneth Branagh."
Common ground
Infectious enthusiasm aside, what does he think earned him the role? "Well, I think Ken wasn't looking for someone that was over the top. He was just looking for a natural actor and obviously a kid that liked football as well. Maybe not a Liverpool supporter like myself though — he's a Tottenham supporter." Hill managed to find some common ground with Branagh, despite the football issue. "He's a very nice man and I owe my entire life to him, honestly."
Belfast — which premiered at Telluride and was released in North America by Focus Features in November, grossing $6m at press time — shot in black-and-white during the Covid-19 pandemic in August and September 2020, in the counties of Hampshire and Berkshire, southwest of London.
It was a particularly exciting opportunity for Hill, given the film is a portrait of a city near where he lives and which he visits "every single weekend, either to do some shopping or go to a restaurant. To have a film about a place that I love so dearly is just mind-blowing, and for it to be my first film as well is just fantastic."
Hill's character, Buddy, who is based on the young Branagh, is an irrepressible charmer of a kid who is cushioned by the love of his close-knit family (Caitriona Balfe and Jamie Dornan play his parents; Judi Dench and Ciaran Hinds are a formidable double act as Buddy's grandparents). That warm family embrace protects Buddy, for a while at least, from the increasingly violent realities of the Troubles that are unfolding through the film's 1969-70 timeline.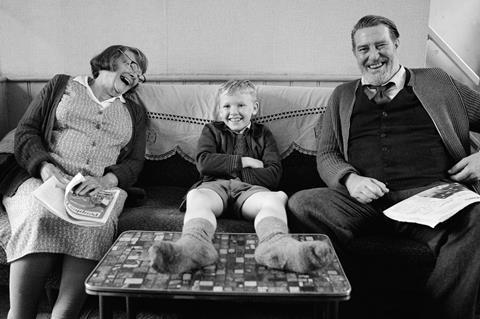 "Buddy is a very innocent football-loving, movie-fanatic kid," says Hill. "I think he doesn't really know what's going on with the world behind him, all about the Troubles and how it could impact his personal life. He's just focused on getting up to the top desk [in class]. He's a very innocent, funny little kid, but he's being dragged into all this conflict by his cousin, Moira."
Hill, who was inspired to take up acting because of his passion for the Marvel movies and would love to do "an action film or maybe a Marvel or Disney film" in the future, found a real kinship with his character. "After I read the script, I started to get into Buddy's way of thinking, and I have to say it wasn't that hard because me and Buddy are so similar."
He credits Branagh with helping to bolster the character by telling him stories from his childhood, and Dornan for giving him invaluable tips to help him learn his lines. He also pays tribute to the whole cast for helping him get through the toughest moment: "The hardest thing to do was saying that Tottenham was the best. It never made it into the final cut, but that was very, very hard for me to do."