Wolf Children director Mamoru Hosoda spoke about future of anime after the retirement of Hayao Miyazaki.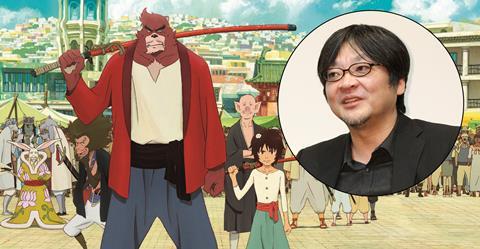 When Hayao Miyazaki announced in 2013 that The Wind Rises would be his final feature, a number of obituaries were written declaring the end of traditional animation. Miyazaki's blend of old-school hand-drawn animation and naturalistic stories had turned his company Studio Ghibli into an international powerhouse, and in Japan there didn't at first look to be any film-makers to fill his shoes.
But in fact Japansese anime is in rude health, with the most successful films in recent years sticking to 2D with only occasional nods to their computer-generated Hollywood counterparts. Originally slated to direct 2004's Howl's Moving Castle for Studio Ghibli, Mamoru Hosoda has been the driving force behind a number of well-received, popular animated films including 2012's Wolf Children and 2009's Summer Wars.
Hosoda has accomplished a strong balancing act, making entertaining films filled with emotional resonance that can be appreciated by adults and children alike.
The way Hosoda sees it, Miyazaki's decision to step back from his role as the representative director of Japanese animated films - a position he has held for over 30 years - has brought a certain amount of "freedom" and "democratisation" to anime.
"I think that there's still a real possibility that the industry could get even bigger, much bigger," Hosoda told Screen at the Tokyo International Film Festival, when asked about the style's recent surge in popularity.
Hosoda can take a chunk of credit for that surge after his 2015 film The Boy And The Beast proved a huge success at the Japanese box office, and was followed this year by Makoto Shinkai's anime blockbuster Your Name.
"There were a lot people who said, 'Oh, Japanese animation is finished' [after Miyazaki said he was stepping away] but if you look at it more objectively, it could be the birth of a new industry," he said.
"Japan is really the only country that is still producing this type of animation. CG animated films are wonderful, but they aren't the same as the hand-drawn style," he added.
Creative process
Hosoda, who studied painting at the Kanazawa College of Art, said he draws on his background in the visual arts when coming up with the characters in his films. When it comes to constructing a story, he notes that he tries to use problems in the real world as a base.
"I don't come up with a story first, I think about what has been changing in the world and discuss these ideas with people such as the film's producers. And through these types of conversations, I try and figure out what it is that I want to say. In particular, I think of recent problems that families and children are facing in society, such as child poverty, and I try to visually represent that as an animated film. That's generally how I come up with a story for my movie."
When it comes to striking a balance in his films between the grounded and the fantastical, Hosoda said that both American and world cinema play a significant role.
"It could be the case that the characteristics of Japanese animated films and my films are similar in terms of storytelling, but I always try my hardest to a tell story by learning from American scenarios and technology. I think it's important to respect the large number of classic American films that have been made. I try not to just use Japanese films as a reference point but to also draw from world cinema."
While you might think that an anime director would be most interested in other animated films, Hosoda said he's first and foremost a fan of Hollywood classics as well as European cinema.
"I like Woody Allen's films such as Annie Hall and Midnight In Paris. I love Billy Wilder and more recent movies such as Birdman, Revenant and Gravity. I also liked Leos Carax's Holy Motors very much."