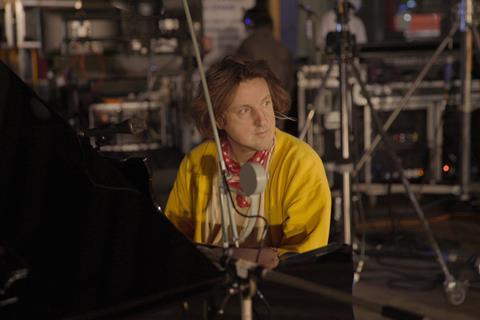 Daniel Pemberton is the UK composer of movie scores for Ocean's Eight, Birds Of Prey and Spider-Man: Into The Spider-Verse. He is Oscar-nominated for 'Hear My Voice', co-written with (and performed by) Celeste for The Trial Of The Chicago 7, which he also scored. Pemberton lives and works in London.
How has your working life adapted to the pandemic?
As someone who spends their entire life on their own in a room making music, not massively. In fact, I'm one of the few who's quite enjoyed parts of the pandemic. London has become a lot quieter and less stressful.
Where do you work in your home and what is your studio like?
I'm in an old warehouse. I've got a pretty lo-fi set-up, just keyboards, computers and tons of crap. My studio and flat are a complete tip. I find that time spent tidying could also be spent making my music a tiny bit better — and making my music a tiny bit better always wins.
Do you have any rituals that signify the beginning and end of your working day?
I've got into a bad habit of reading emails in bed. Then I go for a run, which is incredibly important. Then a cold shower. I'll have a coffee between three and four o'clock. That normally involves a walk as well. Some days I work really late because I have to deal with the US. But the thing is, I really like what I do, so unless the project is a nightmare, my favourite thing is to keep making music.
What was your first job in the film industry?
In TV, my first job was for [director] Paul Wilmshurst who got me to score a TV show called J'accuse: The Internet [1996, for Channel 4's Without Walls strand] when I was 17. My first film job was The Awakening [2011], directed by Nick Murphy.
Who was most helpful when you were starting out?
Paul, who inspired an eclecticism and experimentalism in my work. I'm really indebted to Nick for taking me from TV into film, because for a lot of directors it's easy to not take the people you've grown with. For Nick to do that was life-changing. Also Ridley Scott, who got me to score The Counsellor. Not many people saw The Awakening, but Ridley did. For him to recognise something in me and give me that challenge was huge.
What are you most proud of professionally so far?
The fact I'm still working in the same set-up, in the same flat, on massive Hollywood films, that I was when I was doing low-budget Channel 4 docs. I hope that's an inspiration to other British composers. You don't have to go off to LA, or build yourself a factory with 30 people. If you care about trying to make something unique and exciting, hopefully filmmakers recognise that too.
What's the biggest mistake you've made and have learned from?
Like every composer, I've been fired a few times. The first time, I wrote the producers a 4,000-word letter telling them they were a bunch of cunts who had no passion for or understanding how to make television interesting. I stand by the contents, but I probably wouldn't write it today. But I'm still very proud of that letter because it shut a lot of doors for me. And sometimes the doors that shut are as important as the doors that open.
What book are you reading?
Hari Kunzru's Red Pill, which is fascinating. I used to be a journalist years ago on Wired and he was my editor.
Is there an under-the-radar TV series you would recommend?
The original Traffik on 4OD, which laid the groundwork for so much of what we see today in ambitious drama series.
What do you do to unwind?
Either drink Belgian beer and watch a film, or I go for a walk.
Who would play you in a film of your life and who would direct it?
Owen Wilson because we both have big, wonky noses, and I've been mistaken for him a couple of times — which I wouldn't agree with but it's always worked out well. I'd probably go for Wes Anderson to direct.
What excites you about the future of filmmaking?
The few times I went to the cinema last year were for Saint Maud, Tenet and a screening of Chicago 7. All of those were surprising, exciting, different. I want to see things that surprise and excite me and give me emotions that stick. I'm hoping there's more of a drive towards that, rather than nostalgically reheating some great experience you had years ago.
What are you working on next?
Right this second, the arrangement for the Oscars performance of 'Hear My Voice'. I am also working on Chris Miller's murder-mystery series The Afterparty [Apple TV+]. And on Spider-Verse 2, trying to make the most revolutionary-sounding superhero movie of the decade. I'm also working on a low-budget UK film, a documentary series with Darren Aronofsky for Disney+ and an animation for DreamWorks called Bad Guys. I basically took too many things on during the pandemic because I didn't want to get bored.