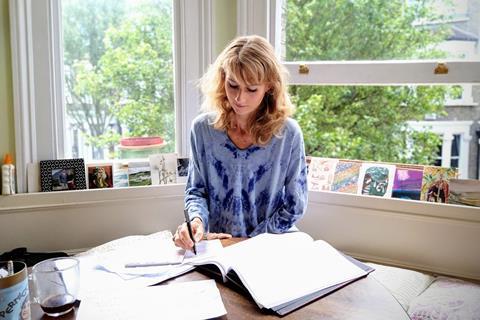 Jessica Swale is an Olivier Award-winning UK playwright, theatre director and screenwriter who is making her feature directorial debut with drama Summerland. Starring Gemma Arterton and Gugu Mbatha-Raw, it is being released in UK cinemas today (July 31) by Lionsgate.
Her first play, Blue Stockings, was staged at Shakespeare's Globe in 2013 and her play Nell Gwynn won the Olivier award for best new comedy in 2016.
Swale is adapting Nell Gwynn as a feature for Working Title Films. She is also working on a feature version of Jo Baker's novel Longbourn for Studiocanal and Jane Austen's Persuasion for Fox Searchlight. She lives in London.
Summerland was set to close BFI Flare: London LGBTIQ+ Film Festival at the end of March. What was the impact on you when it had to be cancelled due to lockdown?
It's obviously a blow when you're expecting to have the opportunity to share a piece of work with an audience for the first time. It has made me realise how important that specific transaction is, particularly coming from a theatre background. I'm used to being able to sit in a room and physically feel the response of people as they're engaging with the work. But, over lockdown, I've begun to appreciate watching films in my own home and how so much of film is about engaging with a story, people and humanity.
Have you been back to a cinema yet?
The cast and crew screening of Summerland was on Thursday July 30 and I'm sure I'll go on Friday to celebrate the fact the film is opening. And I'm doing Q&As at three different cinemas over the next couple of weeks so I will be spending as much time as I can in those buildings, trying to encourage the audience to come back.
I feel it's so important to try and support cinemas, particularly local independent cinemas, right now. There are a lot of people, of course, for whom it's not safe to go to the cinema. But I hope others will support their cinemas because we really need storytelling and the arts. I also feel like those buildings are right at the heart of our communities and it will be devastating if they can't stay open. We ought to patronise them when we can.
What is the mood among actors and filmmakers right now?
It's mixed. There's such a hunger to get back to work because there are so many creative people that have felt stifled by this period. When your work relies on collaboration, as it does for actors or directors, those people are desperate to get back to work in a meaningful way.
But there's also a nervousness, not only on the health front but not knowing what the shape of the industry is going to be. But if we can club together and put all of our energy into rebuilding the arts for the future, I think is the way forward. We'll need to support each other because it is a hard time.
What did it mean to work with Gemma Arterton and Gugu Mbatha-Raw on this first film, having worked with them on Nell Gwynn [Mbatha-Raw played the lead at the Globe while Arterton took the role in the West End]?
It was such a pleasure because I've known Gugu since my very first job when we both skived off the final terms of our respective drama school courses in order to work on a play together. I didn't know Gemma when the play moved to the West End but we quickly became thick as thieves. We have a really similar sense of humour and also sense of what's important to us.
It was pretty soon after we became firm friends that I decided to write Summerland for Gemma because she's a fantastic chameleon of an actress. I'd written the part older but she had read it, fell in love with the script and asked whether she could be involved in any capacity, meaning as a producer. I thought I could rewrite it and make the character of Alice younger, which would really help tell this story. It was a part I hadn't seen her play before and I think that was a challenge she was excited about.
What were you working on when lockdown happened?
One of the challenges and joys of being a writer in film and someone with FOMO is that I tend to take on too many stories because I can't resist them. At the moment, I'm finishing three feature scripts which were meant to be shooting now, but will probably now shoot next year. I'm also working on a new feature film which I want to direct myself, which is another original idea but suffice to say it's a feelgood, sweeping drama. I always want to have a project that's my secret project.
What have you been watching, reading or listening to during this time?
I've been really enjoying the opportunity to read physically big books, which have previously been too heavy to drag around in my bag. I've read A Little Life [by Hanya Yanagihara], which is one of the best books I've ever read. I'm currently reading The Goldfinch, which is a much easier read but similarly all consuming, and I've also been enjoying reading biographies, dipping into other people's worlds.
In terms of viewing, I normally watch a lot more film than TV but it's been a really good opportunity to watch series I've never seen before. We've watched the whole of Breaking Bad and we're now on The Wire. I've also particularly enjoyed some of the bright, funny, quite quirky comedies as well like The Young Offenders and This Country, which I adore.
What's the first thing you'd like to do when life properly returns to normal?
I would like to have all my closest friends round for dinner. My boyfriend is a photographer and meets a lot of interesting people so we invite a random group of people around once a month and always eat and drink a bit too much. It's such a joy and there are so many friendships that have been forged from those evenings.