Dir: Rune Denstad Langlo.Norway. 2009. 78mins.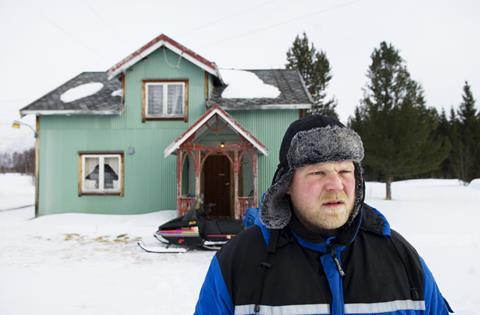 A road movie in which we barely glimpse a road, Nord concerns a former athlete's trek through the snow as he flees depression in the rugged reaches ofNorway's mountains. Rune Denstad Langlo's quirky look at self-discovery should find a niche on the festival circuit, where Anders Baasmo Christiansen could win awards for his role as the troubled skier who stumbles from one odd encounter to the next, all set against a stunning landscape. But without stars, North will struggle for theatrical exposure beyondScandinavia, although Christiansen's performance will keep it (and him) from going unnoticed.
Christiansen plays Jomar, a depressed and podgy ski attendant of few words. His sports career is over and he'd rather drink than work. His companion has left with his son and Jomar's only pleasure is watching TV documentaries about accidents. An accident of his own making on his ski mountain sets him out on a journey, first by snowmobile (through the town of Trondheim), and then on skis, with lots of booze for company.
Novelist Erlend Loe's spare witty script plays around with Norse mythological tropes about Viking journeys and screen epics (like Jeremiah Johnson) about loners braving the landscape, while Langlo's direction builds on the core suspense that has you guessing whether humourless Jomar will blow himself up or just end up being brought by the ski patrol to a padded cell.
North's initial setting couldn't be more depressing - in sparse mute-pastel interiors - until Jomar decides to set out into the snow, and adventures of charm and oddity start taking place. Teenage newcomer Marte Aunemo plays Lotte, a lonely, innocent child who takes in a snow-blinded Jomar against her stern grandmother's wishes. Another amateur, 80-year old Lars Olsen, plays Ailo, a recluse chained to his snowmobile, whose readiness to die on a frozen lake comes with an improbable crescendo.
Langlo's past work has been in documentaries, so sometimes he observes Jomar's meetings with unusual mountain characters as if we're looking at ethnography. Yet cinematographer Philip Ogaard takes Nord far beyond that, opening the camera from greyish blizzards and numbingly bland interiors into luminous outdoor settings as Jomar skis into what might be sanity.
As stolid Jomar, Christiansen brings a special heft to the notion of a deadpan performance. The picaresque trek is modulated by the music of Ola Kvernberg, whose bluegrass-inspired score is written mostly for fiddle and dobro, a homage to some of the American origins of what Langlo has crafted into a darkly charming Norwegian story.
Production company
Motlys A/S
International sales
Memento Films International
(33) 1 53 34 90 28
Producers
Brede Hovland
Sigve Endresen
Screenplay
Erlend Loe
Cinematography
Philip Ogaard
Music
Ola Kvernberg
Editor
Zaklina Stojcevska
Main cast
Anders Baasmo Christiansen
Kyrre Hellum
Marte Aunemo
Mads Sjogard Pettersen
Lars Olsen
Astrid Solhaug