Some 50 international funds to attend Power to the Pixel: The Cross-Media Forum in October.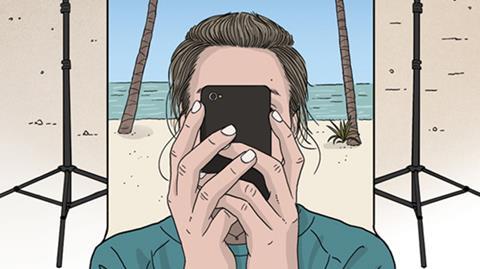 The Power to the Pixel Cross-Media Forum will be putting the spotlight on funds, both public and private, at this year's edition, running Oct 7-10 at the BFI Southbank in London.
"An important aspect of Power to the Pixel's work is how innovation is supported and how funding structures stay relevant as audiences change," says Power to the Pixel founder and CEO Liz Rosenthal.
"This year, we're honoured to be joined by a stellar group of international fund heads who are leading the way in determining new ways that media, film and new entertainment formats will be developed, financed and distributed."
NFB'S SEVEN DIGITAL DEADLY SINS
Fund chiefs billed to attend include Loc Dao, head of digital content and strategy at the National Film Board of Canada (NFB), who will give a presentation of its recent joint project with The Guardian, The Seven Digital Deadly Sins alongside the newspaper's multimedia special projects editor Francesca Panetta.
Revolving around contemporary "sins" linked to the internet – such as trolling, Facebook stalking, crowd-hoarding and illegal downloading – it launched on The Guardian website this summer.
"We'll be talking about how the project came to be and lessons learned from this unique partnership that resulted in a large audience, tremendous user interaction and new ways of working for us," says Dao.
The NFB, which celebrates its 75th anniversary this year, was one of the first public film and TV funds in the world to allocate part of its budget to interactive media under a strategy dating back to 2008.
Today, it is viewed as a leading light in cross-media circles on the back of productions such as The Last Hunt and more recently Interactive Haiku and Circa 1948, exploring post-war Vancouver, which was previewed at the Power to the Pixel Forum last year.
It also backed the interactive documentary game Fort McMoney, which will be subject of a separate talk at the forum.
"Our role as a public producer is evolving in the digital age but we remain a tax payer funded organisation and have a mandate to experiment in ways and areas that commercial interests can't," says Dao.
Collaborations with media partners such as The Guardian as well as Canadian broadcaster CBC, French newspaper Le Monde and Germany'sSüddeutsche Zeitung are part of NFB's "on-going evolution", he adds.
Also from Canada, Monique Simard, head of Quebec's cultural fund SODEC, and Canada Media Fund president and CEO Valerie Creighton, will give a keynote entitled "Audiovisual and transmedia funders: approaches; challenges and adaptation to cope with a changing environment".
OTHER FUNDS
Other fund heads due to attend include the Tribeca Film Institute's director of digital initiatives Ingrid Kopp, who oversees the TFI New Media Fund; Vincent Leclercq, director of audiovisual and digital design at France's National Cinema Centre (CNC); Syb Groeneveld, head of transmedia/e-culture at the Netherlands' Mediafonds; RioFilme chief Sergio Sa Leitao and Petri Kemppinen, CEO of the Nordisk Film & TV Fond.
"I like going to Power to the Pixel because it's informal and yet professional. We're always on the look out for cross-media projects with co-production potential so the Pixel Market and one-to-one talks are helpful and then there's always one or two Dutch projects in the line-up," says Groeneveld.
"Also this year, I'd like to discuss the Netherlands' new tax rebate. The first round is only for linear productions but I've talked to the film fund to see we whether games and transmedia productions could eventually be eligible. I hope we'll be able to answer that question at Power to the Pixel."
Recent Mediafond-backed projects include Nicolette Nol's Shared, an upcoming work looking at collaborative consumption, and Love Radio, exploring the reconciliation process in post-genocide Rwanda, and also the VPRO-produced interactive film Love & Engineering inspired by Finnish director Tonislav Hristov's documentary of the same name about geeks in search of love. The spin-off is nominated for the Prix Europa award at the European Broadcasting Festival at the end of October.
The CNC's Leclercq joined the organisation this August after a decade as the head of the regional film and TV fund Pictanovo in northern France, which backed films like Adele: Chapters 1 & 2 andWelcome to the Sticks during his time there.
"The CNC has been funding transmedia projects since 2007, which then was ahead of its time," says Leclercq. "Globally, €5.4m ($6.9m) was invested in digital production in 2013."
These projects are characterised by their diversity, the field of exploration is immense," he says, citing examples such interactive documentary Alma – A Tale of Violence , about a female ex-member of a Guatemalan crime gang; Laetitia Masson's interactive film The End and Peter and the Wolf (Pierre et le Loup), an interactive App and film, combining footage of real-life concert, fiction and animation.
"Power to the Pixel allows me to tap into what's going on internationally in transmedia creation and production. It helps to see what's state-of-the-art beyond France's borders and compare different approaches, especially in terms of financing," adds Leclercq.
NORDIC FOCUS
Nordisk's Kemppinen is attending the forum for the first time as part of the Nordic Focus at the Power to the Pixel Finance Forum on Oct 8.
Projects due to be presented as part of the focus include Finnish director Timo Vuorensola's equity crowd-funded Iron Sky The Coming Race and Danish filmmaker Annette K Olesen's Muleum, a transmedia adaptation of a popular Norwegian novel produced by Zentropa.
"Nordisk Film & TV Fond is a newcomer to this event," says Kemppinen of the pan-Nordic fund's presence. "It will be interesting to find out the current trends for non-linear storytelling."
Cross-media projects recently backed by Nordisk include Magnus Gertten's April 28 – Every Face Has A Name, an interactive documentary capturing the experiences of refugees in 1945 and 2015, and Lea Glob's Female Sexuality.
The organisation also ran the High Five Cross Media Content For Kids event in 2013 which resulted in a number of child-friendly productions including Alfie Atkins and iPad exclusive gameGigglebug.
Alongside Nordisk, the Swedish, Finnish, Danish Film and Norwegian film institutes will also be in attendance as part of the Nordic focus
PRIVATE PLAYERS
Aside from the state-backed funds, a handful of equity crowd-funders will also be attending including the London-based SyndicateRoom and Finnish Invesdor.
Launched 12 months ago, SyndicateRoom has helped 18 companies raise some $16m (£10m) to date, says the company's CTO and co-founder Tom Britton.
It is currently attempting to raise $2.9m (£1.8m) forAir Con director Simon West's upcoming action comedy Salty.
"Salty is our first venture into a more artistic production but should it work for our investors we'll be looking to help fund more ventures in the space," says Britton.
"We were introduced to the project through one of our investors. After an initial chat with Simon and his team we were convinced of their approach and their reasons for pursuing funding outside standard channels. For Salty, Simon wanted the creative freedom that being tied to a studio might not afford. He'd been looking at options and after being introduced with us knew that he wanted to go down this path."
Makela Lasse, co-founder and CEO of Helsinki-based Invesdor, will be giving a talk entitled "Why crowd investing is the future of developing successful film and media products".
He explains Invesdor, the biggest equity crowd-funder in Finland, has only just started working on entertainment projects. It is currently attempting to raise money for Iso-D, a documentary on cult Finnish singer Danny Lipsanen produced by VistaFilms.
"It's a new area for us. The equity side of crowd-funding is only now breaking through in the entertainment and creative fields. Cross-media entertainment is an area with very strong potential for crowd engagement, both in the context of marketing the projects and companies, but also financing them, so it would be a shame not to try and tap that potential."
"The Iso-D project run by VistaFilms is a project with a somewhat more traditional approach. Their primary objective is to make a documentary film for the big screen, TV and DVD, but they haven't decided on digital channels yet. Who knows, in the future with an engaged fan base as their new shareholders they may make a collective decision to go for a more cross-media approach."