The first-time director chose to adapt a 1920s set novel about race, gender and discovering who you truly her. Hall tells Screen why this directorial debut was so important to her.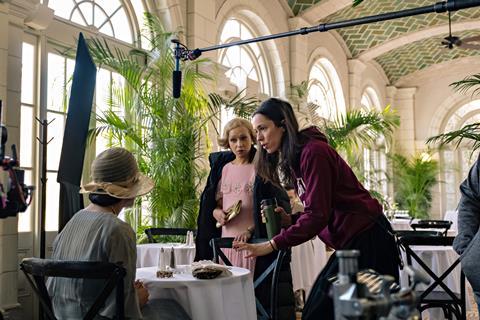 Rebecca Hall's personal journey to making her directing debut Passing started some 17 years ago when she read the 1929 novella by Nella Larsen. Hall may not have worked continuously on the project for those 17 years — she was busy with acting roles as diverse as Starter For 10, The Prestige, Frost/Nixon, Vicky Cristina Barcelona, Christine and TV's Parade's End and Red Riding (for which she won a TV Bafta). But she kept thinking about the book as she developed as a person and a storyteller. "It's something of a parallel journey, the book to the screen, and me uncovering more about my own family history and the legacy of racial passing."
Hall knew the book so well that she was able to write the first draft of the screenplay in only 10 days. The story follows two mixed-race women who lose touch after their shared childhood, but are reunited after a chance encounter as adults living in 1920s New York, where Irene (Tessa Thompson) lives as a Black woman and Clare (Ruth Negga) is passing for white and married to a racist businessman (Alexander Skarsgard).
Hall, the London-born daughter of the late theatre impresario Peter Hall and US opera singer Maria Ewing, realised the story resonated so much with her because she discovered her maternal grandfather had passed as white. "The story is personal to me and has meaning that is specific, but it's also more than that," she explains. "It hits on something universal — this very complicated relationship we all have with the story that we're telling the world about ourselves, and the one that the world is telling us about ourselves."
The desire to direct started even before she read Passing all those years ago. "I've always been thinking about directing and wondering and hoping and dreaming about it," she says. "I almost feel like I have been doing it because acting is a part of the story­telling process. I had witnessed how people direct in different ways and I've been thinking about how I might do it for a long time."
Hall says seeing her father's work with actors at theatre rehearsals for years influenced her way of directing as well (she acted for him once, at age 10 in TV miniseries The Camomile Lawn). "Something that I learned from my father was witnessing him working with actors and having a sort of unerring capacity to sniff out what people needed to feel supported and do their best work."
Casting was especially crucial to get right. She says Thompson and Negga each have their own process but "they are similar on some levels", possessing instinct as well as logic. "They both have a capacity to think outside of that emotional place and understand what needs to be served, but the specific needs of the characters necessitates a slightly different approach to each.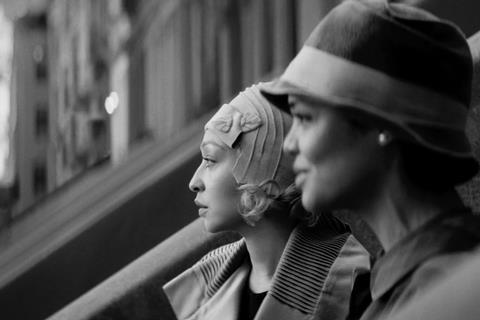 "They are two sides of a coin," Hall continues. "They represent two ways in which they could have lived their lives. The irony is the one who's hiding her race, or the one who is pretending to be something that she's not, ends up being true to herself.
"There's a freedom to Clare that is radical. Yes, she's performing something but within that performance she's revealing her truth. I wanted Ruth to feel that freedom and that confidence to just be dazzled. I didn't want her to feel constrained."
Thompson's character Irene, Hall adds, "is in a prison of her own making, in that she has no idea who she is and she's hiding everything about herself to herself. She is restricted to the point of a mental breakdown.
"That's tricky performatively — signalling to an audience that you're having a breakdown when that information is not available to your character. It's a complicated performance and Tessa is extraordinary. We had to work out a way for her to play an intention in every scene that revealed something of Irene's instability."
Passing, on which Hall serves as producer alongside Nina Yang Bongiovi, Forest Whitaker and Margot Hand, was made on a modest budget — backers include the UK's Film4 — so the team had only three official days of rehearsal, mostly used to work on scenes Hall knew had very specific blocking. "If you want to shoot scenes that don't have a lot of coverage, which I did, you can't wing that. It had to be very precise."
She jokes that even though it was not official rehearsal time, she "essentially kidnapped" Ruth and Tessa for a weekend in upstate New York that was "a lot of talking and sitting with some of the scenes".
Grey areas
It is rare that a debut director would further complicate an already tricky production process by shooting in black and white and in a 4:3 aspect ratio, but Hall was adamant it was the right decision for the visual style of Passing. "I am not interested in realism," she adds. "This is a work that insists on nuance and in-between spaces. Black and white isn't even black and white. It's grey — [it's about] the grey areas.
"Everybody is tuned into thinking of things in colour, and that translation is completely different in black and white. So everyone had to rethink their jobs."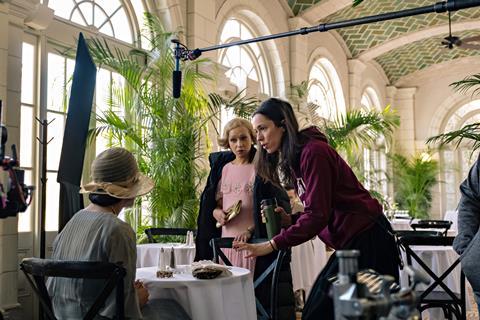 That was relevant across the board, from production design to make-up. "With our amazing production designer Nora Mendis, we had to think about the textures of the walls, [we painted the] hallway of Irene's family house in Harlem fire-engine red. It looked ridiculous in colour, but fantastic in black and white.
"The make-up department [headed by Marjorie Durand] had to go about four shades darker with lipstick. The costumes [by Marci Rod­gers] become more about texture and pattern or contrast."
The aesthetic choice worked in the film's favour when it was selected for Sundance 2021, where Net­flix acquired Passing for a reported $15m-plus in a deal brokered by Endeavor Content. Netflix gave it a limited cinema release in October, before streaming from November.
Hall plans to continue both acting and directing and is keen to get started on her second feature as a director (unannounced at press time). As with Passing, she will continue to trust her instincts.
"You get a brilliant film-school experience by witnessing directors. One of the greatest lessons I learned was that so many directors do it so differently, and that leads to better results," Halls says, adding that working for directors Antonio Campos (Christine), Mark Romanek (in the first episode of TV's Tales From The Loop), Angela Robinson (Professor Marston And The Wonder Women) and Oren Moverman (The Dinner) particularly inspired her. The latter two are executive producers of Passing.
"There is not one standardised way of directing," she says. "Yes, there is a lot to learn about lenses and eyelines, but ultimately it boils down to, 'I'm looking at a frame — is it what I want? Is it to my taste? Is it serving the story?' It's incredibly instinctive."