Casting the highly personal ROMA was a challenge for director Alfonso Cuaron. But it was nothing compared to the challenge his actors faced when it came to shooting the film.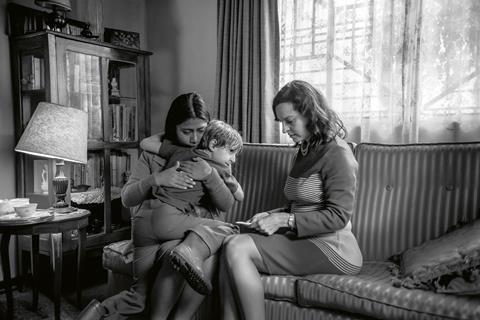 Yalitza Aparicio was on the verge of qualifying as a teacher when her sister persuaded her to join a casting call for a film in the community centre of their village in the rural Mexican state of Oaxaca. Aparicio had never acted before but the casting director just filmed her talking to the camera about herself. She didn't hear anything for a while but something about the young woman had caught the eye of the film's director, Alfonso Cuaron.
Cuaron had watched hundreds of auditions and was beginning to despair of finding anyone to play Cleo in his new, very personal film ROMA. Cleo is the live-in nanny from an indigenous background who looks after the four children of a middle-class family living in the Colonia Roma suburb of Mexico City in the early 1970s. The family is based on Cuaron's real-life family, the children are Cuaron and his three siblings, and Cleo is Libo, Cuaron's childhood nanny.
"The thing with every single character was that they are people I know very well," Cuaron explains. "I wanted the actors to physically look as much like the real people as possible. But not only look like them, I wanted them to have the same qualities.
"For this film to work, everything was on the shoulders of who was going to play Cleo. She carries the film — and the real-life Libo, well, she is one of the human beings I love most in my life."
The casting process was incredibly meticulous and resulted in "armies of casting directors", as Cuaron recalls, trawling first Mexico City and then the states of Oaxaca and Veracruz, to find the right people to portray his family.
Growing up in the country, Aparicio had never heard of the Oscar-winning Cuaron or seen any of his films. "I didn't have a clue," she says cheerfully. She searched online for some pictures of him but when she first met him she was initially unconvinced: the gentleman before her appeared much slimmer in real life than the pictures she had seen. "That made me even more scared," she recalls. Human trafficking is a real concern in Mexico and Aparicio was worried the casting process was an elaborate, dangerous scam. Cuaron quickly put her at her ease. "It was like I had known him my whole life," she says. "I started to trust him."
To help Aparicio feel even more at ease, he cast her best friend Nancy Garcia as Cleo's best friend Adela in the film. "It was what happened with Gael [Garcia Bernal] and Diego [Luna] in Y Tu Mama Tambien," Cuaron explains. "They had known each other from childhood. It made it very fresh and dynamic."
Family ties
As well as Cleo, the other key character to cast was Sofia, the mother — Cuaron's mother. After a four-month search, the filmmaker came across Marina de Tavira, who is a renowned theatre actress in Mexico. But before formally offering her the role, he introduced her to Aparicio to see how the two of them worked together.
"They left us alone together and we had a long talk," de Tavira recalls. "They did that on purpose to see the energy between us. That same day Alfonso sat with both of us and said, 'I'm going to do a very personal film and it's going to be a very different process for you, Marina, from anything you have done before. But these two women are the heart of the film and it's a film about life itself.'"
Cuaron shot the film in chronological order in a set of his childhood home painstakingly recreated in a real-life, disused apartment building. "We shot the film in order. He gave us that gift as actors," says de Tavira. "We were facing what the characters were going through day-by-day. I was told at acting school that acting is being in the present tense all the time. That has never been so true for me as it was on this."
Cuaron chose not to give his cast a full script at any time. Instead, he spoke individually to them each day, often relating conflicting directions to each so the other actors would have to respond organically in the moment.
"He would give me the scene the day before on paper but it was not complete and he would change things," de Tavira explains. "He was always preventing us from anticipating anything."
That was not an easy experience for a trained actress more used to learning her lines and knowing what came next.
"It was not like anything I had ever experienced," de Tavira admits. "Alfonso had to work differently with me than with the other actors. With me he was very meticulous in not letting me think as an actress who is analysing what's happening. He would say, 'You're thinking here, you're thinking here! Stop. Don't think.' And he would take me away and we would start all over and he would say, 'I won't let you rest. I can do this as many times [as we need to]. I won't stop.' And I said, 'Thank you. Don't stop.' He never gave up."
Cuaron concedes his process was tough on de Tavira. "It took her a good 10 days to suddenly realise, 'I better let go here,'" he says. "It was so difficult for her as I could see her instincts. But that was great because she's the mother and [as the mother] she's trying to control a situation that's out of control."
ROMA — which is produced by Participant Media and is benefiting from staggered theatrical play from November 21 ahead of its December 14 release on Netflix — shot for 108 days in Mexico City. Filming brought back a rush of memories for de Tavira, who had grown up in the city. "The moment the children come out of the cinema and they see all these salesman with toys? I remember that from my childhood," she says. "I used to go to the movies with my dad. But that's all gone now."
She had a series of nannies in her life as a child but not one who was as constant as Cleo/Libo. "Now I'm a mother and I live with my son and with my own Cleo and she's a very important part of my life," de Tavira says.
Aparicio, who is not sure if she is going to start her teaching career or continue acting, met the real Libo just before shooting started. "We spoke of our origins, our roots, what we like," Aparicio recalls. "And she spoke about how she calls the kids — the original kids, which is Alfonso and his siblings — 'my children'."
Aparicio's own mother worked as a nanny. "Sometimes I accompanied her to the place where she worked," she recalls. "I realised she didn't make any difference between if they were her blood children, like us, or not. She loved them equally."