Industry experts gathered at a Creative England, British Council and Screen International roundtable in Cannes to discuss ways to support new film-making talent. Andreas Wiseman recaps the key discussion points.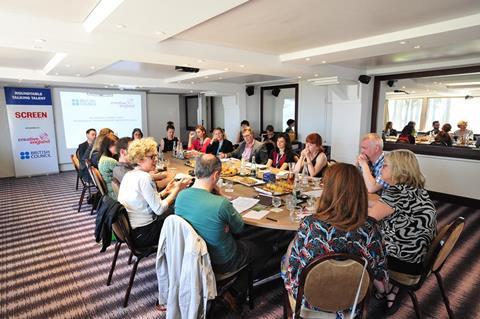 During Cannes, Screen worked with the British Council and Creative England to host a roundtable discussion on how the industry can offer better support to emerging talents.
A global panel was convened to look at what is working where, and the lessons that can be learned. The wide-ranging session considered the value of short films, film schools and mentor schemes; the role of low-budget film-making schemes; and the call for more diverse voices.
The panel
Mary Burke, producer, Warp Films (UK)
Lizzie Francke, senior executive, BFI Film Fund (UK)
Anna Godas, co-founder and CEO, Dogwoof (UK)
Zak Hilditch, director of Cannes' Directors Fortnight title These Final Hours (Australia)
Emily Kyriakides, senior producer, Lighthouse (UK)
Will Massa, film adviser, British Council (UK)
Chris Moll, head of film, Creative England (UK)
Caroline Norbury, CEO, Creative England (UK)
Michel Pradier, project financing director, Telefilm Canada (Canada)
Rachel Robey, producer at Wellington Films and film adviser, British Council (UK)
Kristina Trapp, CEO, EAVE (Luxembourg)
Paul Welsh, producer, Edge City Films (UK)
Vinca Wiedemann, head of the National Film School of Denmark (Denmark)
Moderator Wendy Mitchell, editor, Screen International (UK)
Wendy Mitchell Does it feel like new talent is getting a better chance today compared to 10 years ago, before the proliferation of digital work?
Lizzie Francke The key thing for me is the diversity of voices coming through. It's a very different culture to when I started out in the business. That's very exciting.
Rachel Robey What's happening with the BFI Film Academies around the country is very interesting. That 16-19 age range is key. I'm based in Nottingham and there's a really strong academy programme there. You can throw open the net to a really wide and diverse range of young people.
That's important because later down the line ― even if you're applying to make a short film with a budget of just a few thousand pounds ― you're still up against people who might have made four or five short films, so it's key that early-stage development is maintained because that's where you really can capture diversity.
Chris Moll How does this compare with abroad?
Vinca Wiedemann I was just thinking that in Denmark, even before kindergarten, kids are used to using iPads. Even before they get to school they're used to making short films. This kind of culture is a great help for our support schemes.
The new generation of film-makers is so much more trained in film language from the beginning of their lives. This is where our challenge is ― not so much in providing access to media, which it used to be, but encouraging the development of film-making.
At the Danish Film School, we've just introduced 50-minute film into the curriculum. Everybody was so sceptical about it, and now everybody thinks it makes total sense. Students should be challenged by the longer formats because they are learning so much quicker than the previous generations.
Moll The low-budget feature is the new short.
Mitchell Zak, your first few features were pieced together without much 'official' support. Would you recommend that path?
Zak Hilditch Over the past 10 years, I've made three of what I would call 'backyard features', getting support from friends, people I went to university with, etc.
But shorts were key to creating a good experience on These Final Hours, which was made through Screen Australia's Springboard programme. The programme gives you the opportunity to develop the hell out of the feature project while also working on a short on which you implement some of the working ethos of a feature.
Paul Welsh I've worked on the last two rounds of Springboard. The majority of the directors in recent rounds have gone on to other film-making processes. I think it's essential to go through some kind of shorts process. We can say there are too many shorts, but there are too many features too. Not everyone is a feature-film storyteller. The drop-off is enormous.
We've toured a lot of our shorts around Scotland and we've had a fairly successful rate in terms of showing them in festivals, but the drop-off to making features once you're on your own two feet is sharp.
Wiedemann It's vital to bridge the gap between the good initiatives and the industry. Industry needs to take responsibility for nurturing the new talent. Even with New Danish Screen [at the Danish Film Institute] it became really difficult to get the industry to take responsibility for new producers.
Kristina Trapp I couldn't agree more. It's one thing to scout for talent, which is very important, but it's another to take risks and develop that talent. You have to create the structures, the skills and the network for people to really be a part of the industry because it's so competitive now. You really have to provide for them on a long-term basis.
Michel Pradier We always refer to new scriptwriters and directors but we rarely refer to the producer.
Robey We set our company up 14 years ago and we set it up from nothing in the provinces. We didn't have access to anybody, but we were given the opportunity to shadow Robert Jones at the UK Film Council. That three weeks of shadowing made the most enormous difference to us.
Mitchell Emily, can you tell us about how mentoring works at Lighthouse?
Emily Kyriakides What I would say is that no one mentoring relationship is like another. We try to ensure everyone is prepared and there are several milestones that are hit in the nine-month collaboration. It's a really involved process that takes a lot of time, and sometimes the best matches aren't necessarily the obvious ones.
Nicky Bentham and Barbara Broccoli are a brilliant example of the two-way process. Both have taught each other a lot about their different worlds. [Broccoli has gone on to executive-produce Bentham's The Silent Storm.]
It doesn't always work, however. There are some great film-makers out there who are pretty lousy mentors.
Mitchell Mary, you worked with Paul Wright on For Those In Peril, which was in Cannes Critics' Week last year. He had made a number of acclaimed shorts beforehand. Did that make the process easier?
Mary Burke Having seen his shorts at the NFTS show and having met him, it was clear Paul had a humility and a punk-rock spirit that fitted with what we were trying to do at Warp. I knew Lizzie at the BFI and Katherine Butler at Film4 loved his work, so from an early stage I had buy-in from two of our key financing relationships at Warp. That made the development process much more honest.
Mitchell Do we need more schemes like Microwave and iFeatures?
Moll By taking a cohort of people and supporting them on a longer-term basis you create a network and a community. When we talk about film-making communities, that's the living, breathing example of it. You'll always end up in a situation where there will be a certain amount of natural wastage. You have to accept that as part of the process. But it does provide a certain, secure environment for people to fail in that way. I think that's a really good thing.
My concern always with any sort of micro-budget or low-budget schemes is, ultimately, how do you involve the industry? We've been very lucky because we have a broadcaster relationship [the BBC is a partner on iFeatures]so at a certain basic level you say a broadcaster is pre-buying your film.
But ultimately we do have to accept the fact that some of those films will not be theatrical releases but will be on a platform like Vimeo instead.
Robey But that's fine. Getting films out there is very, very hard. If schemes have a one-in-four theatrical distribution strike rate, I think that's actually very good.
Moll A producer's understanding of the business is so important, however. I'm always shocked at how many producers really don't understand the business models or the models behind successful production companies.
Pradier At Telefilm, instead of making the project the centre of attention, we've tried to put the production company in the centre. That's our client. If you want to create a sustainable industry, you must have more entrepreneurs.
Francke Talent relationships remain key. How producers and directors grow together is so important. Look at Ang Lee and James Schamus, for example. But there are real challenges to that. Agents often don't want directors to have multiple projects with the same producer, for example.
Mitchell Anna, how much harder is it to sell a film from a first-time director to audiences?
Anna Godas It really is case by case. It's the distributor's job to know about audiences but I think directors and first-time writers or producers should know about the business they're getting into and how it really works. It's a serious business with real deadlines. It's a bigger market than you think.
Mitchell How effective are today's film schools?
Francke I think that trade film schools are so important. Film-maker training should be dealt with in similar ways to architecture training.
Moll It's key that today's film schools have close ties with the industry, with industry running the schools and also teaching at them. Another thing is teaching entrepreneurship and collaboration. Research shows that those who collaborate are more successful later down the line.
Mitchell What changes would you most like to see where new talent is concerned?
Wiedemann I want to intensify and fortify the education of screenwriters. I want to renew the auteur model so that you can be an auteur and still work with a writer. I think it's important the pool of stories is enlarged because we have a need for more stories.
The other idea is that I want to invent a new thing called 'low-budget production design'. We often have great scripts, great producing, but really poor images.
Moll I think diversity is a key issue. The stats are not good enough in terms of female voices and minorities. I suspect there's a cultural gap in terms of communication with those communities. We have to start breaking that down.
Will Massa I assess on various schemes and I've noticed that applications from diverse voices are increasing. It's quality thresholds that are a problem. I think there's an increased awareness about opportunities in these communities but I think the support structures aren't necessarily there.