With his standout performance in Three Billboards Outside Ebbing, Missouri, Sam Rockwell looks set to break his Oscar and Bafta duck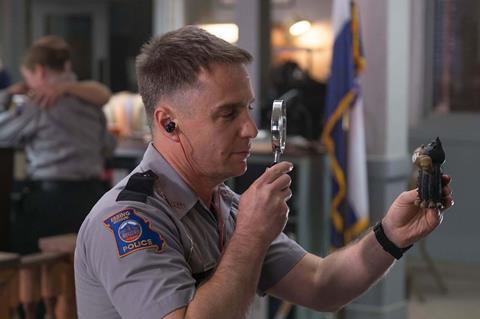 It has always been one of Sam Rockwell's career-management strengths that he has never seemed to mind whether he's the leading man in a film or playing a supporting part. The 49-year-old California-born actor has flipped back and forth between the two throughout his career and he has been successful at both, even if the above-the-title roles haven't always garnered the same attention as the character parts, which tend to pop and crackle, and suck up attention.
While he is memorable in films like Moon (2009), Choke (2008) and Confessions Of A Dangerous Mind (2002), multiplex regulars are more likely to recall him from Frost/Nixon (2008), Iron Man 2 (2010) or Cowboys & Aliens (2011).
Rockwell is also often the best thing in a mediocre film, although in the case of Fox Searchlight and Film4's Three Billboards Outside Ebbing, Missouri, his standout performance comes as part of a strong, high-quality package, a comedy-drama that has had awards buzz building around it since it took the coveted audience prize at Toronto.
Three Billboards marks the third time Rockwell has worked with London-born playwright/filmmaker Martin McDonagh. Their first time was a staging of McDonagh's play A Behanding In Spokane on Broadway, in 2010, while their second was 2012's Seven Psychopaths.
As far as Rockwell is concerned, though, third time could be the charm: the character he plays – Jason Dixon, a small-town racist cop who comes up against the brick wall that is Frances McDormand's Mildred, an aggrieved mother demanding police solve her daughter's murder – is one of his best and jumps off the screen like a firecracker.
"For any film you do, you have to love the part," says Rockwell, "but it's like opening Christmas presents when you get Martin's scripts, and it's an incredible journey this guy takes – a beautiful journey."
To prepare for Dixon, the actor worked with a dialect coach on the character's Ozark twang, and travelled to the town of Springfield in southwest Missouri, around where the fictional town of Ebbing would be situated (although the film was shot in North Carolina), to meet and hang out with local cops. As well as tagging along for ride-alongs, Rockwell also had them speak his lines to hear how they would sound from the real thing. "We changed a couple words here and there," he says. "It just gave me little details. Observing somebody, you get their sort of essence, like their haircut, sunglasses, where they go to get coffee, the way they stand, the way they talk to suspects. There was an assertiveness."
"They told me how you have to take charge of the situation," he continues. "They talked about guys who were like my character, who were a little too eager. They had a phrase for it – 'blue flamer', over-eager guys."
American archetype
The prone-to-violence, buffoonish Dixon appears to encapsulate a hot-button issue in the US although he's anything but a red-neck caricature; McDonagh's script and Rockwell's finely tuned portrayal make sure of that. Despite his comedic framing, Dixon does appear an emblematic figure for today's America. The actor is hesitant to dip into the topic.
"Martin wrote this eight years ago, before Ferguson," he demurs. "But definitely there's a new light being shed on this film because of recent events. Racism, misogyny – there's a lot of messy stuff going on right now. This film has good cops and bad cops but, yeah, this guy Dixon is a bit of an asshole - in the beginning."
In a film packed with strong performances, including McDormand and Woody Harrelson, Rockwell stands out because Dixon's character arc is the most extreme in terms of where he starts and where he ends. One of the film's messages seems to be that everyone is ultimately redeemable. Is that something Rockwell believes? "I don't know about anyone, but certainly Dixon is. Hitler? I don't know…" What about Harvey Weinstein? "Who knows, who knows…"
The actor is quick to praise his co-stars. "Frances is just a love bug, a generous, good person with a lot of love in her heart," he says, adding, "I've been lucky my whole career. I've worked with Gene Hackman, Robert De Niro, Hilary Swank – the list goes on and on and Frances is no exception. It was just another great tennis player to play tennis with. And Woody, of course, he's one of the greats. He's one of my favourite people on planet earth, a great guy, a beautiful guy."
Much of the awards conversation around Three Billboards has been focused on Rockwell's performance, so it's a surprise to discover that he has yet to be Oscar nominated. Does it feel different this time, with Three Billboards? "I've gotten recognition before," he muses. "I got the Silver Bear at Berlin [for Confessions Of A Dangerous Mind], I've been nominated for [Independent] Spirit awards. But what's different this time is not only am I getting attention but the film is getting attention. That feels different."
Rockwell admits there are past performances where he felt he might be in with a chance but he also accepts such matters are beyond his control. "You can bust your ass in a movie and be really proud of it and for whatever reason the movie doesn't get the attention you thought it would," he says. "There's a movie called Snow Angels [directed by David Gordon Green] I did, or Conviction with Hilary Swank. I thought those movies should have got more attention. Jesse James [The Assassination Of Jesse James By The Coward Robert Ford] bombed at the box office and now it's considered a classic. A lot of my movies have had an after-life but to be a part of a movie that's potentially popular is different for me. It's a nice feeling."
Galaxy Quest reunion
Another of Rockwell's films to enjoy a strong after-life is Galaxy Quest, Dean Parisot's 1999 spoof of sci-fi TV series (in the main, Star Trek), which did middling box office at the time but has since become a cult classic. Over the years, there have been discussions around a sequel and, more recently, an Amazon TV spin-off that was set to move into production with all of the original cast, including Tim Allen, Sigourney Weaver and Alan Rickman, only to stall when Rickman died in early 2016.
With Paramount Television and producer Mark Johnson recently attaching a new writer, Paul Scheer, Rockwell says it's not out of the question it could still happen, and he remains interested if it does.
"It would be tough to do it without Alan, we all miss him," he says. "What are you going to do, replace him with Judi Dench? Chris Walken? Helen Mirren? I think they have to change the whole concept of that [character], reinvent it. Nobody can replace Alan. He had a very special take on that part."
Other projects coming up for Rockwell include a reunion with Moon director Duncan Jones on the thriller Mute – "it's just a cameo" – and playing George W Bush in Adam McKay's Dick Cheney biopic Backseat, which he describes as "kind of Woody Allen meets GoodFellas".
Going back to the way he has always pivoted between lead and supporting roles, Rockwell describes this less as canny career management than a desire to play in the best sandboxes.
"If you want to work with people like Ron Howard or Ridley Scott, you can't just do leads. I can't anyway," he says. "Sometimes I do supporting roles because I want to work with the director or be a part of that story, like Frost/Nixon. You can't make a hard rule about that, and I never have."