Dir/scr/cine: Warwick Thornton. Aust. 2009. 101 mins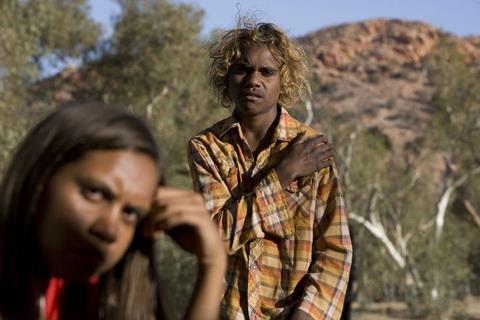 The stand-out world premiere (of eight new Australian dramas) at the recent Adelaide Film Festival, Warwick Thornton's debut feature is a mainly Aboriginal-made movie, a fierce frontline report on contemporary life in the Central Australian desert. Though presented as a teenage love story with heart and humour, Samson & Delilah may not make a dent at home beyond the arthouse on its May 7 release (through Footprint Films): Australian multiplex audiences have proved resistant to indigenous movie-making. But this is an undoubted international festival starter - an inside look at a world rarely, if ever, depicted on the big screen. It has been eyed by Cannes and the buzz is strong.
The honest naturalism of the two young leads is the main reason for the film's intense grip and power. McNamara (Samson) and Gibson (Delilah) were greeted with a deserved and thunderous standing ovation at the premiere.
Thornton 's previous short films, also made with non-indigenous producer Kath Shelper, brought him attention and Berlinale prizes (for 2005's Green Bush and Nana in 2008). Here, with a budget of $1m (A$1.6m) and acting as his own cinematographer, he took a 35mm camera and a skeleton crew into the 45-plus degree heat of the outback where his cast of non-actors live, and the result is documentary-like in its hand-held depiction of rundown, no-hope locations.
Rake-thin Samson, aged 15, wakes in his bleak shanty room and immediately starts sniffing dregs of petrol from a battered tin. Across the dusty track, 16-year-old Delilah wakes to care for her elderly Nana (Gibson). She administers morning pills, then wheels the old lady to pray in the shanty church, then past the pay-phone that rings but is never answered, to the doctor's mobile surgery for more pills. Shadowed by the bored, persistent Samson, the two spend the rest of their day dot-painting a large canvas, for which they are promised A$250 when completed.
The relationship between the two youngsters is unspoken, initially revealed only via the spice of Nana's cackle. There can be few - if any - movie love stories where the two principals converse so little, look each other in the eye so seldom. Nana dies suddenly and Delilah is unfairly beaten by local women for not taking enough care of her grandmother. Samson steals the community's only vehicle and the two head for the nearest big centre, Alice Springs.
Squatting for weeks under a noisy road bridge, they meet Gonzo (Scott Thornton, the director's brother), a voluble alcoholic tramp who shares tins of noodles with them. Utterly without money or prospects, Delilah is astonished to discover one of Nana's paintings with a $22,000 price tag in the window of a trendy art gallery. Stealing paints and canvas, she makes her own dot-painting which she unsuccessfully attempts to sell to coffee-drinking locals. The gallery owner won't even look up from his desk.
Things go from bad to worse. Delilah is abducted by local white youths, Samson's petrol-sniffing intensifies, and something nasty occurs which produces gasps of shock. This is uncompromising story-telling, but Thornton thankfully manages a comparatively upbeat conclusion, finding youthful hope amid the ruins of a once-proud culture.
The film has little dialogue, shot most in the Warlpiri language with subtitles. Gonzo speaks, rants and sings in English - his liveliness and wild optimism comes at just the right moment - and his rendition of the Tom Waits classic Jesus Gonna Be Here is most moving.
Production companies
Scarlett Pictures
CAAMA Productions (Central Australia Aboriginal Media Association)
Screen Australia Indigenous Branch
New South Wales Film and Television Office
Australian Broadcasting Corporation
Adelaide Film Festival
Northern Territory Film Office
International sales
Elle Driver
(33) 1 56436733
Producers
Kath Shelper
Warwick Thornton
Production designer
Daran Fulham
Editor
Roland Gallois
Main cast
Rowan McNamara
Marissa Gibson
Scott Thornton
Mitjili Gibson