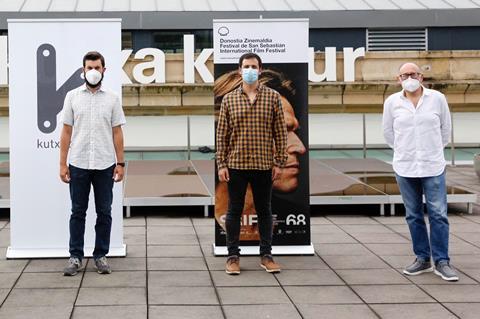 Showcasing new talent has always been central to the San Sebastian International Film Festival. Dea Kulumbegashvili's debut feature Dasatskisi screens in the festival's main competition section this year while New Directors is a separate competition strand in which the winner picks up €50,000 to be shared with the film's Spanish distributor.
Twelve films are screening in New Directors, slightly less than previous years due to the restrictions on occupancy in the festival's venues. The winner of the Kutxabank-New Directors award will be chosen by a jury headed by Spanish director Belén Funes, whose most recent film is a A Thief's Daughter.
"We are happy to have such diversity of topics, directing styles and countries of origin in the programme as well as a growing number of women directors," says Roberto Cueto, from San Sebastián's selection committee.
Three of the 11 films are directed by women.
Scroll down for the full list
For several of the filmmakers including Limbo's Ben Sharrock and Death Knell's Imanol Rayo, it is a return to the festival after participating previously in either New Directors, or with a short film or even in one of the festival's student programmes.
Iusmira Berriak is one example of the latter. It is eight-week residency programme for the development of projects. There is an award for the section, given during the festival, destined to help the post-production stage of the films.
There is also the Nest Film Students section for students from film schools all over the world whose short films have been previously pre-selected. They receiver the chance to screen their work and attend discussions and masterclasses by industry professionals.
Limbo producer Irune Gurtubai of the UK's Caravan Cinema, says the selection of her debut feature, Sharrock's Pikadero, in New Directors in 2015, was a pivotal moment in both of their careers.
"It put us on the map of the industry and the festival circuit," she says. "It was key for people to find out about it."
San Sebastian is the first time Gurtubai and Sharrock will see Limbo with an audience, even though it was selected for the Cannes 2020 official selection label and screened to TIFF audiences in Canada and online earlier this month.
"It has been great to see the film with an audience in a theatre," says Gurtubai who is now based in Scotland but was born in the Basque country.
She knows the festival well, first as a cinephile and later as a producer. She is now happy to be meeting with other professionals in person at the festival despite most of the industry activities happening online.
New Directors 2020
Spring Blossom (Fr)
Dir: Suzanne Lindon
Ane (Sp)
Dir: David Pérez Sañudo
Memory House (Braz-Fr)
Dir: João Paulo Miranda Maria
Chupacabra (Rus)
Dir: Grigory Kolomytsev
Gull (S Kor)
Dir: Kim Mi-jo
Slow Singing (China)
Dir: Xingyi Dong
Death Knell (Sp)
Dir: Imanol Rayo
I Never Cry (Pol-Ire)
Dir: Piotr Domalewski
Last Days of Spring (Neth-Sp)
Dir: Isabel Lamberti
Limbo (UK)
Dir: Ben Sharrock
Along the Sea (Jap-Viet)
Dir: Akio Fujimoto