Screen International's UK awards team takes the measure of this year's Bafta film nominations, predicts the winners and looks forward to the 2022 awards.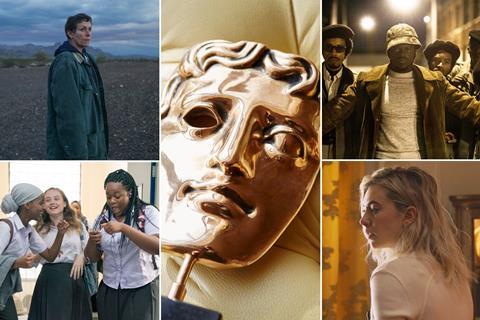 This year's Bafta Film Awards have been notable for many reasons, including the impact of Covid-19 on the release calendar, the massive overhaul of voting procedures, a significant expansion of membership and the shift in the calendar to an April ceremony. For seasoned Bafta voters, one particularly notable change, despite the expansion to three rounds of voting, is their own reduced role.
Best film is the only category where nominations were determined by all voters, and the nominations for the performance and director categories were selected by juries — drawing from longlists that had themselves been augmented by a longlisting jury.
So what to expect when the winners' names are announced at the cere­monies on April 10 and 11? We know there won't be a clean sweep, since no film garnered more than seven nominations. More likely, the love will be spread across a range of titles. With final voting already underway, Screen International assembled its UK awards team to consider the most likely outcomes in a watershed year for Bafta.
Fionnuala Halligan (reviews editor and chief film critic): Can I begin by saying that having all the titles on the Bafta View portal early on has made a difference this year. Because obviously in previous years, distributors wanted to show their titles in the cinema first and have voters attend their talent Q&As. That's been a broad influencing factor.
Matt Mueller (editor): I agree, this was a big change this year — the availability of being able to watch films, not having to go to a screening, having them on your laptop as and when you wanted. It will be interesting to see: does that stay next year?
Halligan: And then Bafta asking us all to watch those 15 or 16 films in our group — and everybody I know did watch them or made best efforts to do so — also resulted in a little bit of word of mouth within the Bafta membership and within groups. There was more of a chance to get a bit of buzz going on.
Louise Tutt (deputy editor): People all seem to agree they discovered one or two films they previously wouldn't have watched.
Mueller: For me, it initially felt a bit vexing having to focus on 15 films where I knew many of them were not going to move beyond this stage. In hindsight, it was a good idea because it gives some kind of level playing field and — as you say, Finn — creates word of mouth for certain titles. It helps the overall membership find films that they might not have thought about. So the purpose it served was positive and the number of films that were nominated clearly went up.
Charles Gant (awards/box office editor): But one thing they need to do is get more films up early and galvanise people to start watching. When it came to first-round voting to determine the longlists in January, you could hear the audible gasps of, "Oh my god, there are 250 films". I think quite a few got overwhelmed by the scale of the task.
Tutt: And people had their children at home, certainly until March, and were home-schooling or looking after them during the day, and then had to do their day job in the evening, which didn't leave enough time to watch all the films. There's also the issue of films that you can't watch with children around.
Best film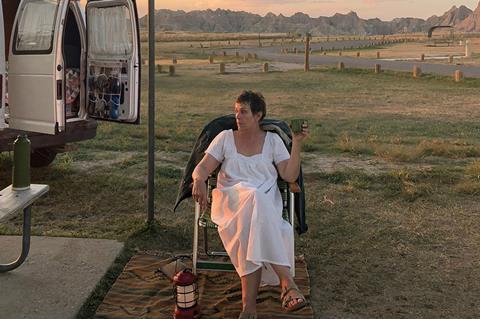 Gant: Best film is a category where we do genuinely know what Bafta voters think. The longlists and nominations were determined purely by member vote, without the intervention of juries. I assume Nomadland will win. What do you guys think?
Mueller: It's interesting to see The Mauritanian on there, because that film obviously didn't click with US voters. It feels like Nomadland has a tailwind behind it, and has had ever since Venice. It has long been the frontrunner and nothing has knocked it off its perch. But the longer awards season has gone on, the more people talk about Promising Young Woman. At the same time, it's probably the most divisive film in this category — there are people who don't like it at all.
Tutt: The subjects it talks about have become quite timely in the UK. I do think Nomadland will win, but there is a chance Promising Young Woman will have that dynamism behind it and peak at the right time.
Gant: What do you think of the idea that because we all watched these films on our TV screens, it slightly levelled out the playing field? The qualities of Nomadland, which would have been absolutely apparent on the big screen, perhaps lost some advantage. I also feel Promising Young Woman might resonate with a swathe of Oscar voters, because of the way it swings for the fences in terms of appealing to an audience.
I think sometimes people who work for studios like a film that is trying to be entertaining and trying to engage people rather than being a critics' favourite. Green Book beat Roma two years ago for the best picture Oscar, which not everyone was expecting. And last year, when Parasite won, I can see a parallel there with Promising Young Woman, the way it played with different genres and was intrinsically commercial despite being in a foreign language. But I don't think that focus on audience appeal will be such a big factor with Bafta voting.
Mueller: It's interesting also looking at this best film list, and the fact only one of those filmmakers made the best director list, which was Chloé Zhao. Emerald Fennell, for instance, got an Oscar nomination for best director but wasn't picked by the Bafta jury. The Trial Of The Chicago 7 had strong heat at the beginning, it felt like Netflix could win in several categories with this film, but it has faded away a bit. The fact Aaron Sorkin didn't get a director nomination with either academy might stymie its chances even further as a best film contender.
Gant: It feels like a lot of people's second or third choice.
Tutt: It's a film that a lot of people will have watched. It's been on Netflix for a long time, it's Aaron Sorkin…
Gant: But to vote, everyone has to watch all these films, so that should no longer be a factor.
Outstanding British film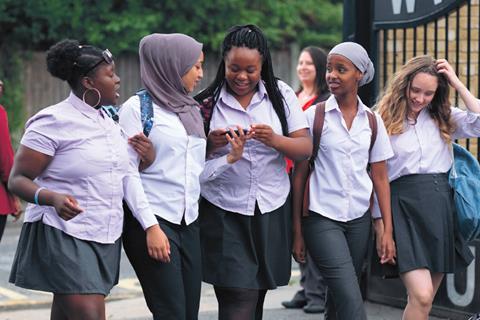 Mueller: Bumping this category up to 10 nominees really gives airplay to films that otherwise get overlooked. That's a great decision on Bafta's part. But there is always the question around which films are deemed "British enough" and which aren't.
Tutt: The big one is Promising Young Woman. That's the one that stands out to me in terms of not being as British as the others. You feel it's not really a product of the British film industry.
Mueller: But has anyone been questioning Promising Young Woman being a British film? I haven't really heard that conversation. Compared to when Alfonso Cuaron's Gravity was nominated, for example, a few years ago.
Tutt: Or last year with The Two Popes. Personally, I think it matters.
Halligan: I think it matters a lot when you don't get good British films on that list because their place has been taken by a film that doesn't feel British. But if you expand the list as Bafta has done, it looks a lot less egregious.
Gant: I was initially a little bit sceptical in terms of expanding to 10 nominees. I thought, "Is this the right time to be doing this in the year of Covid? Is it going to look like a bit of a mediocre list?" And, obviously, all those fears were completely misplaced because they are all strong titles nominated.
Tutt: Next year will be interesting because these are films that were made, shot, had everything in place way before the pandemic. Will the eligible titles for next year match up?
Gant: So who do we think will win? I'm assuming that, especially because Rocks is not nominated as best film, this is where it's going to romp home.
Mueller: I think Rocks is the frontrunner. But I could see a world where people go: "I'll vote Nomadland for best film and I'll take The Father for outstanding British film." There's a lot of support for The Father, and it's a strong film. So I can easily see people dividing their vote that way.
Tutt: I agree. I think it's interesting, maybe a touch disappointing, how Saint Maud doesn't feel a serious contender anymore.
Halligan: Saint Maud had a great trip for what it is. I loved it when I saw it, and it's had the best life it could possibly have hoped for.
Tutt: We haven't seen the ceremony yet but Bafta certainly intends to give a lot of weight to all these 10 British nominees, and that will benefit all of them. That's something to look forward to and a great innovation.
Halligan: If your desire is to have a more national industry awards, it's hopefully going to look like that — which has always been what people have said they wanted, instead of a pale imitation of the Oscars.
Best director and film not in the English language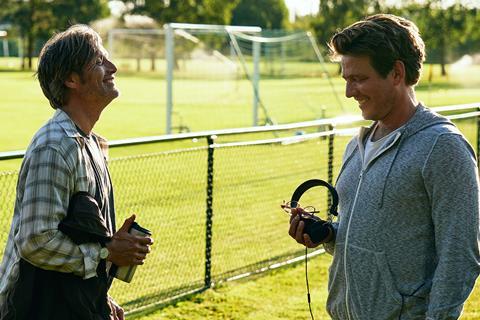 Halligan: For best director, obviously, Jasmila Zbanic [Quo Vadis, Aida?] and Thomas Vinterberg [Another Round], terrific, and there's such a lot of support for [Shannon Murphy's] Babyteeth. I thought that film had disappeared without a trace, but here it is, getting the love. If you look at director, it just seems so separated from best film — it's one of the anomalies that have been thrown up.
Tutt: But it looks like what best film would look like if a jury got its hands on that too. It's like the alternative best film category. This is where you feel Bafta voters are going to look and go, "Whoa! What are those films?" This is the cineaste category, and best film is the populist category.
Gant: What thrills me, though, is to vote in director you have to watch all the nominated films, and if you do you could pick any of them. It's not guaranteed Nomadland or Minari will win just because they're bigger, multiple-Oscar-nominated movies. If you watched Quo Vadis, Aida?, you could go: you know what, that was the best-directed movie.
Halligan: But to put Nomadland as best film and not give Chloé Zhao best director would be a really tough thing to do.
Mueller: There's a chance for Quo Vadis, Aida? to upset Another Round in the foreign-language film category. It's one of those films that seems to be gaining a late head of steam.
Tutt: People love Another Round, though.
Gant: For film not in the English language, I want to mention Minari as the joker in the pack, because it's not nominated best film, it's not nominated best actor, so Minari fans might rally to its cause in this category.
Mueller: But it is nominated in best director. In both categories, it's up against some pretty strong contenders. Another Round will likely win film not in the English language, or maybe Quo Vadis, Aida? causes the upset. In director if Chloé Zhao doesn't get the award, then maybe Lee Isaac Chung sneaks in for Minari but I don't see that happening.
Tutt: I can see why the Americans loved Minari.
Halligan: Exactly, it's a real Oscar one, isn't it?
Gant: I do see it as a potential Oscar winner, because it's so warm, it's so human, it's very accessible. I can see Academy voters going with it but I don't see Bafta voting in the same way.
Best documentary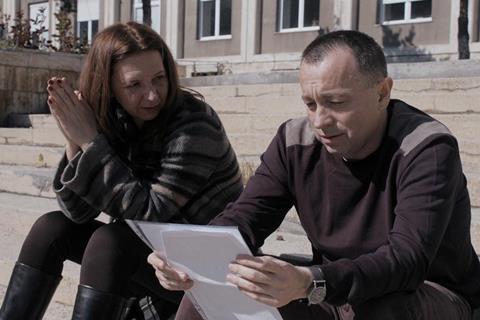 Mueller: I would love Collective to win. It's an incredible film.
Halligan: I'm keen on The Dissident as well.
Tutt: I think Collective will win, won't it?
Gant: There are some other views, pointing out David Attenborough: Life On Our Planet landed on the outstanding British film longlist, and was the only documentary that did so. So there's obviously a lot of love for that film. And My Octopus Teacher is a film that people are reacting to in an emotional way. It was a word-of-mouth Netflix movie, before even the award season kicked into gear.
Tutt: But they're wrong!
Mueller: Collective is great because it's so topical: the value of journalism in a society to hold governments to account but also, in a pandemic year, the need for good healthcare systems in any country.
Tutt: We do run the risk of being journalists who like stories about journalism.
Mueller: That applies to The Dissident as well, which is about a murdered journalist. But maybe it will be Attenborough versus Octopus.
Tutt: Going back to how you watch these films, if you're sitting down, and you've got your kids around or wider family, you're much more likely to put that on. Even though, of course, you're meant to watch all five.
Mueller: We seem to be questioning whether voters will watch all five.
Tutt: I genuinely don't think people have had the time. I do think there's a big issue of people haven't watched as many as they might have done if the kids had been at school and everything.
Halligan: It's an opt-in category though, right?
Gant: Yes, but with more than 3,000 who opted in, or so we are told by awards campaigners. In order to vote, you do have to declare you have seen all the nominees, and we can only hope that people who haven't watched everything in any category do abstain.
Original and adapted screenplay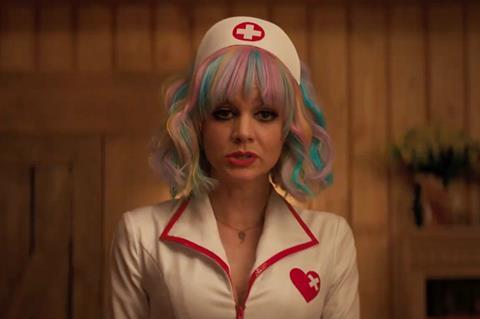 Gant: I was talking to one of the US awards campaigners a week ago, and Promising Young Woman is not his film, but he was saying he would be shocked if Emerald Fennell did not win original screenplay.
Mueller: The fact that she won the WGA award has improved her chances of winning even more. I think people expected Aaron Sorkin to win original screenplay at the WGA awards. The fact that Emerald did indicates she may have this category sewn up, potentially for Bafta and Oscar. It shows how much momentum Promising Young Woman is gaining throughout award season; it's one of those films that's coming from behind and surpassing the other contenders along the way.
Tutt: It's really cresting at the right time, isn't it? It's interesting with Rocks, because there's a sense that a lot of Rocks was improvised on camera, but that's not really the case.
Halligan: The same for Nomadland in the adapted category.
Tutt: It's testament to the acting and the writing that people think both of those films are improvised.
Mueller: Adapted feels very open but I would place my bet on The Father. Again, if Nomadland wins best film and best director, I feel like voters will want to reward The Father in some way. It's adapted from the play by the people involved, I think it's got a strong chance.
Halligan: The White Tiger is in with a little bit of a chance here. It's the only nomination it's got, apart from for actor, so if people see it…
Mueller: I was sad not to see it nominated in more categories, it's an incredible film. So you're right, people may want to recognise The White Tiger for one of the two nominations it did get, with screenplay more likely than best actor.
Tutt: It does make this category really open, though, because you could say that for The Mauritanian as well, which is probably not going to get anything else, but Bafta voters obviously like it. And then Moira Buffini – The Dig is also a well-liked film.
Best actor, actress, supporting actor and supporting actress
Mueller: These are all clearly jury-abetted categories in terms of the final set of nominations, and in a good way.
Gant: Indeed, and we should thank the juries – for directing as well as acting – for widening the total number of nominated titles to 50 this year. There are quite a few titles in the jury-determined categories – such as Babyteeth, Clemency, One Night In Miami and Da 5 Bloods – where it was the film's sole nomination.
Mueller: There are two big omissions that everyone has talked about, which is Olivia Colman in supporting actress and Carey Mulligan in leading actress — those are interesting omissions by the respective juries, because both of those actors were strong frontrunners throughout awards season.
Halligan: And Viola Davis as well.
Mueller: This is where I think it poses an interesting question for Bafta going forward, and how much they deviate from the films that are likely to be known by the wider public. If you think about having a red-carpet ceremony, and you don't have Carey Mulligan turning up, and you don't have Viola Davis, and you don't have Olivia Colman, that is an interesting road for Bafta to think about. They have put so much focus on the red carpet the past few years, and getting the big stars to turn up.
By letting the jury pick these much more curated selections, I wonder what it means for the future. Will they continue this next year when they can have a red carpet with stars walking down? Or will they stick to their guns with this radical new approach to formulating the four acting categories?
Tutt: I don't think they will change. That would be a massive change, and backtrack on everything they profess to stand for.
Gant: It will be fascinating when they announce the jury members to see how international the juries were. Because this does feel like a British-influenced set of choices, across the acting categories. I wonder how many voting members based in the US and other countries were included in the juries.
Tutt: But it should be British, shouldn't it? One of the main things that came out of Bafta's big survey and interrogation was that the industry wants Bafta to be more British. These are the British Academy Film Awards. That's one of the big issues Bafta is grappling with.
Gant: In supporting actress — do we think this is where Rocks fans will get to register their enthusiasm?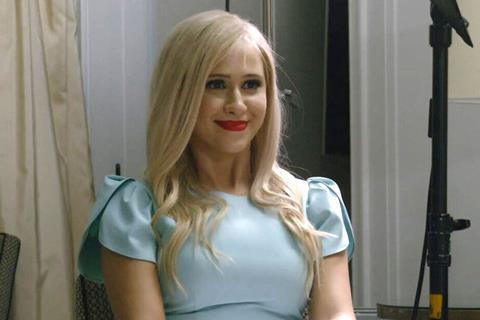 Tutt: What about Maria Bakalova [Borat Subsequent Moviefilm]?
Mueller: She's the one being tipped. Maria or Kosar Ali from Rocks… Whereas Yuh-Jung Youn is the Oscar frontrunner for Minari.
Tutt: But then a lot of people love Calm With Horses, and Niamh Algar in it. I would say it's between Niamh, Kosar and Maria.
Mueller: Do we think Bukky Bakray has a chance in the leading actress category?
Tutt: I think it'll be Vanessa Kirby. The British film industry loves Vanessa Kirby, they loved her in The Crown.
Gant: Bukky faces tougher competition than Kosar does. And also her role is the less-showy, solid protagonist-type part, holding the centre, stepping up to adult responsibility. For lead actor, I am feeling a lot of love for Riz Ahmed from the British Academy, and for Anthony Hopkins. But there's the Chadwick Boseman factor and, of course, this will be his last chance to win a Bafta.
Mueller: I'm happy to see Adarsh Gourav on there. His performance in The White Tiger was extraordinary. It's also great to see Tahar Rahim and Mads Mikkelsen. It's a great list of actors. They didn't include Gary Oldman from Mank or Steven Yeun from Minari, who were both Oscar-nominated – but those don't feel like big omissions to me. I think Chadwick is a strong favourite, but Anthony Hopkins and Riz Ahmed will have support as well. It does feel like Chadwick's year, though, and he may win both the US and UK academy awards.
Gant: It's a competitive category this year. Sometimes, the actress list is really strong. This year, the male leading actor list is particularly strong.
Tutt: It is strong, but we can probably only come up with one or two names who should also be on there, whereas with lead actress, it's much more contentious who's been left off.
Gant: For supporting, LaKeith Stanfield secured an Oscar nomination. He was on the Bafta longlist for leading actor, but it never felt like that was much of a conversation.
Halligan: Daniel Kaluuya is so good in Judas And The Black Messiah, he's the film's great strength. So pushing LaKeith as lead actor, that just felt different to how it played, and it didn't work out for them in the end. It might not even work out for Daniel at the Oscars because it's a split vote.
Gant: At the Baftas, it's got to be Daniel. He's not competing with his co-star for votes, he's the home choice and he's amazing in the role.
Tutt: Plus he's incredibly well-liked.
Gant: In other words, how does he not win this category?