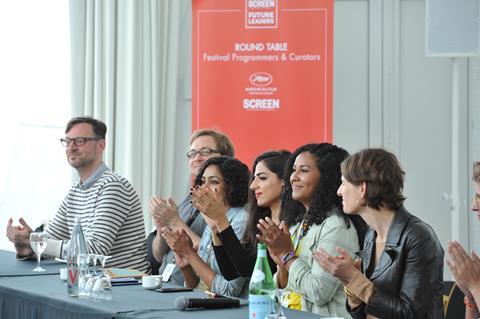 At Salon Croisette in the Palais des Festivals on Saturday (May 18), Screen International's 2019 Future Leaders — Programmers and Curators assembled to debate some of the key issues in today's festival landscape. They were joined by current festival heads and artistic directors, including Cannes delegate general Thierry Frémaux, who dropped in for the beginning of the event. Others attending included Lili Hinstin of Locarno, Bero Beyer of IFFR, Giona Nazzaro of Venice Critics' Week, Mark Adams of Edinburgh International Film Festival, Mirsad Purivatra of Sarajevo Film Festival, Tine Fischer of CPH:DOX, Cara Cusumano of Tribeca and David Nugent of Hamptons International Film Festival.
During the round table, Future Leaders and festival heads discussed the need to explore new programming structures, keeping festivals at the vanguard of not just cinematic but visual culture. "Film festivals should be taking the most broad sense of what cinematic culture is, including visual arts and episodic," said Beyer, citing two strands at this year's IFFR: the Blackout exhibition, which was built by Future Leader Julian Ross around the Kodak slide projector, and another by Inge de Leeuw — also a Future Leader this year — that explored the influence of internet memes on cinema.
Anna Bogutskaya, who explored the intersections of internet culture and cinema for a BFI programme in April, argued that festivals needed to "sort of unlearn some of the legacy of programming and existing programming models" in order to keep up with audiences. "The way that new generations are consuming visual media is all unified and there is very little separation from an audience point of view between a film, a TV show, a YouTube video, a video game."
Cinema for everyone
Inclusion was also an issue. "An essential question is, how do you make sure people feel they're invited to the party?" asked Mads Mikkelsen of CPH:DOX. "I'm hopelessly idealistic about this but I fundamentally think all films are for everybody."
Other topics included building film culture in parts of the world without a legacy of arthouse cinemagoing; engaging younger audiences; diversifying programme teams and developing training schemes for young programmers; and a push towards greater transparency, not least in regard to screening fees, which many festivals don't pay.
The question of female representation was also broached, with Ana David of Berlinale Panorama and IndieLisboa saying: "We're all talking so much about gender parity but this discussion can't just be locked on gender, it needs to tackle financial background, race, geography. We need very diverse perspectives."
The Marché du Film will be handing out the Cinando Award to two of this year's Future Leaders at the festivals and sales agents mixer at Plage des Palmes on Wednesday night, with the winners chosen by an industry jury assembled by Marché executive director Jérome Paillard (it was Paillard who planted the idea for a Future Leaders — Programmers and Curators when he told Screen International editor Matt Mueller at AFM about his intention to introduce a Cinando programmers award at Cannes).
For this year's Future Leaders, building film culture around the world is a key goal. Directors' Fortnight programmer Claire Diao runs an initiative in Burkina Faso and noted how passionate are the young audiences there when learning about cinema, while Nazzaro added it was up to programmers to build an international network. "Programmers should be standing on the threshold and provoking the things they would love to happen," he said. ns