Liv Ullmann's first film as a director in more than a decade, Miss Julie stars Jessica Chastain, Colin Farrell and Samantha Morton. Mark Salisbury visits the set and speaks to the director about relocating August Strindberg's masterpiece to Northern Ireland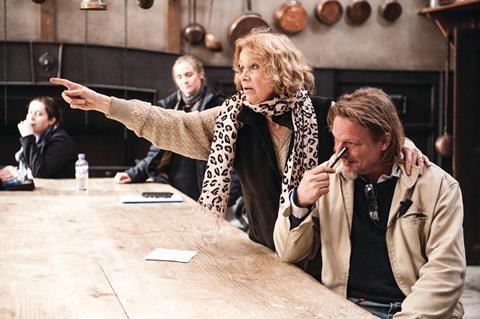 When producers Teun Hilte and Oliver Dungey of London-based The Apocalypse Films Company met with Liv Ullmann to discuss directing a movie for them, they had nothing in mind other than a desire to make a series of films revolving around the theme of the femme fatale.
"We approached several female film-makers," recalls Dungey. "Liv was the first. And she quickly said she wanted to do Miss Julie."
Written in 1888, Swedish playwright August Strindberg's theatrical masterpiece has already been adapted numerous times for stage and screen, the earliest film version in 1912. Although Ullmann, legendary actress, muse of Ingmar Bergman and an acclaimed director in her own right, had never played the role on stage, she felt a strong affinity to the material, not least because of her upbringing. "Because I'm Scandinavian, I have a close connection to the Swedish Miss Julie, and I felt a lot I would like to say, I could write into Miss Julie. It is an adaptation. Obviously I used a lot of Strindberg, but also things that come from me."
Set on Midsummer's Eve in a large country house, Miss Julie details a battle of both sexes and classes, revolving around the eponymous daughter (Jessica Chastain) of a wealthy landowner, and her flirtation with and seduction of her father's valet (Colin Farrell), a power struggle that has tragic consequences. The house's cook and valet's lover (Samantha Morton) observes the tryst as it unfolds.
While Ullmann's film retains the original period, it relocates the drama to Northern Ireland. "One of the few conditions [we had] was it had to be in the English language," says Hilte on day 12 of Miss Julie's eight-week shoot. "Liv was happy to transpose the story. Northern Ireland was chosen because there was a similar socio-political situation at that time. Obviously there isn't such a thing called Midsummer's Night, but there is St John's Eve which is a similar concept." (Farrell's character's name has been anglicised to John from Jean.)
Ullmann began by translating the play into English. "I know Swedish and the translations I saw didn't fit Strindberg the way I read it." She added flashbacks of Miss Julie as a child and expanded the role of Kristin the cook (here renamed Kathleen) to make it less of a two-hander. "It is about three people. All of them give each other pain." While Ullmann has opened up the play, it still mainly takes place in the kitchen. "We do go out. I think Strindberg would be OK with that. There are maybe things he wouldn't be so okay [with]; she gets to say more of why she is why she is."
Once Ullmann committed, Hilte and Dungey approached Norwegian producer Synnove Horsdal of Maipo Film to partner with them. Very quickly the Norwegian Film Institute came on board with "substantial support", says Horsdal, amounting to almost 25% of the film's $6m budget. "It has been a long time since Liv Ullmann has done a film and a lot of people felt the Norwegian public owed her another." (Her last film as director was Faithless in 2000.)
The remainder of the budget came from a variety of sources, including Northern Ireland Screen, the Irish Film Board and Windmill Lane Post-Production. Another third was raised via gap funding, from Altaris and Media House Capital in Canada. Former Wild Bunch acquisitions exec Rita Dagher, now running Paris-based production company Senorita Films, partnered as a French co-producer, providing some finance.
While the plan had been to do all post-production in London to maximise the UK tax credit, when Irish co-producers Aoife O'Sullivan and Tristan Orpen Lynch of Subotica Films joined the project, post was moved to Dublin, resulting in Section 481 tax relief. "It is not only a Norway-UK-France co-production but it's a Northern Ireland-Republic of Ireland cross-border co-production which is fairly unique because they often compete for projects," Hilte notes. "And because of Colin Farrell's Irish heritage, Tristan was able to bring the Irish Film Board on board with a modest amount of money, but exactly what we needed to close the finance." (See feature, p56.)
At time of writing, the only distribution deal in place is with Nordisk Film in Scandinavia. Wild Bunch is handling international sales and is introducing the film to buyers in Cannes.
Chastain was "first choice" as Miss Julie. She signed on prior to starring in Zero Dark Thirty, swiftly followed by Morton. "If you're a young actress and serious about your craft, the chance to work with Liv Ullmann doesn't come along too often," says Dungey. Farrell was the last piece of casting, coming on board at the start of 2013. "These actors are sensational," says Ullmann. "You will see Colin like I've never seen him, and I've seen him really good."
Miss Juliewas shot entirely on location at Castle Coole, a neo-classical mansion in County Fermanagh, Northern Ireland, now maintained by the National Trust. The beautifully preserved house provided a series of near ready-made sets. "Its upstairs rooms are brilliantly intact," says Dungey. "It brought production value we couldn't recreate."
The singular location also benefited the schedule and actors. "They spent two weeks rehearsing here," notes Hilte. "That was incredibly important to Liv, to have that time to prepare them, to get to know them, and for them to get to know her. From what we've seen in the rushes, that's really paid off. It allows them to focus completely on their performance."
Hilte and Dungey, meanwhile, are developing three further projects in their femmes fatales series, including a Claire Denis science-fiction film and a Benidorm-set thriller from Isabel Coixet.
Miss Julie (Nor-UK-Fr-Ire)
Prod cos Maipo Film, The Apocalypse Films Company
Backers Norwegian Film Institute, Northern Ireland Screen, Irish Film Board, Windmill Lane Post-Production, Altaris, Media House Capital
Prods Teun Hilte, Oliver Dungey, Synnove Horsdal
Co-prods Rita Dagher, Senorita Films (Fr); Aoife O'Sullivan, Tristan Orpen Lynch, Subotica Films (Ire)
Dir Liv Ullmann
DoP Mikhail Krichman
Ed Michal Leszczylowski
Prod des Caroline Amies
Cast Jessica Chastain, Colin Farrell, Samantha Morton
Sales Wild Bunch www.wildbunch.biz