Short films are more visible than ever thanks to promotional showcases in theatres and online distribution opportunities, but is this translating into more revenues for the format? Melanie Goodfellow investigates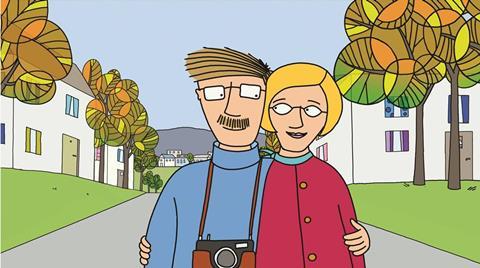 The days when short films routinely played alongside mainstream features in commercial cinema programmes have long since passed, but the format is more visible than it has ever been in cinema's 120-year history.
Dutch Oscar short animation nominee A Single Life was recently seen by more than 1 million people in cinemas in its home country thanks to the Netherlands Film Fund's Ultrakort scheme, which is financing four two-minute films a year that play in Pathé cinemas ahead of mainstream titles.
The tale of a woman transported back in time when she plays a vinyl record was shown before Dutch Christmas hit Viper's Nest 2 (Gooische Vrouwen 2), which has sold more than 1.2 million tickets since its release on December 4.
"Other shorts in the series have gone out in front of Guardians Of The Galaxy and Interstellar," reveals Dorien van de Pas, head of the fund's New Screen NL department, which oversees many of its shorts initiatives.
Events such as the Bafta and Academy Awards short nominee showcases, pulling together nominated works in feature-length programmes for theatrical release, have also helped put shorts back into theatres.
"The Oscar shorts theatrical release is a huge event in the US. It came 27th in the independent box office last year," says Carter Pilcher, chief executive of London and Santa Monica-based shorts specialists Shorts International, which oversees the Academy Awards showcase.
"We are in more than 500 independent cinemas across the country. In New York, we take over the IFC Center for the entire month of February. We're its biggest grossing movie every year. The opening night is crazy. There are people lined up on the pavement, screaming for tickets," he adds, noting that last year the box office gross for the package was around $2.4m.
Under the initiative, the films receive a share of the revenues after costs. For the animated and live action works, this can be in excess of $20,000 — a good return for a short. The documentaries, which travel less widely, receive a flat fee. The compilation hit US cinemas on January 30 and will appear on Short International's Short.TV channel as well as cable and pay-TV stations and VoD platforms.
Another high-profile event is The Shortest Day, an annual celebration of the short film held on December 21 — the shortest day of the year in the northern hemisphere. Launched by France's National Cinema Centre (CNC) in 2011, it has since spread to 50 countries and now shows hundreds of works over a three-day period in cinemas, schools and cultural institutions across the globe.
Online platforms such as YouTube and Dailymotion have been popular for shorts from up-and-coming film-makers for some time. The Bafta British short film winner Room 8, made for the Bombay Sapphire-funded Imagination Series, generated more than 350,000 views on YouTube after it was flagged up on the spirits company's channel.
However sales agents caution there is little financial return via such platforms unless the work is showing on a monetised channel. But many are reporting good business through digital players such as iTunes and Amazon. And new platforms are emerging all the time, such as Spain's recently launched Feelmakers, which features a dedicated shorts-focused site.
While the visibility and availability of shorts has increased over the past decade, this has not necessarily translated into growing receipts or investment, say professionals who specialise in the format.
A big challenge, they say, is that traditional television channels, which remain the key buyers of short-format content, are no longer investing as much as they once did and newer digital players have yet to fill the gap. In many respects, the shorts world is facing the same challenges as the documentary community.
"Ten years ago, I would deal with more than 50 TV broadcasters that would regularly buy shorts. Nowadays, I work with approximately 25 TV stations and many of them buy a small package of titles just once a year," says Frédéric Joubaud, general manager of Toronto-based shorts specialist Ouat Media and veteran of Paris-based shorts sales boutique Premium Films.
Ouat has sold seven Oscar-nominated shorts over the past five years including live-action winners Curfew and God Of Love as well as the animated The Lost Thing. This year, Ouat is handling French-produced Butter Lamp, directed by China's Wei Hu and revolving around Tibetan monks, which is nominated in the live-action category.
The company was one of the first shorts distributors to sell its titles on iTunes, achieving success with Shawn Christensen's Curfew, which briefly topped the platform's shorts chart in 2013, as well as working as an aggregator creating compilation packages drawn from its own slate as well as other shorts sellers.
"Digital revenues are slowly filling the gap but let's be honest the gap is so big right now that it will take years for online revenues to balance the losses that come from the TV market," says Joubaud.
"Right now, south of 25% of our revenues come from digital platforms. I expect those revenues to reach 40% within the next five years but we will still be behind what we made 10 years ago when more than 50 TV broadcasters would buy shorts on a regular basis," he says.
Veteran short sales agent Sydney Neter at Amsterdam-based SND Films, which is handling sales of A Single Life, paints a similar picture. "French channels like Canal Plus still remain good buyers but I'm sure this is going to change in years to come as channels like Netflix take away subscribers and they have less money to spend," he says.
Growth of VoD returns
Like Joubaud, Neter has seen growing returns from VoD. "Until last year, none of the VoD platforms would pay anything up front but some are now willing to pay for a film or a package of films. Vimeo has started doing this for its VoD site so it can get good films."
He also notes the emergence of new buyers such as Condé Nast Entertainment, which has started acquiring shorts for its digital spin-offs linked to titles such as The New Yorker. "The trouble is that they want all US rights so they can put it on YouTube, everywhere, and you lose exclusivity of the film. That might make sense when a film is two or three years old but not when it's brand new and heading for a potential Oscar nomination," says Neter.
Lorne Price, head of sales and digital distribution at the National Film Board of Canada, which is celebrating its 73rd Oscar nomination this year with Norwegian filmmaker Torill Kove's short animation Me And My Moulton, says the institution tries to embrace every angle when it comes to showing its shorts — from theatrical distribution to exposure on its own NFB.ca platform as well as its dedicated YouTube channel, which generates 800,000 hits a month.
"We are unique as an agency because we are about making our films as available as possible and at the same time, because there's a value to our productions, we want to make revenues," he says.
"We work across the board. There are so many platforms emerging every day and we're exploring all them," he says, noting his department is also looking at a theatrical initiative similar to that of the Netherlands Film Fund in which NFB-backed shorts would play ahead of blockbuster titles in Canadian cinemas.
From the big screen to the small screen, the distribution possibilities for short films have never been greater. It remains to be seen, however, whether these new opportunities will translate into sustainable sources of revenue and production investment as support for shorts from broadcasters continues to wane.
Festival focus: Clermont-Ferrand
The 37th Clermont-Ferrand International Short Film Festival, set against the backdrop of the Massif Central in south-central France, this year runs from January 30 to February 7. Oscar nominees A Single Life and The Bigger Picture as well as Sundance 2014 hit The Bravest, The Boldest are among those competing in the international competition. American-Palestinian film-maker Cherien Dabis and Spanish director and writer Javier Rebello are on the jury.
The main draw for professionals is the Short Film Market, marking its 30th edition this year, which includes screenings, the Euro Connection co-production event and presentations by key buyers. Some 3,500 people attend every year. Projects in Euro Connection include UK writer and film-maker Lucy Brydon's Sick(er) and French-produced Lupus from Colombia's Carlos Gomez Salamanca. Speakers in the buyers talks include Simon Young and Chris Tidman of Shorts International and the shorts acquisition team at Canal Plus.
"We're a crossroads for a diverse cross-section of professionals. Aside from the sales agents, buyers and distributors, we also welcome talent agents and a large student contingent," says Anne Parent, industry head for the festival. "There's also a strong pedagogical side. We hold seminars on how to prepare for a market or festival, for example, and the buyers talks are a key part of the programme."