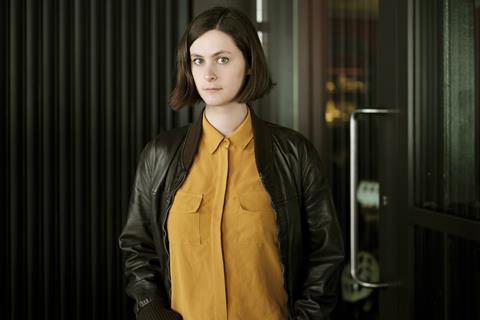 When Alice Seabright spoke to Screen International she was prepping to direct two episodes of the new season of Netflix's hit series Sex Education, with shooting set for this summer. "Sex Education is a massive step up as I've only done shorts and the longest is 20 minutes," says Seabright. "Now all of a sudden, I'm doing nearly two hours of television."
Funnily enough, a short called Sex Ed was one of the projects that put her on Netflix's radar back when it was looking for directors for the first season. Made through the directing workshop at the National Film and Television School (NFTS) and funded by Eon Productions, Seabright's short played at the BFI London Film Festival in 2018 and was longlisted for a Bafta.
Seabright started out studying psychology at University College London where she was president of the university's film society. After graduating with a psychology degree in 2010, she took a role at a digital media company before working as an assistant to a documentary filmmaker in India. She returned to the UK to take a job at Brilliant Films. During this time Seabright had made a short called Dream Girl in 2012 for less than £30 ("the first film that I'd show anybody") and finally got a job as a development assistant at Heyday Films in 2013. "I knew when I went in that what I really wanted to do was write and make films," she says. "[Heyday was] so brilliant for me in terms of reading drafts. Having someone go, 'Oh this isn't awful, keep going,' at that point was really valuable."
She left Heyday after three years to concentrate on filmmaking and in 2016 wrote and directed Pregnant Pause through Film London's London Calling scheme. Starring Sally Phillips, the film was also longlisted for a Bafta. After working with the NFTS on Sex Ed, Seabright studied at the school for a year on the directing fiction MA programme, writing and directing shorts Strange Days (2018) and The Phoenix (2019).
Seabright is now developing several TV projects, including drama Chloe with BBC Drama and Tally Garner of Mam Tor Productions, and comedy drama Give Me Shelter with Faye Ward's Fable Pictures, based on her own experiences working at a homeless shelter. Next is short End-O, a comedy about endometriosis that is in post-production, and she is developing her feature script Out Of Mind, a sci-fi set in the near future. "I would love to do a feature sooner rather than later," she says.
Contact: Harriet Pennington Legh, Troika