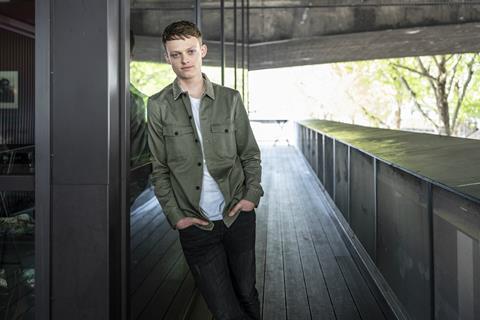 It is customary for actors to talk about having enjoyed their time during a shoot, but Anson Boon and the cast of Roger Michell's Blackbird have matching tattoos — a blackbird — to prove it. "What we did on and off screen, the special family we built, was a life-changing experience," says the 19-year-old of working with Kate Winslet, Susan Sarandon, Mia Wasikowska and Sam Neill.
Blackbird is about a family who unite to say goodbye to their terminally ill grandmother. The actor describes the film as "a real stepping stone" and it is one of several projects he has shot in a busy year for the Northamptonshire local.
Boon chose not to go to drama school, opting to learn his trade through local acting clubs. He also has a role in Sam Mendes's First World War film 1917, and has shot recurring parts in Amazon Studios' sci-fi The Feed with David Thewlis and Michelle Fairley, and StudioCanal's Tandem Productions and Bron Studios' thriller series Shadowplay.
Boon's first lead role is in Phil Sheerin's Ireland-set thriller The Winter Lake, opposite fellow Star Emma Mackey, which shot earlier this year. Boon plays a withdrawn teenager who makes a grim discovery as he gets to know his mysterious neighbours. Now he is preparing for Roy Alexander Weise's production of Athol Fugard's 'Master Harold'… And The Boys at London's National Theatre.
With his life changing at a rapid pace, Boon is looking forward to whatever the increased visibility will bring. "Bigger and better things come along, you get to play cooler characters. I love the escape of being able to be other people."
Contact: Kate Staddon, Curtis Brown