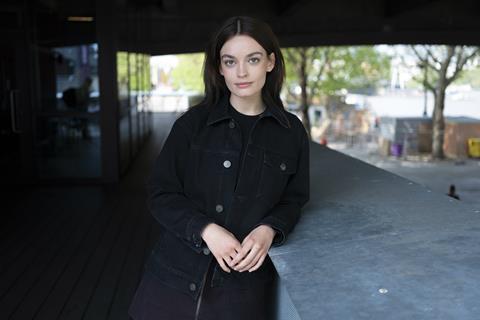 As debuts go, playing sharp-tongued outsider Maeve Wiley in Netflix's teen drama Sex Education has allowed Emma Mackey to make quite an impact. Netflix reports the first series was seen by as many as 40 million viewers in its first four weeks on the platform. "We knew our friends would like it, but what a delight to have the reaction we got," says Mackey.
Sex Education has opened doors for Mackey around the world including in France where the actress grew up — she has dual nationality and is bilingual. She is set to start shooting Pathé's French-language love story Eiffel in August, starring opposite Romain Duris as Adrienne Bourges, a mysterious woman linked to engineer Gustave Eiffel's past. It is being directed by Martin Bourboulon.
Eiffel will be Mackey's second film following Phil Sheerin's gothic thriller The Winter Lake, which she shot in Sligo, Ireland in February. She stars with fellow Star Anson Boon.
After moving to the UK and earning an English degree from the University of Leeds, Mackey attended acting classes with renowned theatre actor Laurence Mitchell at his Home Studio London. She credits Mitchell with propelling her career forward.
Mackey is now shooting season two of Sex Education in Wales until August. "What I find attractive is Maeve's independence, creating her own momentum in life and not relying on anyone else for her story," says Mackey of her return to the character. "My priority when I'm looking at a job is that the character is well crafted and the story is worth telling."
Mackey has also shot a role in Josef Bates' short film Tic, on which she took an associate producer credit. She says she is keen to eventually move behind the camera. "That's one of my main creative ambitions — get a load of actor friends in one place and direct something."
Contact: Kate Staddon, Curtis Brown