Playing Laurel and Hardy — one of the greatest comedy duos Hollywood has ever produced — was a daunting prospect for Steve Coogan and John C Reilly. The co-stars tell Screen about their partnership in Stan & Ollie.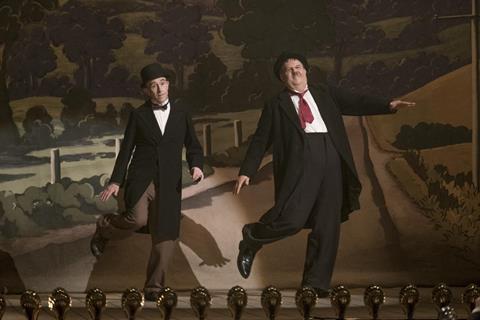 It is the day after Stan & Ollie's world premiere as the closing film of the 2018 BFI London Film Festival, and not even the rigours of a full day of press promotion can dampen the spirits of actors Steve Coogan and John C Reilly. The setting is a suite at London's Savoy Hotel — and appropriately so, since the swanky establishment features in the film, which tells the story of comedy duo Laurel and Hardy reuniting in the twilight of their careers for a UK live tour.
Coogan is particularly animated, pouring tea and restoring ebbing blood-sugar levels by demolishing a bar of chocolate. Yet the pair are honest about their initial trepidation in taking on these roles. "It's just a daunting prospect," says Reilly. "Laurel and Hardy films are already so perfect. Why would you mess with their legacy if you aren't going to be very careful and do it correctly?"
Comic timing
Stan & Ollie is set in 1953, many years after the pair's heyday, and Stan Laurel (Coogan) is hoping this tour of UK variety halls will generate enough heat to jumpstart a Robin Hood comedy movie that is in the offing for the pair. Oliver Hardy (Reilly) is the more cautious member of the duo: performing live is putting a strain on his bulky frame, and the tour's venues and accommodations — at least initially — are not living up to his hopes.
Telling this aspect of the comedy legends' story meant that, dauntingly for the actors, they would be performing not just as Stan and Ollie, but also as Laurel and Hardy — with precision-timed comedy routines presented live on stage.
Reilly's reservations were, however, gradually eroded. Conveniently, he was already in the UK shooting Columbia Pictures' Holmes & Watson with Will Ferrell, and so was available for read-throughs, meetings and make-up tests with Mark Coulier, the double Oscar-winning make-up designer of The Iron Lady and The Grand Budapest Hotel. To transform Reilly into the jowly Oliver Hardy would ultimately take four hours in the make-up chair every day.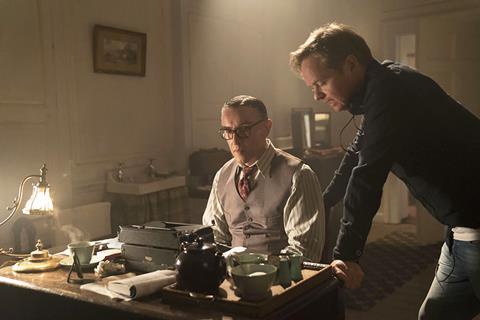 "I also had to be convinced that we weren't just going to try to out-Laurel-and-Hardy Laurel and Hardy, because that's a fool's errand," adds Reilly. "You already have their work. They're geniuses. But Jon [S Baird, director] said, 'No, our film is going to be about them as people' — what was it like to be or have been in the most popular film duo in the whole world?"
Despite having worked with a roll-call of A-list filmmakers including Martin Scorsese, Terrence Malick, Paul Thomas Anderson and Robert Altman, Reilly says he was unconcerned about the attachment of less-well-known Scottish director Baird, whose previous big-screen directing credits consist of football hooligan biopic Cass and scabrous Irvine Welsh adaptation Filth.
"If you hold everyone to account based on the last people you've worked with, you're just going to disappoint yourself and others over and over again," Reilly expands. "I've worked with people who've never directed a movie before. For an actor, a big part of your life is trusting people. Film is a director's medium. It's not in your control. You give the raw materials and you hope for the best. It was easy to trust Jon because he was so committed, and so enthusiastic."
While Reilly was gradually persuaded, Coogan found himself in the opposite position. Stan & Ollie is scripted by Jeff Pope, a regular writing partner for Coogan (the pair were Oscar and Bafta nominated for Philomena, winning the latter). In fact, they were working together on another project while Pope was writing Stan & Ollie — but Pope was saying frustratingly little about it. "I remember thinking, 'That [Stan & Ollie] sounds good, that sounds interesting, I wonder why, I kind of like…'" says Coogan, affecting the tentative tones of an insecure performer before switching into prima-donna mode. "What's this thing, why am I not in the frame? For God's sake, what's going on?
"Sometimes Jeff will ask me who would be good in a role," he continues. "I go, 'Oh, this guy would be good,' but part of me is thinking, 'But also I think I would be good.' I don't say that because it sounds dick-ish."
For Coogan, the relationship between a performer and their real-life persona is a subject that has long held his interest. "There is that overlap between the performer and what they do on stage — there is something of them in what they do," he explains. "And I know about that, because I've done comic stuff where I know some of it is me, and some of it is not me. Even Alan Partridge, there's a lot of me — an unedited, unexpurgated, unrefined version of me."
Two's company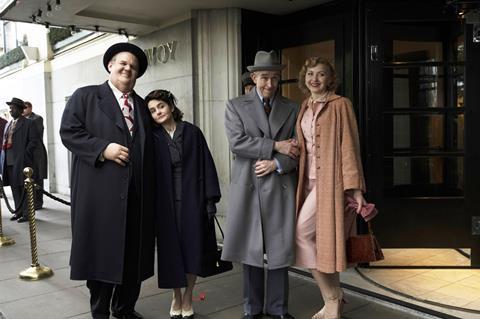 While Coogan is best known for playing Partridge, a raging egotist who hogs the limelight, and Stan & Ollie arrives just as Reilly plays one half in a run of double acts (in addition to Holmes & Watson, he is opposite Joaquin Phoenix in Jacques Audiard's The Sisters Brothers), both men agree there is a particular comfort in working as part of a pair.
"It's less lonely as an experience," begins Coogan. Reilly chimes in: "It sounds like a joke, but when it comes down to brass tacks, an actor's life can be very lonely. You have to generate ideas completely on your own, in the quiet of your room. You're just operating in a vacuum. But when you're working with a partner, you're actively speaking words out loud, 'What if I try this?' It gets you out of your head. It brings you to a place of open collaboration and experimentation."
As actors and performers themselves, albeit both younger than the men depicted in the film, the pair found the roles of Stan and Ollie especially relatable. "Part of me when I watch the movie, I think, 'Thank fuck I'm not in that situation,'" explains Coogan. "There but for the grace of God…"
Adds Reilly: "Ageing, and not having any money saved, that would be a nightmare. That's the reality for most of the world, by the way. That's another reason why these guys are so relatable. They never became glamorous celebrities. They were salaried employees through their entire careers, they never got any back end or box office. Once their movies were out of the theatres, they were broke."
In the UK, distributor eOne is banking on the broad relatability of Stan & Ollie, positioning the film for a wide release on January 11. In the US, Sony Pictures Classics will begin with a platform release right before year's end, to ensure awards qualification. Coogan, who was nominated for best actor at the British Independent Film Awards (losing to A Prayer Before Dawn's Joe Cole), is leading the film's charge for awards attention — although the work of Reilly, and also Nina Arianda and Shirley Henderson who play Stan and Oliver's wives, is likewise earning admiration.
Coogan ends the interview on a self-deprecating note, recalling Philomena, in which he was cast as journalist Martin Sixsmith opposite Judi Dench in the title role of a woman tracing the child she was forced to give up for adoption. "I went to see Judi to talk about the script," he recalls, "and she said, 'Who do you think should play Martin?' And I said, 'We were thinking about me.'" The actor pauses for a beat. "And she went, 'Hmm, is that negotiable?' I went, 'No.' And she went, 'Oh, okay.' That was it."