SCREEN SUBSCRIBERS: Sarah Gavron on her BFI London Film Festival opener Suffragette and the challenges of being a female film-maker.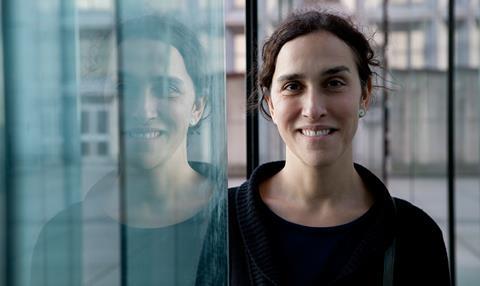 Selected to open the BFI London Film Festival (Oct 7-18) in artistic director Clare Stewart's self-proclaimed 'year of the strong women', Sarah Gavron's Suffragette sets a new benchmark when it comes to gender equality in film.
Not only does her depiction of the working-class women at the forefront of the suffragette movement offer a previously unseen viewpoint - more guerilla warfare than genteel protest - it features a powerhouse female-led ensemble cast that includes Carey Mulligan, Helena Bonham Carter, Anne-Marie Duff, Romola Garai, Meryl Streep and Natalie Press.
Gavron's behind the camera collaborators include screenwriter Abi Morgan and producers Alison Owen and Faye Ward, all of whom were vital to the film's production.
Speaking to ScreenDaily, ahead of Suffragette's BFI LFF debut, Gavron explains why this was a story she felt compelled to tell.
The film presents a very different view of the suffragette movement, focusing on the working-class women who took extreme action to get their voices heard. How did you come across their stories?
Alison Owen [producer of Gavron's 2007 feature debut Brick Lane and Suffragette] and I started researching into the archives of the Museum of London and the Women's Library, and read testimonials, unpublished diaries, memoirs and letters.
We were astounded to see the lengths to which these women had gone, and the brutality they faced at the hands of the police and the government. And all at such personal cost: these women lost their homes, their children and families.
We've got such preconceptions about what Edwardian women were like, but we tried to get under the skin of those women, get into their hearts and mind.
Can you describe the process of bringing the story to the screen?
It took six years, with Abi working on the script. Because there was such a wealth of material, it took us a while to find a focus. At first, Abi wrote a draft with an upper-class woman at the centre of it, who is played by Romola Garai in the film, and Maud [played by Carey Mulligan] was a smaller character.
But we realised that the stories about working women were astounding, as they had more to risk. These women were often at the vanguard of change, and their voices seemed so contemporary in the accounts and the issues they were dealing with – the pay gap, custodial rights and abuses in the workplace felt so resonant that we knew it was the right way to go.
It took time to get that to a script that we could convince financiers was a film that should be made.
The industry is infamous for believing that female-centric stories don't do good business, so were people receptive to this being a viable film in a business sense?
What we had on our side were some wonderful champions. Right from the beginning we had Tessa Ross at Film4, who really nurtured it, and we had Focus Features on board.
Then later we had Cameron McCracken at Pathe, who has supported a lot of female directors and makes films that are political, edgy and not obvious sells.
It was about finding those people who believed in it. It definitely wasn't straightforward, and it helped that we attracted a great cast.
The cast is phenomenal, but was it as important to you to include women behind the camera?
It was an almost instinctive process when we were crewing up. We met a lot of people, men and women, and we found ourselves gravitating towards many of the women.
On reflection, I'm pleased that it was such a female-strong crew, and I think it did make a big difference to the shoot.
We were reversing the balance that we normally have on crews. I would strive to do that again because having diversity behind the camera is so very important.
It was perhaps fortuitous that it took so long to reach the screen, as modern feminism and the issue of women in film seems to be gaining ground. Was it crucial to make the suffragettes relevant for a modern audience?
If it just felt like a piece of history, we wouldn't have felt so compelled to tell it. It was a way of looking back on the past and reflecting on how far we've come but also how far we've got to go, and how much of it is still a battle.
The fact that we were so many women [behind the camera], in retrospect you kind of realise that it's almost a political act making a film that way because it's so rare.
I feel it's very important to be vocal about it, and it's become part of the conversation because it's helping people like me, and it will help people who follow me.
I'm hopeful that the tide will turn; it feels like something is happening.
What has your own experience been like as a female film-maker? Have you found the industry more challenging because of your gender?
It's difficult to know, when you're the director, how much of [the challenges] are to do with the fact that you're a woman, and how much is just the normal battles of being a director.
Undoubtedly it's a very male-dominated world, and it takes a lot of confidence. It's very hierarchical and women aren't used to themselves being in those senior positions.
I've surrounded myself with some great collaborators and have had champions like Tessa Ross who have supported me and my development and career.
Without those people I couldn't have done it. I've sought them out and they have mentored and helped me. It's also just being dogged about it, and not giving up.
After LFF, thoughts turn to awards season and Suffragette will surely be in the mix. Are such accolades important?
I'm very keen for the film to get an audience, particularly to prove that female-centric films should be out there, and that our stories should be reflected in the cinema.
Awards draw media attention and encourage audiences, and they are hugely helpful in that respect. If we get this film out there and it provokes a discourse, that's all I want.