Sundance may be part of the film festival establishment but its focus is still on championing new voices in cinema. Festival director John Cooper talks through the 2019 edition with Screen.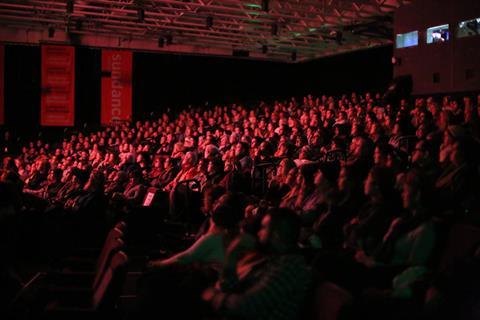 Sundance Film Festival (January 24-February 3) retains its reputation as a buzzy discovery forum whose films tend to set the pace for the upcoming year in independent cinema. Yet festival director John Cooper remains disarmingly uncomplicated about the process.
By way of example, 2018 highlights included Bo Burnham's critical darling Eighth Grade, Maggie Gyllenhaal and Toni Collette never better in The Kindergarten Teacher and Hereditary, respectively, and Morgan Neville's documentary Oscar contender Won't You Be My Neighbor?.
This year's crop features Joanna Hogg's The Souvenir starring Tilda Swinton's daughter Honor Swinton-Byrne, Babak Anvari's Under The Shadow follow-up Wounds, Chiwetel Ejiofor's feature directing debut The Boy Who Harnessed The Wind and Penny Lane's documentary Hail Satan?, which Magnolia Pictures acquired in November.
There is plenty to savour. Asked how he and his cohorts do it every year, Cooper — who this year leads a substantially revamped programming team that sees the debut of Kim Yutani as director of programming after Trevor Groth's shock departure to 30West last year —sounds almost nonplussed.
"We look for those films that have that Sundance ilk," he says. "A lot of times we're looking for discoveries… and a good way to do this has been [through] a lot of outreach. We've been doing that for years and we're seeing the repercussions of that in this programme.
"Especially when we go to places like Sundance Hong Kong and even London, you talk to more people outside the United States and you get that feeling they're paying attention to the [fact] Sundance is interested in the world."
World Cinema Dramatic and Documentary competition picks include Mirrah Foulkes' Australian drama Judy And Punch, Alejandro Landes's Colombian Civil War drama Monos, Petra Costa's Brazilian political documentary The Edge Of Democracy and Gaza from Garry Keane and Andrew McConnell.
Sundance likes to foster a collegial atmosphere and to this end the Sundance Institute, whose year-round labs have become a world-class conveyor belt of content creation, has launched the Talent Forum.
"It's on Tuesday and Wednesday," Cooper explains, "and it's a convening of the people we've supported throughout the year through the institute — lab fellows, screenwriters, people from the Music Lab, the Ignite programme for 18 to 24-year-olds, the Indigenous programme.
"It's getting them all together and creating activities where we're connecting them to people with projects — private screenings, private events, things like that. It used to happen that every programme did its own little track, but now it's all together."
Yutani is a former assistant to filmmaker Gregg Araki (back this year with Starz series Now Apocalypse) who says her first exposure to Sundance "changed my life". She has worked at the festival for 14 years and highlights potential discoveries in the World Cinema Dramatic competition and gems in NEXT that will demand attention, such as day one selection Give Me Liberty, Naomi Watts thriller The Wolf Hour and Indie Episodics selection State Of The Union, directed by Stephen Frears from a screenplay by Nick Hornby.
Finding focus
Cooper enthuses about Sundance's New Frontier section of immersive works. "It's a very interesting medium and it's advancing so fast and we're at the forefront. What it does to you in your brain when you enter these realms, it can be very affecting." This year New Frontier will be expanding its footprint: as before, in New Frontier at the Ray, and also now at New Frontier Central. "We're taking over a space that used to be a Blockbuster [video store]," he deadpans, "so that's a little ironic."
Which leads somewhat inevitably to Netflix, whose headline-hogging impasse with Cannes Film Festival — or rather with the French exhibition sector — prompts comparisons with how every other major festival handles the streaming titan. In short, Sundance does what it wants. "I tend to not worry so much about where something is from except that we don't show films from the big Hollywood studios," says Cooper. Netflix films can premiere in Sundance and in the words of the festival's director, "There's no drama there."
He expresses sympathy for Cannes and the deadlock, and then declares what any festival-goer would want to hear: "Our audiences like to be challenged, they like to be thought of as intelligent and accepting a lot of different work, and we try to give them that."