Films from Martin Scorsese, Quentin Tarantino, Greta Gerwig and Xavier Dolan are among the hot projects from the US, Canada and Latin America to arrive in 2019.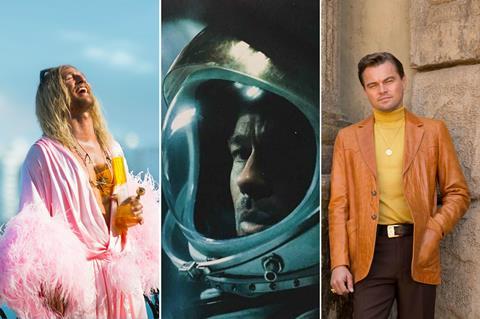 Our picks and the UK/Ireland are HERE, and Europe are HERE.
North America
Ad Astra (US)
Dir. James Gray
Gray's follow-up to The Lost City Of Z from New Regency and RT Features has been a long time in the works and audiences will finally get to see it in early summer. 20th Century Fox has set a late-May release in the US and key European territories — and given Gray's elevated status in France plus the presence of Brad Pitt, a Cannes berth looks highly likely. Pitt plays an astronaut on a grand quest to unravel his father's disappearance on a space mission. Fox holds worldwide rights.
Contact: 20th Century Fox
The Beach Bum (US)
Dir. Harmony Korine
Rocket Science launched international sales at the EFM in February 2017 on Harmony Korine's caper starring Matthew McConaughey as a rebellious stoner. Neon holds US rights to the potent package and a March 22 release date indicates a possible return to SXSW for Korine after Spring Breakers in 2013. The Austin/industry crowd would lap it up.
Contact:Rocket Science
Coming Home Again (US)
Dir. Wayne Wang
Watch out for this possible gem from the director of Smoke and The Joy Luck Club. The story about a Korean-American man who cares for his ailing mother and tries to master her traditional Korean dishes is based on author Chang-rae Lee's bittersweet short story published in The New Yorker and stars Justin Chon from the Twilight films. Produced by the Center for Asian American Media (CAAM).
Contact:Don Young, CAAM
The Irishman (US)
Dir. Martin Scorsese
Scorsese's mob drama about the killing of union boss Jimmy Hoffa reunites the master storyteller with his GoodFellas stars Robert De Niro and Joe Pesci, alongside Al Pacino, Harvey Keitel and Anna Paquin. Netflix's deep pockets funded the expensive and time-consuming de-ageing CGI work. The streaming giant will give The Irishman a theatrical release and the film has Cannes written all over it, if only Net­flix and the festival can resolve their differences.
Contact:Netflix
JoJo Rabbit (US)
Dir. Taika Waititi
Waititi directs and stars as Adolf Hitler in the tale of a young German boy and his imaginary friend, the Führer. Waititi has promised to "finally ridicule Nazis and their beliefs" and "piss off a lot of racists" in the as-yet-undated film from Fox Searchlight, who know how to make noise on the festival and awards circuits. The dark comedy also stars Scarlett Johansson, Sam Rockwell, Rebel Wilson and Leave No Trace breakout Thomasin McKenzie.
Contact: Fox Searchlight
Knives Out (US)
Dir. Rian Johnson
The big out-of-market sale of the 2018 Toronto International Film Festival is an all-star murder-mystery that Johnson and star (and producer) Daniel Craig found time to pull together in between their other modest projects (the Star Wars trilogy and the 25th James Bond film, respectively). Add Toni Collette, Michael Shannon and Jamie Lee Curtis for extra sparkle and the film, which has a November 27 US release date, must be on any autumn festival's shopping list.
Contact:Lionsgate
The Last Thing He Wanted (US)
Dir. Dee Rees
Another Netflix treat, this one hails from Rees, whose Mudbound the streaming giant got behind in 2017. The Joan Didion adaptation stars Anne Hathaway as a journalist who bids sweet adieu to the world of reporting and goes to work as an arms dealer. The supporting cast includes Ben Affleck, Willem Dafoe, Toby Jones and Rosie Perez.
Contact:Netflix
The Lighthouse (US-Canada)
Dir. Robert Eggers
A24 and RT Features reteam on Eggers' keenly awaited follow-up to 2015 Sundance horror sensation The Witch, which excited cinephiles and Hollywood agents in a way that few directorial debuts have done in a long time. Willem Dafoe and Robert Pattinson star in the black-and-white tale of a lighthouse keeper in Nova Scotia, Canada, who must deal with supernatural events.
Contact:A24
Little Women (US)
Dir. Greta Gerwig
Gerwig reunites with Lady Bird star Saoirse Ronan in the Louisa May Alcott adaptation about four plucky sisters getting by in post-Civil War America. Emma Watson, Florence Pugh and Eliza Scanlen line up alongside Ronan's Jo March. Timothée Chalamet, Meryl Streep and Laura Dern also star. Columbia Pictures has set a December 25 US release, and awards season and year-end festivals beckon. Sony holds worldwide rights.
Contact: Sony Pictures Entertainment
Matthias & Maxime (Can)
Dir. Xavier Dolan
A new Dolan film is always an event, and the multi-hyphenate follows up The Death And Life Of John F Donovan (as-yet-unreleased) with this French-language drama about twentysomethings in Quebec. Dolan, Anne Dorval, Gabriel D'Almeida, Harris Dickinson and Pier-Luc Funk star.
Contact:Anick Poirier, Seville International
Once Upon A Time In Hollywood (US)
Dir. Quentin Tarantino
Arguably the most anticipated US film of the year is another likely contender for the Croisette if it is ready in time. Sony has set an August 9 US release on a story about multiple characters in Los Angeles in 1969, set against the backdrop of the Tate-LaBianca murders by the Manson Family cult. Brad Pitt, Leonardo DiCaprio, Margot Robbie, Al Pacino, Damian Lewis and Tim Roth are among the cast. Producers include Heyday Films' David Heyman.
Contact: Sony Pictures Entertainment
Wendy (US)
Dir. Benh Zeitlin
It has been seven years since Beasts Of The Southern Wild rocked Sundance, and Zeitlin appears to be nearing the finish line with his follow-up. Wendy bears echoes of Peter Pan, taking place in a world where time and age are fluid. At time of writing, the fantasy had not been unveiled as a late addition to Sundance, so international festivals will be lining up. Fox Searchlight holds worldwide rights.
Contact: Fox Searchlight
Where'd You Go, Bernadette (US)
Dir. Richard Linklater
Linklater's latest is based on the novel by Maria Semple and stars Cate Blanchett as the mystifying protagonist: mother, wife and brilliant architect, hated by some, adored by others, who goes missing. Annapurna Pictures optioned film rights with Color Force six years ago and has scheduled a March 22 US release. Where could it premiere? Linklater lives in Austin, Texas. SXSW runs in Austin from March 8-17.
Contact: Annapurna Pictures
Latin America
4x4 (Arg)
Dir. Mariano Cohn
Thriller 4x4 was the talk of Ventana Sur in Buenos Aires last December and has recently landed distribution deals in France (UGC), South Korea (Cree Pictures) and Argentina, where Buena Vista International will release. Cohn, Gaston Duprat's co-director on The Distinguished Citizen, makes his solo feature directing debut on the story about a car thief trapped inside a luxury SUV.
Contact:Juan Torres, Latido Films
Ema (Chile)
Dir. Pablo Larrain
Returning after Jackie, Chilean filmmaker Larrain and his screenwriting collaborator Guillermo Calderon (Neruda) are back with Gael Garcia Bernal on Ema. The melodrama follows a couple that try to navigate the devastation left by an adoption process that went awry. Newcomer Mariana Di Girolamo plays Bernal's wife.
Contact:Fabula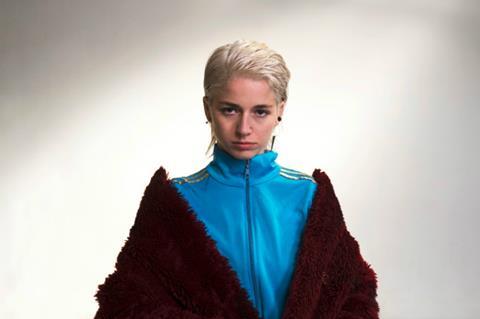 The Same Blood (Arg-Chile-Can)
Dir. Miguel Cohan
Latin American acting titans Oscar Martinez and Paulina Garcia star in Cohan's thriller about a family whose ties are put to the test when the patriarch's wife dies. The producers just licensed rights at Buenos Aires' Ventana Sur in December to Argentina (Buena Vista International) and Chile (Cinecolor), and Netflix holds rights for the rest of Latin America, the US and Spain. Luis Gnecco from Neruda also stars.
Contact:Sebastian Freund, Rizoma
The Weasels' Tale (Arg-Sp)
Dir. Juan Jose Campanella
After several years working on US tele­vision shows such as Halt And Catch Fire and Colony, Argentina's director of Oscar winner The Secret In Their Eyes is back with his first feature since the animation Underdogs in 2013. The Weasels' Tale (aka El Cuento De Los Comadrejas) echoes the British Ealing comedies of the 1950s and tells of a quartet of film legends who resist the efforts of a young couple to kick them out of their estate. Graciela Borges and Oscar Martinez star in the film from Campanella's 100 Bares, Viacom International Media Networks-owned Telefe, Jempsa and Spain's Tornasol Films.
Contact:Juan Torres, Latido Films