Tallinn Black Nights Film Festival (Nov 11-27) will offer a raft of intriguing projects, as film-makers cast their spell over the Estonian capital.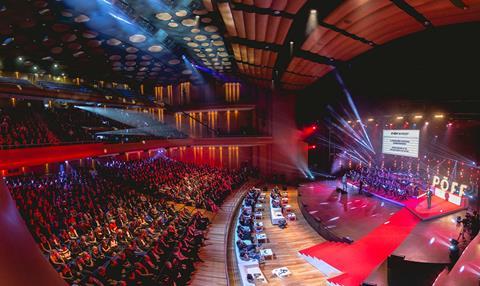 Marking its 20th edition in 2016, Tallinn Black Nights Film Festival (November 11-27) has grown over the past two decades from a small gathering of film fanatics into a highly regarded entry on the festival calendar.
Hosting just 25 films and clocking 4,500 admissions at its first edition in 1997, last year's festival recorded 80,000 admissions and saw more than 700 industry guests descend on the Estonian capital. The decision by the International Federation of Film Producers Associations in 2015 to rubberstamp Black Nights as an A-category event, putting it in the rarefied company of 14 others including Cannes, Berlin and Venice, may have elevated its status, but it has come with its own set of challenges, according to festival director Tiina Lokk.
"It has been a major motivation for the team and it's a big thing for Estonian audiences," she says. "But at the same time it creates a new paradigm. The leap was bigger than our budget could handle [$1.5m (€1.4m) across all of its festivals and sub-festivals in 2016, down from last year's budget of $1.7m (€1.5m)], but we'll pull through."
After receiving more than 2,500 submissions in 2015, this year the selection team was forced to introduce a small submission fee and be stricter with its choices. Despite that, the resolute Lokk, one of the founders of the event in 1997, asserts that the quality of films received has been better than in previous years. As a result, the team was able to restrict this year's main competition to world or international premieres. "The amount of strong films willing to entrust us with their premieres was much higher this year; we didn't have much problem securing them," she says.
With a vibrant industry offering — including Europa International's annual sales conference and the return of the European Commission's Film Forum — Black Nights is ready to welcome a large contingent of film professionals. Lokk hopes the increased number of premieres will make the film programme more appealing to delegates. "We invite a lot of international sales and distribution agents — we have to provide them with fresher films," she says.
As Black Nights gears up for its second year on the A-list, Lokk and her team are focused on delivering an event that lives up to its enhanced billing for many years to come. "We are preparing," she says, "to enter a new stage of evolution."
HOT PICKS
The festival's opening-night film is Tran Anh Hung's French-language feature Eternity starring Audrey Tautou, Bérénice Bejo and Melanie Laurent, while Russian director Pavel Lungin's Queen Of Spades will kick off Black Nights' main competition on November 16. The psychological drama, inspired by Tchaikovsky's opera, is part of a 12-strong competition line-up that includes international premieres from Iran (Breath by Narges Abyar), Israel (A Quiet Heart by Eitan Anner) and Korea (A Quiet Dream by Zhang Lu) as well as the world premiere of Lines by Greek film-maker Vassilis Mazomenos. The main competition jury will be led by producer Uberto Pasolini and include Busan festival director Kang Soo-yeon.
For the ninth year, the Screen International Critics' Choice strand will screen some of the best films to play festivals this year. The line-up will include Manchester By The Sea, Lady Macbeth, Frantz, Elle, Fire At Sea, Layla M, The Wailing and I Am Not Madame Bovary0
There will be 14 titles in the festival's First Features Competition, which returns after a successful launch in 2015, when titles including Sudhanshu Saria's Loev and Tova Ascher's AKA Nadia were showcased. This year's line-up includes the international premiere of Alex Helfrecht and Jorg Tittel's The White King, which world premiered at Edinburgh International Film Festival in June. The film stars Jonathan Pryce, Greta Scacchi and Agyness Deyn in the story of a precocious 12-year-old boy coming to grips with his father's abduction and internment at the hands of the totalitarian state.
DON'T MISS
Festival guests this year include Sergei Loznitsa, presenting his documentary Austerlitz, and Vitaly Mansky, accompanying his documentary Close Relations. There will also be a special screening of Take Me Home, a short film directed by Iranian film-maker Abbas Kiarostami who died in July this year; the short will form part of an anthology film that will be screened at Cannes Film Festival in 2017. Director Seifollah Samadian will also present his film 76 Minutes And 15 Seconds With Abbas Kiarostami, a portrait of the late Iranian cinema legend which recently premiered at Tokyo International Film Festival.
WHERE TO NETWORK
Industry delegates will find a large amount of activity taking place in the conference spaces and lobby areas of the Nordic Hotel Forum located on Viru Valjak 3, as well as the Tallink City Hotel on A Laikmaa 5. Guests will also find plenty of networking space at the festival's home this year, the Solaris Centre on Estonia Puiestee 9. Film sales representatives will be out in force at the Europa International annual sales conference, while delegates from the genre field will be well served by the European Genre Forum.
BLACK NIGHTS KEY DATES
Black Nights Film Festival — Nov 11-27
Industry@Tallinn — Nov 17-24
Europa International annual conference — Nov 18-19
European Film Forum 2016 Tallinn — Nov 21
Baltic Event co-production market — Nov 21-24
European Genre Forum — Nov 18-20
IGDA Game Jam — Nov 18-20
Storytek — Nov 19