Alex Helfrecht and Jörg Tittel discuss shooting their first feature film in Hungary. It plays in Tallinn Black Nights' First Feature Competition.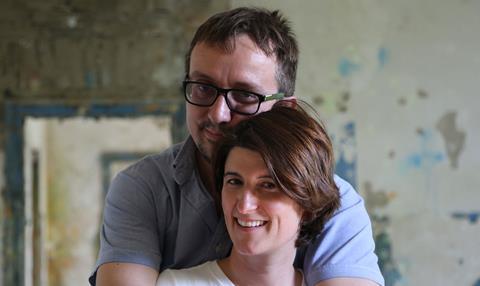 Adapted from Hungarian author György Dragomán's novel of the same name, The White King is set in a dystopian near-future, and stars Jonathan Pryce, Agyness Deyn and newcomer Lorenzo Allchurch in the story of a young man whose father is imprisoned by the unnamed country's brutal dictatorship. It was shot entirely on location in Hungary.
The film premiered at the 2016 Edinburgh International Film Festival, where it was nominated for the Michael Powell Award for Best British Feature Film, and is now playing in the First Feature Competition at Tallinn Black Nights film festival in Estonia.
Screen sat down with directors Alex Helfrecht and Jörg Tittel to talk about the process behind their debut feature.
You've made your joint feature debut with this film after working on a variety of shorts and other media including theatre and graphic novels. Why was this the right project?
Alex Helfrecht: We both read the book together and we were very struck by its unique voice. It had a high concept feel, even though it's routed in communism, and it's quite surreal in places.
Jörg Tittel: I saw it as an opportunity for me to build a world. It was a 'what if?', like any film with a dystopian setting.
A: We had been developing various projects but this felt like the right thing to do. It took a while to get off the ground; we're now halfway through year five.
Was it a tough film to finance?
A: We made this film for a small budget, $2m. It's a lean budget for a film of this scope.
J: We've been very lucky to have the best production partner in the world, Phil Munger, our partner in our company Oiffy, who has invested a considerable amount into the film. We also benefited from tax breaks and incentive support in Hungary, the UK and Germany. We got around 31% back on the spend in Hungary, that was a huge factor. We would not have been able to make the film otherwise. We also had a post-production deal with the Swedish company Chimney, who have facilities in Stockholm and Berlin, they are co-producers on the film.
A: Even though the cast is British, it is based on a Hungarian book and shot in Hungary. It's not immediately a British film, so we never applied for production finance from the British Film Institute for that reason. We were offered a lot of soft money by the Hungarian Film Institute if we made it in Hungarian. They were very keen to do that, but I don't think we could've pulled that film off.
You managed to attract some strong names for the cast including Jonathan Pryce and Agyness Deyn. How did you get them on board?
J: [Jokingly] I've worked in the secret service for a while so I've collected all kinds of blackmail material! But seriously, we had great casting directors, John Hubbard and Ros Hubbard.
A: At first they thought we were mad asking for the level of talent that we wanted, but they thought it through and they got people lined up. Jorg wrote them all personal letters about the project, he's a very good letter writer. We hoped their respective agents would pass them on, I guess they did. I think they liked the concept.
J: Lorenzo Allchurch [who plays the young lead character Djata] was 12 when we met him. He'd acted opposite Mark Rylance on stage beforehand [in Richard III in the West End and on Broadway]. He had no real screen experience but he'd done a show on Broadway.
You shot the film in Hungary, was this primarily down to the tax incentive on offer?
A: Yes, but also the wealth of locations. There's a lot of dilapidated Soviet-era buildings and incredible rural settings outside of Budapest.
J: Every single scene is on location. We shot in just 30 days, which is mental. You certainly couldn't shoot this film entirely on location for the budget we had in the UK or most of the rest of the world.
J: We also benefited from great weather. If any of our days had been rained out we'd have lost everything from that day. Though we did have a crazy heatwave, we literally had people fainting and needed to have two ambulances on set.
A: It was really mad to do this project as a first film. All on location, no studio, kids, animals, lots of extras, some gruelling heat. The next thing we want to do in a studio.
J: We tried to get a sales agent on board before shooting but couldn't. People told us it was so execution dependent. In hindsight I see what they meant by that.
Eventually you found a sales agent in Fortissimo Films, though unfortunately they filed for voluntary bankruptcy in August and the Little Film Company is now representing your film. How has the transition been?
A: It was relatively easy. The concerns that it caused us were more that we were sad to hear of the demise of an arthouse company, and [UK distributor] Metrodome Group in the same week, who we had shown the film, too. Our concern was generally for the state of the film world in the UK and Europe.
What are you planning for your next project?
J: We are hoping to get an adaptation of a graphic novel I wrote a couple of years ago off the ground. It's called Ricky Rouse Has A Gun, it was one of The Boston Globe's books of the year in 2014. I've been meeting with a variety of Chinese financiers and producers at the American Film Market, it's a silly action comedy set in a knock-off theme park. Think Die Hard in a theme park, it will be a nice change from the darkness of The White King.
A: And our own reality, given the recent election.
J: We're also writing a script that will be developed on stage first, which we'll then follow up with a movie. It's a sci-fi love story. We're also working on a virtual reality video game at the moment which we received a Wellcome Trust grant for. It's exciting times.