Dir/scr. Michael Hoffman. Germany-Russia. 2009. 111 mins.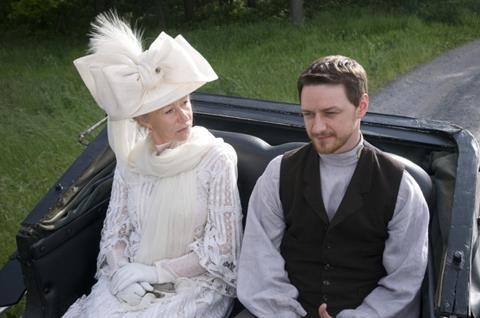 Sterling performances by a cherry-picked Anglo-American cast and the hook of good story well told lift this conventionally-staged period piece about Tolstoy's tragicomic final months above the level of made-for-TV drama.
Heart and pathos carry The Last Station through a few hiccups, which include some jarringly broad comic touches
Hoffman's likeable biopic walks a nice edge between drama and comedy, in line with its subject matter – the love-hate struggle between a cantankerous old visionary surrounded by sycophants and his drama-queen wife who is determined to remind him of what he owes her and his family.
Sony Pictures Classics picked up this audience-pleasing title on the back of its buzzy Telluride debut, but a smooth ride in the North American arena is not guaranteed. However you spin it, a historical drama about the death of a Russian novelist is not exactly sexy – so the challenge will be to persuade target audiences (forty-plus, cultured) to take a punt. Once they do, they'll likely be hooked.
In its home markets, all the German and Russian talent here is on the technical side, and Russians in particular may not take kindly to seeing one of their national icons speaking in fruity Home Counties English – or dubbed Russian. Awards action may help, with Christopher Plummer's rich, humane Tolstoy more likely to be nominated than Helen Mirren's enjoyable but mannered Countess.
Based on Jay Parini's 1990 novel of the same name, the film charts Tolstoy's final months in 1910, when the writer of War and Peace was a media celebrity and an influential proponent of pacificsm and mystical Christian communism. Two camps contend for his favour: one is a coalition of worldly visionaries led by Tolstoy's scheming main disciple, Vladimir Chertkov (Giammatti); the other consists solely (at least in the film) of the writer's incurably jealous and histrionic wife of 48 years, the Countess Sonya (Mirren).
Sonya is convinced that Chertkov and his minions have turned her husband against her and plan to trick his family out of their rightful inheritance – including the rights to his literary works, which Tolstoy and his followers plan to bequeath to the Russian people. Moving between the two factions is Valentin (Mc Avoy), a keen, starstruck private secretary who is sent by Chertkov to keep an eye on the Countess.
McAvoy's tender take on Valentin commands audience sympathy, and his character's growth – losing his virginity to non-conformist communard Masha (Condon), resisting the anti-Countess remit he has been given, discovering that Tolstoy is hardly a latter-day saint – gives the story its dramatic backbone.
Heart and pathos carry The Last Station through a few hiccups, which include some jarringly broad comic touches (most notably in a bedchamber scene where Tolstoy and the Countess play amorous cock and hen) and a stagey use of extras to add romantic Russian colour.
To sign up for Screen's weekly Reviews Newsletter with all the week's new releases, international openings and full festival reviews delivered free to your mailbox every Friday, please click HERE
Production companies
Egon Tossell Film
Zephyr Films
Andrei Konchalovsky Production Centre
International sales
The Little Film Co
+ 1 818 762 6999
Producers
Chris Curling
Jens Meurer
Bonnie Arnold
Screenplay
Michael Hoffman, based on the book by Jay Parini
Cinematography
Sebastian Edschmid
Production design
Patrizia von Brandenstein
Editor
Patricia Rommel
Music
Sergey Yevtushenko
Main cast
Helen Mirren
Christopher Plummer
James McAvoy
Paul Giamatti
Kerry Condon
Anne-Marie Duff