For Guillermo del Toro's The Shape Of Water, Dan Laustsen developed a cinematographic scheme to help Sally Hawkins light up the screen. Tiffany Pritchard talks to the Danish-born Oscar and Bafta nominee.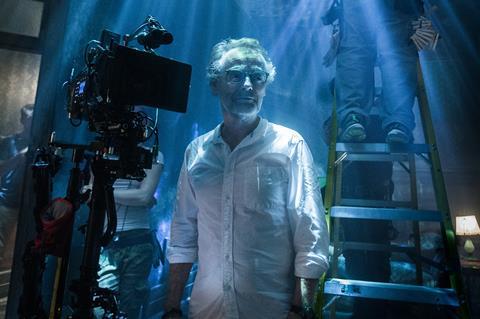 When Guillermo del Toro's fantastical love story The Shape Of Water was greenlit by Fox Searchlight, the Mexican director knew just who to call to give the film its distinctive look. First working together on Mimic in 1997 and next on Crimson Peak in 2015, del Toro had long been a champion of Danish cinematographer Dan Laustsen's ability to light with emotion and colour.
The two men were filming Crimson Peak when del Toro handed Laustsen the screenplay for The Shape Of Water — the story of a mute woman falling in love with a captured humanoid-amphibian creature at a high-security government lab in Baltimore, 1962. Laustsen recalls thinking: "How would we ever shoot this?"
Del Toro's initial aspiration to shoot in black and white was cast aside after it became evident this would reduce the financing on offer from Fox. Then the conversation about colour began. "Guillermo is very particular about his vision, and what kinds of colours he wants," explains Laustsen. "Greens and blues were chosen to represent water, and red was brought in for life, love and death. And then we focused on shadows and contrast."
These colours were harmonised across lighting, costumes and set designs, with Laustsen working closely with production designer Paul Austerberry and costume designer Luis Sequeira during eight weeks of pre-production prior to its 58-day shoot in 2016 at the Cinespace Studios in Toronto.
For Sally Hawkins' character Elisa, key colours in her apartment were blue-green and steel blue, while the lighting was more warm and golden in the apartment of her neighbour Giles (Richard Jenkins). "The only time we have golden light in Elisa's apartment is when she's falling in love with the fish," says Laustsen.
Using a mix of gels, LED lights and a diffuser filter inside the film's predominant single camera, the Arri Alexa XT, Laustsen says: "We tried to light it like it was an old 1950s movie. The stars had to look amazing, Hawkins had to look like a princess and the bad guys had to look rough and tough."
When it came to the amphibian creature, played by Doug Jones, Laustsen explains he had to be lit carefully in efforts to keep him mysterious. "Because the costume was designed so well, we didn't need to do much except play around with the shadows," he says. "Initially, we tried to create the purple glow that emanates when the fish is falling in love with built-in UV light. That didn't work out, so we added that later with CGI."
Taking his cue from the fluid motion of water, Laustsen utilised Steadicams, cranes and dollies in as many scenes as the film's $19.5m budget would permit. Its memorable opening — spanning an underwater version of Elisa's apartment — was shot on Steadicam, while the fantasy song-and-dance sequence used a Technocrane.
"That sequence was fun — the entire crew had to work together to complete it in a day. Because it's in black and white [the colour was removed digitally] and is slower than the rest of the film, you get this sense of love," says Laustsen.
In the more complicated 'dry for wet' scenes, where there is only the appearance of water, the cinematographer used a barrage of smoke machines and projectors that acted as key lights.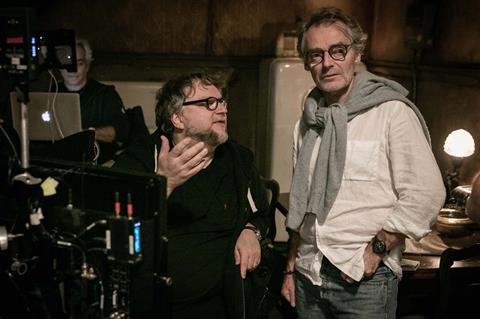 When the moving light bounced off the smoke, it created a sense of movement, feeling as if the characters were submerged in water. This technique was used with smaller projectors in the opening scene where Elisa is seen floating, and the closing scene with two 20K projectors where Elisa and the creature jump into the water. Laustsen shot at high speed, so the movement appears slower. VFX was later applied to change the way hair and clothing moved.
Laustsen opted for 'wet for wet' when it came to filming a scene with Hawkins and the creature in a bathroom filled to the ceiling with water, using an Alexa Mini within a constructed tank. The same bathroom as on the 'dry' set was dropped into the tank, where Elisa and the creature would stand while a camera operator filmed them underwater.
"We knew we wanted to do this from the start," says Laustsen, "so during pre-production we had to make sure everything in the bathroom, such as waterproof track lighting, would also work within the tank." Even the angle of the window, which was the source of the key light, had to be considered to ensure it could work in both spaces.
Awards buzz
The meticulous craftsmanship of The Shape Of Water was acknowledged in January with 12 Bafta and 13 Oscar nominations — more than any other film this year in both cases — including ones for Laustsen.
The film has additionally landed nods from just about every creative guild, including art direction, hair and make-up, costume, sound and editing — as well as writing, directing and producing. It has also been nominated by the American Society of Cinematographers, earning Laustsen his first ever nod from the body.
The awards attention is coming to the Danish DoP after a long career — he earned his first cinematography screen credit in 1979. Currently, he is working on John Wick: Chapter 3 in New York.
Laustsen credits his experience on low-budget Danish productions for teaching him how to do a lot for less. "Everything in cinematography is about telling a story with the right equipment. The camera is not so important — but painting the light is."