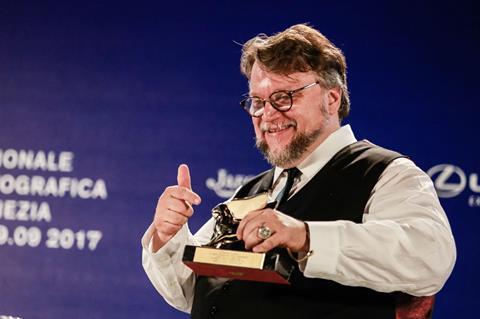 The Shape Of Water director Guillermo del Toro will preside over the International Jury of the Competition at the 75th Venice International Film Festival (August 29 – September 8).
Del Toro's fantasy romance The Shape Of Water premiered in competition at the 2017 Venice Film Festival, where it scooped the Golden Lion for best film, which was awarded by a jury presided over by Annette Bening. The film has subsequently been nominated for 13 Academy Awards, and del Toro is considered a front-runner for the Best Director prize.
The Mexican director also previously screened his film Mimic at the festival in 1998. In 2006, he was a member of the jury for the Luigi de Laurentiis Venice Award for a Debut Film.
Guillermo del Toro commented: "To serve as president in Venice is an immense honour and responsibility that I accept with respect and gratitude. Venice is a window to world cinema and the opportunity to celebrate its power and cultural relevance."
The decision was made by Venice board chair Paolo Baratta and festival director Alberto Barbera.
Barbera added: "Guillermo Del Toro personifies generosity, a love for movies past or future, and a passion for the kind of cinema that can spark emotions, affect people and, at the same time, make them reflect. By virtue of his lively imagination, uncommon sensitivity and his trust in the power of images, he has brought to life a fantastic universe in which love and fear can coexist, and to treasure diversity is a fundamental value. We are pleased and honored that he has agreed to preside over the Jury of the 75th Venice Film Festival, after having illuminated the previous edition with the dazzling beauty of The Shape Of Water. He will be a genial, inquisitive and enthusiastic President."
Del Toro will be joined by eight yet-to-be-announced members on his jury, who together will decided on the following prizes:
Golden Lion for Best Film
Silver Lion – Grand Jury Prize
Silver Lion – Award for Best Director
Coppa Volpi for Best Actor
Coppa Volpi for Best Actress
Award for Best Screenplay
Special Jury Prize
Marcello Mastroianni Award for Best New Young Actor or Actress.