After a groundbreaking career on stage, Kathryn Hunter is turning heads on screen by playing all three of Shakespeare's witches in The Tragedy Of Macbeth. The actress talks crows, crutches and Covid.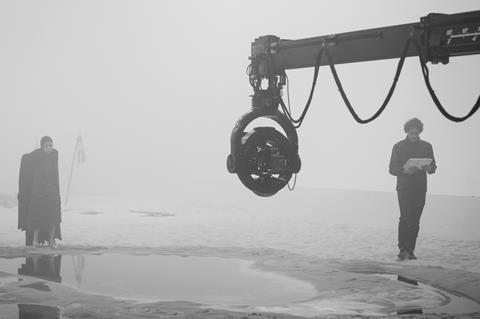 Macbeth, Shakespeare's dark tragedy of ambition, regicide and madness, has a reputation for being his unluckiest play — so much so that some actors will not let its title be uttered in their presence. According to actress Kathryn Hunter, the film's director Joel Coen and his wife Frances McDormand had regarded such superstition as "nonsense" as they set about creating a new black-and-white version of the drama. They had reason to think again, though, when Covid-19 struck two-thirds of the way through shooting on the Warner Bros lot in Los Angeles, shutting down production and sending all involved, Hunter included, back to their homes for the foreseeable.
"It was an extraordinary time," recalls Hunter, a longtime staple of the UK stage who is best known at home for her work with London-based experimental theatre collective Complicité. Coen, who produces alongside McDormand and Robert Graf, "had probably shot 70% of the film" before shutting down in March 2020. Restarting four months later, the production flew Hunter and the other UK actors on a private jet so they would not have to go into the airport. "We were picked up by a limousine and driven straight to a hotel where we had to quarantine."
By the time she returned to the studio, "the set was like a hospital. Joel was behind a screen in a mask and all of his team were in full PPE and shields. Our producer Robert was holding his breath because, by then, LA had become the virus epicentre. Every single day there was the possibility we were going to be shut down."
Screen presence
Despite the superstition, The Tragedy Of Macbeth has been nothing but propitious for the 64-year-old Hunter, whose striking contribution to Coen's stark retelling has alerted a new audience to her theatre-honed talents. While she was seen in Mike Leigh's All Or Nothing and as Arabella Figg in Harry Potter And The Order Of The Phoenix, cinema has been something of a sideline to date for the New York-born performer of Greek parentage, who trained at the Royal Academy of Dramatic Art (RADA). The Tragedy Of Macbeth is sure to change that, her performance alongside Denzel Washington, McDormand, Brendan Gleeson and others having emerged as one of its main talking points. (The A24 title debuted at New York Film Festival in September and will screen in select cinemas ahead of a global rollout in January on Apple TV+.)
Orson Welles, Roman Polanski and Justin Kurzel are among the directors who have adapted Macbeth in the past, each finding their own way to enact the story of the Scottish lord who is enticed by prophecy and his wife's exhortations to kill his king and usurp the throne.
All of their versions followed tradition by having three different actresses play the trio of witches who set the plot in motion by telling Macbeth he "shalt be king hereafter". But Coen's film — the first of his career that does not involve brother Ethan — offers a different concept by having Hunter play all three of the sisters, here presented as a single entity with the power to contort both her emaciated frame and reality.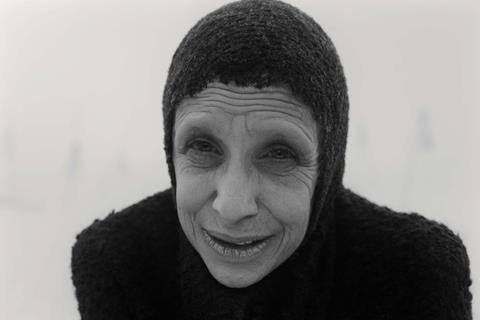 "Sometimes she appears as one person and sometimes as three," explains the actress. "That seemed to cohere with Joel and Denzel's vision of the piece as kind of an internal nightmare."
Hunter saw the role as "a scavenger that lives on a battlefield", an image that chimed with Coen's idea of her as a human/crow hybrid. "Crows are considered to be harbingers of death, but in early legends they're also truth-tellers," the actress reveals. Another notion was for the witches to resemble standing stones, a conceit that led to "fascinating sessions" with costume designer Mary Zophres. "They'd give me a big cloth and I would pretend to be different shaped stones," she explains.
A third element was Hunter's additional role in the movie as a wizened old man who speaks of "unnatural" occurrences in the wake of the king's murder. (The actress is widely known as a leading female interpreter of male historical characters, having played King Lear, Richard III and Cyrano de Bergerac on stage.) "Joel wanted me to play him almost as if he's the witches in disguise," she says of that transformation. "It's just a question of imagination and then applying your body and mind."
The latter is something Hunter can speak on with authority, having suffered a serious car accident while studying at RADA. It broke her back, shattered an elbow and crushed a foot, leaving doctors convinced she would never walk again.
"When I was allowed to return I was on crutches and had a horrendous limp," recalls the actress, who studied at the school alongside contemporaries such as Kenneth Branagh and the late John Sessions. "But a huge bump like that starts you into going forward and it hasn't seemed to stop me. Sometimes an impediment makes you work harder."
One positive aspect of her accident was that it "woke me up to the possibilities of the upper body and what it can do. I was lucky enough to work with very physical theatre companies, such as Common Stock as well as Complicité, who added to my RADA training by giving a physical and spatial dimension to my work." Complicité's 1989 London stage production of Friedrich Dürrenmat's The Visit won Hunter a prestigious Laurence Olivier Award for best actress. The company also introduced her to Italian actor Marcello Magni; they have been together for more than 30 years, and married a decade ago.
The Tragedy Of Macbeth has led to offers to appear in some "slightly horror movie things", but Hunter's chief focus at present is a return to Shakespeare's Globe theatre in London next summer to reprise her King Lear.
The play holds a special resonance, having ignited her love of Shakespeare when she was 14 years old. "I had a big-bosomed teacher who read it out loud and the music of the language was electric," she chuckles.
"I think your life is a little bit poorer if you don't have access to Shakespeare's verse, so I hope people will see this film and think, 'Hey, that sounds good.'"