Hany Abu-Assad, the Oscar-nominated director of Omar and Paradise Now, tells Screen about his latest film The Idol, which charts the unlikely true story of how Palestinian singer Mohammed Assaf won talent contest Arab Idol. Interview by Andreas Wiseman.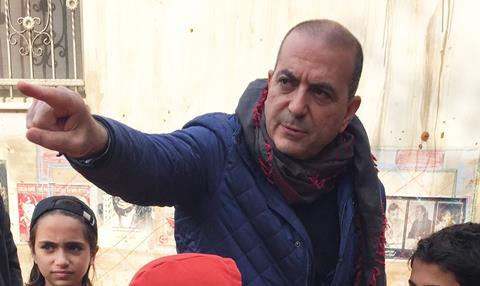 Screen: Congratulations on your film's entry into TIFF. How did you come to it?
Abu-Assad: Thank you very much. I'm very happy. It started in 2013, the year I won the Un Certain Regard Special Jury prize in Cannes, which was very exciting. Actually, I was even more excited to hear that this young man was in the running for the Arab Idol title.
My sister told me the story about how he travelled to the competition against all the odds. When I got home from Cannes, I was there with thousands of people in a square hoping to hear his name announced as the winner. And I don't even like these programmes. Suddenly I was one of millions of people screaming and happy. Finally we had a kind of win after so many defeats and sadnesses.
About a year later I met with Ali Jafaar, who had bought the rights to the film, and he produced it with Amira Diab. It has had money from Palestine, the Netherlands, Qatar, Dubai and UK.
What was the biggest challenge during the shoot?
To balance the moving and melodramatic elements with the need for strong characters and story.
How difficult is it to get films made about Palestine today?
This is the first time I've tried to make a 'popular' movie. It can be a big challenge. Most of my films have been tragic. But this one has real commercial appeal. You can see that from the deals that have been done.
Do you think this story can travel well in the Arabic-speaking world?
It will. In general, the wider audience are very sympathetic to the Palestinian cause, but they don't necessarily want to hear all the time about the problems in Palestine. This is one of the first times we don't have a miserable story. I expect it to be a huge hit in the Middle East because Mohammed is a huge star in the Middle East.
How is star Tawfeek Barhom's singing?
Well, he just mimes [laughs]. We used Assaf's voice.
Nadine Labaki has a cameo in the film. Are there any others?
Yes, when Nadine heard the story she cried. Assaf is in it briefly, as is MBC head Ali Jaber.
Seville International has sold the film well, including to MBC for the Middle East. Will MBC's distribution include Palestine?
Yes, it should play in every corner of Palestine but there aren't so many cinemas so it should play in alternative screening venues.
What's next?
The moment the script is ready, it will be The Mountain Between Us. It's with Fox and is currently being re-written by Brad Desch [Fathers And Daughters].