Still reeling from the massive box-office success of Joker, director Todd Phillips talks to Screen about the film's controversial themes, the long wait for the greenlight and talk of a sequel.
For director Todd Phillips, a sure sign that Joker had crossed over from comic-book film experiment to cultural phenomenon was when Upper East Side friends of his 75-year-old mother went to see it. "And not because she's my mother," he quickly adds. "They found it on their own, which is astounding."
Joker tells an origin story for the DC Comics villain, played by Joaquin Phoenix, who starts out as Arthur Fleck, a mentally-ill failed stand-up comedian whose life spirals out of control. Robert De Niro and Zazie Beetz co-star.
Despite — or perhaps because of — its dark, character-driven approach, the film has become a megahit: it passed $1bn worldwide, on a budget of around $60m. It is also the highest-grossing R-rated film of all time, the highest-grossing 15-rated film in the UK, and is on track to be the highest-grossing non-Disney film of the year (it is second only to Sony Pictures' Spider-Man: Far From Home at time of writing).
Besides the numbers, Joker has been remarkable in other ways: certainly by winning Venice Film Festival's top prize, the Golden Lion; but also in the "controversy" around the film's content and themes. One reviewer called it too sympathetic towards "white men who commit heinous crimes", while Warner Bros was forced to respond to concerns raised about the film by the families of victims of the Aurora, Colorado cinema shooting, when a man killed 12 people and wounded dozens more at a screening of Warner Bros' The Dark Knight Rises in 2012.
The film is already a pop-culture phenomenon. Masks of the character have shown up at real-life political protests, including in Lebanon and Hong Kong, and the steps used in the film's dance sequence have become a Bronx tourist attraction, prompting local Democratic congresswoman Alexandria Ocasio-Cortez to jokingly tell tourists to "keep your Instagram posts" out of the area.
Box office surprise
The film's commercial performance and the number of column inches it has generated - positive and negative - came as a surprise to both Phillips, speaking to Screen International in late October, and studio Warner Bros.
"Clearly, it wasn't in Warner Bros' expectations," says Phillips, best known for directing the $1.4bn-grossing Hangover series. "They took on two financial partners [Bron Creative and Village Roadshow Pictures each have a 25% stake, with Warner at 50%]. They wouldn't have done if they thought it would do that kind of business."
Phillips attributes the numbers firstly to "astounding" levels of repeat business, revealing that US exhibitors, well-placed to track this due to cinema loyalty schemes, had been emailing the distributor hailing the repeat business percentage. In the UK, according to Waner Bros, 18% of those who have seen the film have seen it more than once. The director also reveals the demographics of the audience evolved during its theatrical run. "It started out the way you'd think - skewing male," he says. "Then, as word gets out about the movie - that it's not a 'rallying cry for disaffected American white men' - it started crossing over and became a four-quadrant movie, for adults at least. It's nice when the film gets to speak for itself and not a bunch of thinkpieces that don't have a lot of thought put in them."
At the time of Joker's release, the criticism that Phillips alludes to - that it was dangerous to show such a lonely, violent character who members of the public could imitate - saw a level of corporate concern at Warner Bros, amid worries it could become a "self-fulfilling prophecy".
"There's a minute where you think, 'Jesus, this could crash the movie'," says Phillips. "It's something we didn't want to talk about at the time because I didn't want to give oxygen to a potentially dangerous idea.
"I was surprised by a lot of the discourse," he adds. "I find that if you run violence through a realistic lens, and show the implications of violence, that's responsible film­making — it sickens you and nauseates you like violence should. Audiences are so used to a cartoonish level of violence that we can cheer on and root for. To me, that feels more irresponsible."
Nonetheless, the film has also won praise from mental-health professionals for its realistic portrayal of how childhood abuse and lack of mental-health provision can tip ordinary people into violent behaviour, with a leading neuro-criminologist telling Vanity Fair: "[The film] was a surprisingly accurate prediction of the kind of background and circumstances which, when combined together, make a murderer."
Phillips adds: "I've had people writing to me [to say] this is the greatest depiction of mental illness they've ever seen on film. That they've struggled, but they watched this movie and feel like they do exist, which is a line from the film."
The waiting game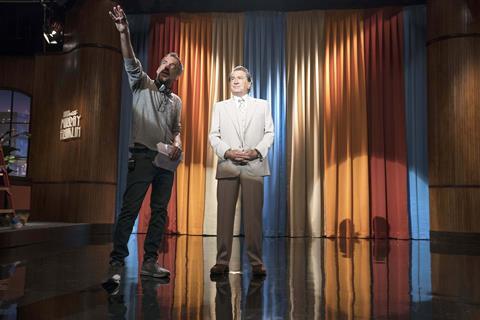 It is not hard to understand why it took Phillips over a year and a half to persuade a succession of executives at Warner Bros and DC to greenlight his controversial take on the character. The filmmaker first pitched Joker in 2016 as part of a series of mid-budget comic-book adaptations he dubbed DC Black, that were separate from Warner's regular, higher-budget titles such as Suicide Squad, Aquaman, Wonder Woman and Justice League.
"The whole pitch was low-budget comic-book films that are deep-dive character studies, that don't have a ton of CGI and people aren't going to fly in them. Just grounded, realistic films," he says.
The original script, co-written by Phillips and Scott Silver, was ready in January 2017, but shooting did not begin until mid-2018, with Joint Effort, the company run by Phillips and Bradley Cooper, producing alongside regular Martin Scorsese collaborator Emma Tillinger Koskoff. The process was complicated by boardroom changes at Warner Bros, with Walter Hamada replacing Jon Berg as the head of DC-based film production at the company as part of a wider shake-up of its film division in January 2018.
The long wait "was frustrating but understandable", according to Phillips. "We were taking their IP and messing with it. It was convincing a lot of people. These are two giant companies and they've had major success with that brand. It wasn't something that needed to be fixed."
Getting the greenlight was not about reducing the level of violence or "darkness" until the studio was happy with it. Instead, it was addressing "across-the-board concerns" about the project. "It wasn't like a horse-trading situation where [Warner and DC] say, 'You take out a little of this or add a little of that,'" says Phillips. "It was very much them getting on board with the idea of turning this genre on its head.
"Budget was a huge part of why they said yes," he adds. "Ultimately, it's all about hedging bets and reducing risk, and when you looked at it on paper you say, 'Yeah, how bad could this go?'"
Before the New York-based shoot began, Phillips spent six months discussing the role with three-time Oscar nominee Phoenix, for whom the part of Arthur Fleck had been written. The actor eventually signed on in July 2018.
"I really got to know him very well and I saw how flexible he was, and he saw how flexible I was to go back and rewrite and change things on the day," says Phillips. "That's what he needed for this character - to feel a little bit like the inmates were running the asylum." This way of working, with Phillips and Silver often rewriting dialogue the night before shooting, was second nature to the director after working the same way on his comedy films.
Unusually for a feature derived from comic books, there was also no facility for reshoots built into the production, although this was not, as has been reported, because of Phoenix's weight loss for the part.
"[Reshoots] are a sign of epic failure… I have done it once before and I just despised it," says Phillips. Instead, to ensure they got all the material they needed, Phoenix was open to shooting multiple versions of the same scene by experimenting with different ways of playing the character. "What was so amazing about Joaquin is he gives such varied performances - there's literally 14 other versions of this film just from what exists in the footage."
Second helpings
Since speaking to Screen, reports have emerged that early talks are underway for a sequel, although this is unconfirmed at time of going to press. Phillips told Screen that very tentative discussions had taken place: "Those conversations have happened in terms of Warner Bros saying, 'Hey, we should do it.'"
Outlining how they might approach a sequel, not glorifying the character in any way is key for the director and his leading man. "Joaquin and I always saw this as one film," he says, "but if we were to discover where we could take it in an interesting and - I hate to use the word important - an equally affecting way, and for it not to just become a celebration of this guy… If we could find something thematically that made a difference, we might do it."
The future of the DC Black concept is also something of a mystery, with no other smaller-budget DC projects in this vein currently confirmed. Phillips says he would "like to be involved" in developing more films like Joker, but that so far he had not been part of discussions. "I pitched them three movies, one for me with Joker and two with other filmmakers. It was a cool idea, but I think a lot of the higher-ups changed, so we'll see."