The co-presidents of distributor RADiUS talk about their love of documentary, the success of Oscar-nominated films 20 Feet From Stardom and Cutie And The Boxer, and their future plans.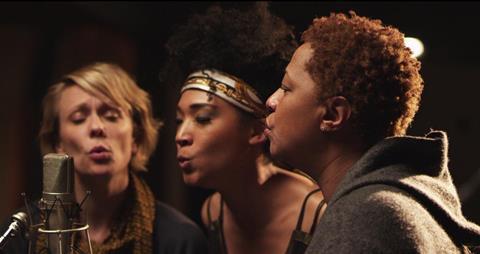 RADiUS co-founders and co-presidents Tom Quinn and Jason Janego previously worked together at Magnolia Pictures and formed the new distributor in September 2011 with the backing of The Weinstein Company.
After nearly a year assembling the slate and building RADiUS, they released Bachelorette and it went on to gross $10m on VOD. Since then they have released 19 films, including several acclaimed documentaries, two of which, 20 Feet From Stardom and Cutie And The Boxer, are in the running for the Oscar on March 2.
So tell us about your documentary activity of late.
Tom Quinn: We bought four docs last year: 20 Feet From Stardom, Cutie And The Boxer and Inequality For All – all of which we acquired in Sundance 2013 – and The Unknown Known, which will open on April 4 and was a pre-buy that premiered at Telluride and Toronto last year.
How have the films performed at the box office?
TQ: Each of the three films we released is still playing theatrically. 20 Feet From Stardom opened last summer and is the longest running film released in 2013. It's been playing for 36 weeks and has grossed $4.85m and counting.
Cutie And The Boxer opened in August and has been out for 26 weeks and grossed a little under $200,000, and Inequality For All opened on September and has been going for 21 weeks and stands at $1.2m.
The three of them have averaged over $2m – that's pretty tough to beat. Each was released on a traditional theatrical window followed by home entertainment. They're all available on [ancillary platforms].
Your docs stand out in a diverse pipeline of genre and other fare. What is it about them that you love?
Jason Janego: We just both love docs. The movies we watch when we're not working are docs. We are both interested in how they are made. You learn so much about what's happening in the world from docs. When I'm sitting around on a Saturday night and looking for a film to watch oftentimes I find myself scanning what's available for docs. That was an important part of the business plan for RADiUS from day one.
TQ: We worked together at Magnolia and did a lot of docs [there]. We believed it was a great way to grow RADiUS in a similar fashion and continue the great work we were part of [at Magnolia] on Food Inc, Man On Wire, Jesus Camp and Control Room, to name a few.
I bought Super Size Me before I left [Samuel] Goldwyn to go to Magnolia. We love docs… and always treat them like other movies and feel they have the same kind of potential as any specialised film in the marketplace.
JJ: Our docs speak to the diversity of the RADiUS slate. We have issue-driven films, verité-style and crowd-pleasers.
Speaking of crowd-pleasers, you paid $700,000 in Sundance 2013 for Morgan Neville's 20 Feet From Stardom and inserted aggressive bonuses into the deal. Why do you think the movie has enjoyed such success?
TQ: We invested in these women. We put them first and seeing them have other opportunities in their careers that started with the film – for me that's fantastic. This was a big movie for us: big stories and multiple angles. In some circles this is cast as a music documentary, but for us it was a big movie and the success of the film and what's happened beyond the film proves there hasn't been a music documentary of this scale since Buena Vista Social Club.
We test screen all our docs, which I'm not sure other companies do. We learned through that that we were never going to be able to show [this film] enough.
JJ: From the beginning we talked about it from a publicity angle – who would go and watch these women, whom most knew very little about? So we were thinking should we get one of the big stars from the movie [Bruce Springsteen and Mick Jagger are among the celebrity talking heads] talking about the movie. It turns out that over the life of the film we ended up getting every possible publicity opportunity you could imagine for the women alone, from every talk show and newspaper and magazine. They all wanted to talk to these women. It continues to build and it has been magical. This is an example of success breeding success.
TQ: We were on cloud nine both during the movie and then after, during the Q&A. We spent a lot of time trying to recreate that same screening at Sundance around the country. We probably screened it for free to around 20,000 people [through festivals, Academy screenings, local theatre events, etc]. The film's success garners the women in this film the success they deserve.
Because of the film's success there are people in the industry who come to know these women and come to know their work and it's led to extraordinary opportunities for them, which in turn brings the focus back to the women. They were invited to sing the national anthem at the Rose Bowl.
Each one of them would argue this film has been a renaissance for their careers. David Letterman invited Darlene Love [one of the singers profiled in the film] to be interviewed on the couch for the very first time although she'd appeared on the show 26 times as a singer. Now Oprah is developing a movie about the life of Darlene. It's an incredibly rewarding experience as a distributor.
What was it about Inequality For All that piqued your interest?
TQ: The issue-driven doc is so interesting – it's a way of bringing strangers together and showing them an issue in 90 minutes, especially in this age of soundbites. Only through this movie did I understand the myriad of issues facing society today. What other piece of content can do that and bring strangers together and mobilise around an idea?
Tell us about the Donald Rumsfeld doc, The Unknown Known.
JJ: One of the goals we had when we started RADiUS was there were certain directors we wanted to work with. Errol Morris was at the top of that list. Working with Errol [on The Unknown Known] has been fascinating, hilarious and educational. It's been amazing to watch him ashe worked through several different cuts of the film.
What are some of the upcoming docs on the RADiUS slate?
TQ: We're actively buying more and hopefully will repeat our success. We bought our issue-driven film Fed Up at Sundance this year. It's the food movie food companies don't want you to see. We release Supermensch on June 6 and it's very much in the vein of 20 Feet From Stardom. Docs are a big, big deal for us. We're very focused on critical and commercial success for each.
How have you been able to reach so high in such a short time?
TQ: The goal was to buy the best films we could and to the credit of Bob and Harvey and David Glasser we were able to spend the first 11 months before we released a movie building our slate and output deals before we released Bachelorette.
We have the most extraordinary team [of ten] here and while we operate pretty autonomously we stay in regular contact with Harvey and Bob and it's inspiring to know we can always reach them quickly for an opinion.