René van Rooyen saw off doubters and stuck to her guns when it came to adapting the last in a celebrated quartet of 'Forest Novels' by celebrated Afrikaans author Dalene Matthee. Toorbos, literally 'magic forest' is the country's entry in the best international feature category at the Oscars and the first time South Africa has submitted a feature directed by a woman.
The period piece details the uprooting of a young 'forest woman', played by Elani Dekker, during the time of the final forest dwellers in the South African Knysna forests of the 1930s. Toorbos explores the woman's intimate connection with the forest and the complicated relationship she has with the man she marries, played by Stiaan Smith.
When van Rooyen first read the book in 2012 she declared she wanted to make it her feature debut but was told it was too ambitious for a then 27-year-old female filmmaker to tackle. Unfazed, she began working on the script and while it didn't end up being her first film (she co-directed romcom Mooirivier with Tim Theron in 2015), she finally shot it in 2019.
A KykNet and The Film Factory presentation, Toorbos is produced by André Scholtz and Dries Scholtz and backed by the National Film and Video Foundation, South Africa, Department of Trade and Industry South Africa, pay-TV giant M-Net and supported by the South African National Parks board. Johannesburg-based The Film Factory is handling international sales.
Just weeks after having her first child during lockdown, the Western Cape-based van Rooyen talks to Screen about what sparked her passion, the pressures of shooting in a remote, protected forest and re-inventing a dialect no longer spoken.
What was it about the book that made you want to adapt for cinema?
It is about two characters who have to learn not to compromise their beliefs, especially the female character, and how they can only find one another when they are in a tug of war. I could relate as a young 27-year old at the time, I thought it was a very authentic depiction of a young woman.
We do live in a patriarchal society but it is not necessarily a man that is making our decisions difficult or causing us to compromise our beliefs; it is the way we have been taught. It is learned behaviour and the society we live in. I found that as a young woman growing up that was one of the biggest struggles, not only as a filmmaker but standing up for myself in my marriage or in my beliefs, or the way I was doing my filmmaking, I was taught to compromise.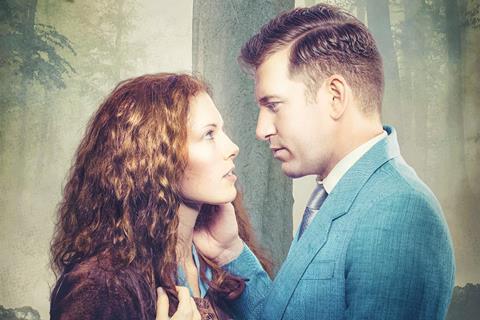 Please talk a bit about how you cast your leads
It was a long process and we saw a lot of actresses. Elani Dekker was the only one who could capture the innocence of an 18-year-old girl as well as that of a woman of 26 for me. She herself had to be quite connected to nature, I couldn't fake that.
The other important factor was to find Johannes. They are apart for a lot of the film so when they are together on screen there has to be a connection. In fact the connection is so good, Elani and Stiaan Smith are are together in real life, three years on. They fell in love.
Can you tell me about shooting in the Knysna forest?
This film is essentially about nature conservation so we had to work out how to film without impacting the forest. In the 1960s clearings were made to support the reintroduction of elephants into the forest. We used those clearings deep in the forest to build our villages and houses so we didn't touch any of the forest for the film.
We had a 13-minute drive in every day before the sunrise. It was cold and mid-winter and very muddy. But it was perfect for what we wanted to portray and give the audience the feeling of grittiness.
It can't have been easy. What was the biggest challenge you faced during the shoot?
It wasn't hard for me. It was hard for my lead actress, Elani Dekker. She was in every take almost, in every shot of the film. We were dressed warmly in thick clothes, she had to be in thin clothes, it was raining on her in extreme conditions. She had to go from an 18 -year- old to a 26- year- old. She had to change her dialect.
To make a period film shoot work in South Africa, the crew takes on a lot of strain. We had a donkey on set every day and it took them three hours to walk it to the set every day. Nothing was easy.
The language they speak is interesting. The film is in Afrikaans and the Forest people of the story speak an antiquated version of it.
We had a dialect coach Marth Munro for the actors for three months and based it on a 1950s research thesis, found at the University of Stellenbosch. It was a very lazy way of speaking and they assimilated a lot of words. Even my audience members who are Afrikaans speakers will have to read the subtitles. We rebuilt the language and use of sounds from the thesis. I couldn't find a recording or anything of the way they spoke.
What would you like international audiences to take from the film?
I think the bigger themes are extremely relevant today. The questions she has are: 'Do I choose financial prosperity and comfort? Or do I fight for this soul within me and my connection to nature?'
It is a very relevant struggle. Are we mindful of our inner voice and the way we think and feel about nature and protecting that or do we end up choosing financial prosperity and economic development?
Do you have your next film lined up?
I have written a psychological thriller called Fear. It is also Afrikaans, set in the rural landscape of South Africa and deals with white anxiety in Africa. I have had very positive feedback on the screenplay and I am awaiting feedback from financing. I hope to shoot it in winter. It's a genre film. I moved away from a really romantic, poetic piece to genre. I wanted to do something personal and smaller.