With virtual production techniques increasing in popularity during the pandemic, the industry workforce must get to grips with the new technology.
The global film and television industries have had to adapt to survive the impact of the Covid-19 pandemic. Sets have become regimented by new safety protocols and, alongside rules requiring masks, bubbles and testing, technology has radically transformed the way productions are operating in a socially distanced world.
At a time when crew members are working from multiple locations, virtual production techniques have offered a way to overcome these physical boundaries. Cast members remain on set, performing in front of giant LED screens that play 3D immersive location imagery, and game-engine software — previously used in the development of video games — combines that live action with in-camera visual effects, augmented reality and computer graphics in real time.
This digital environment allows filmmakers to feedback and collaborate online during the entire production process. Disney has been a leader in this field: high-profile projects to have already embraced virtual production include Star Wars spin-off The Mandalorian for Disney+ and live-action feature The Lion King.
While it may seem to have arisen from immediate necessity, the embracing of virtual production techniques is an acceleration of large-scale innovations that were already poised to bring change in global production. Along with the obvious Covid-19 benefits, other positives include a reduced environmental impact and the removal of geographical restrictions to talent.
Bespoke courses
It has become obvious there is an increased demand for these new skills as teams begin to understand the benefits of virtual production. Individual companies have responded accordingly. In July 2020, Epic Games launched the Unreal Fellowship for film VFX and animation professionals, a four-week intensive, remote-training course for 50 individuals that includes 90-plus hours of training on real-time 3D creation platform Unreal Engine and a $10,000 stipend for each professional trainee. (A pilot programme, which ran in May 2020, attracted participants including former DNeg and Digital Domain artist David Breaux, whose credits include The Jungle Book and Monster Hunter: Legend Of The Guild.)
ScreenSkills, the UK's industry-led skills body, believes virtual production is here to stay, and is developing programmes and initiatives to ensure the country's workforce is well-equipped to handle these emerging technologies. "The film and TV industries have always been utterly inventive, and hence disruptive," says ScreenSkills CEO Seetha Kumar. "We find a creative technological or creative solution whenever there's a challenge.
"In the early stages of the pandemic, we all had to adapt and understand the implications of working remotely," continues Kumar. "During lockdown, we put together a host of online sessions about producing during Covid, and one of the early ones was with BT Sport about their use of virtual studios. This made us think there was change happening right in front of our eyes."
While virtual production is still in its infancy, training initiatives are being offered now. ScreenSkills has partnered with Escape Studios and Epic Games to offer 'Unreal Pick and Mix', an online suite of free workshops to help media professionals make the move into real-time virtual production, which runs March 15-26, 2021. Also in March, StoryFutures Academy, the UK's national centre for immersive storytelling led by the National Film and Television School (NFTS) and partnered by the University of London's Royal Holloway and Brunel University, is running two online introductory labs on virtual production, supported by ScreenSkills and the BFI's Future Skills Programme.
Common understanding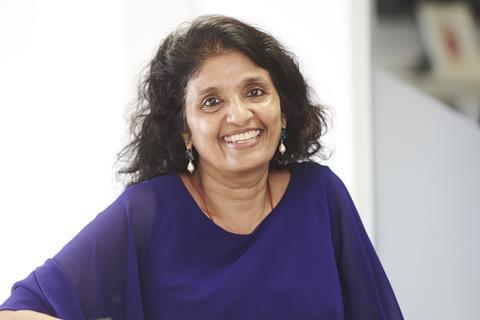 Yet with the situation evolving so rapidly, Kumar says it is essential to balance a speedy response with a focus on bedding in core training standards at an early stage, and a commitment to developing long-term strategies.
"One of the first things we had to do was find a common understanding of what people mean by virtual production," she says. "We organised a roundtable chaired by [ScreenSkills board vice-chair and former joint managing director of DNeg] Alex Hope, and we invited people from the VFX industry and within production."
Alongside ScreenSkills' involvement in additional roundtables with the DCMS, the Department for International Trade, and UK and US production, VFX, hardware and software companies, four key areas in the virtual production pipeline were identified: pre-visualisation and virtual scouting; building virtual production studios to include the likes of LED screens, camera encoding and motion capture; running virtual production stages; and creating the digital content to put onto the on-set LED walls.
Once those were marked out, the next step says Kumar was "to agree the fundamental skills and know­ledge required in these different roles, and at different levels of seniority." To do this, ScreenSkills has established a steering group of leading industry figures that, together with a working group of production professionals along with those from academic institutions, will develop a set of training standards.
"This means we will be able to provide industry trainers, course designers and those within higher education with a common approach," says Kumar, who adds that ScreenSkills will start to work with universities and colleges over the summer to build virtual production into new or existing courses. Those courses will be aimed at both those newly entering the industry, and the retraining of established professionals.
"There are going to be different sorts of collaboration," says Emma Turner, continuing professional development mentor at ScreenSkills. "The end of the system is going to have to work with the beginning of the system, and vice versa.
"None of this would have been possible 18 months ago," adds Turner, pointing to the opportunities opened by the rapid evolution of technology and, particularly, increased rendering speeds. "It's fortuitous the technology is there, and the pandemic has opened people up to the possibility of doing things in a different way."
According to Kumar, this perfect storm has created a window of opportunity for the UK industry. "We are trying to achieve coherence [in virtual production training], because we have an opportunity to gain a position of knowledge and expertise on the global stage," she says. "If you want to do that, you have to carefully structure it and aim for the highest possible standard and the greatest possible depth of know­ledge. Because otherwise how do you unleash its potential?"