Did the record-breaking success of 2015 help tempt consumers back into the cinema-going habit?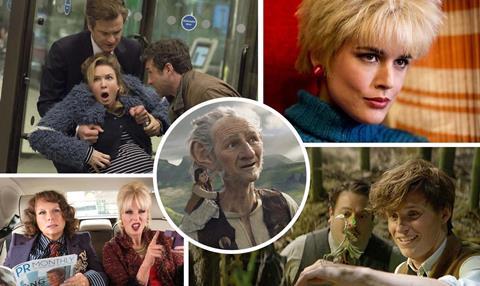 In 2015, UK cinema-going returned in spectacular fashion after a dismal 2014, with record box-office figures and the fourth highest admissions since the dawn of the video cassette. But how would 2016 measure up, absent equivalent treats such as James Bond, a Jurassic Park reboot and the first Star Wars film since 2005?
Miraculously, the answer is that it has stayed the pace - although films such as Moana, Rogue One: A Star Wars Story and Passengers will really have to deliver the goods to match Star Wars: The Force Awakens last year.
"Admissions to the end of October are up 2% year-on-year," says Tom Linay, head of film at cinema advertising market leader DCM. "We could finish on parity for admissions with last year, and up on box office. I don't think anyone would have thought that possible at the start of the year."
In 2016, total UK box office crossed £1bn ($1.25bn) in record time on October 8, beating the previous record set last year when the milestone was reached on October 25, and getting there much quicker than in 2014 (November 23).
This outcome is especially surprising considering no 2016 release has yet reached £50m ($62.3m) at the UK and Ireland box office - Fantastic Beasts And Where To Find Them may be the first to do so.
Bridget Jones's Baby and The Jungle Book, the two biggest films of the year so far, have both been pleasant surprises. "There was scope for them to be big, because they're big properties with a huge amount of history," says Linay, "but they exceeded everybody's expectations."
The UK was the biggest international market for Deadpool while certain titles performed notably better in the UK than overseas, chief among them Bridget Jones's Baby. The film has managed just $24m in the US, compared to $72m and $40m for the previous two instalments.
The BFG, which also disappointed in the US with a gross of $55m, is the 10th biggest film of the year to date in the UK. Its release was boosted by a huge affection in the territory for source author Roald Dahl, whose centenary of birth was celebrated this year.
"We were a little concerned," concedes Alex Hamilton, managing director at The BFG's UK distributor eOne, regarding the soft US opening of the film by Disney. "But we felt confident about what we'd got in the bag from a campaign perspective. We played every angle, and to be fair we had some angles that the US didn't, and for us it was our huge priority."
eOne is emerging as one of 2016's leading UK performers. The total box office for its releases is running 104% up on the same time last year, with £97m ($120.8m) to date, also boosted by The Girl On The Train.
Hamilton hopes to beat eOne UK's annual record of £106m ($132m), which was achieved in 2013 when the Momentum slate was absorbed and the combined company released more than 40 films.
"Among independent distributors, only Entertainment has passed £100m ever, apart from ourselves," he says. "They passed it in 2002 and 2003 at the height of The Lord Of The Rings and their New Line run. We'll do it again this year, and we've done it without a pre-existing franchise."
UK films at the local box office
With UPI's Bridget Jones's Baby delivering 2016's biggest homegrown hit so far, and Fox Searchlight's Absolutely Fabulous: The Movie and MGM/New Line's literary adaptation Me Before You also performing above expectations, it has been a strong year for UK films, particularly those made with a US partner.
Zygi Kamasa, UK and Europe CEO at Lionsgate, invests in a small slate of UK titles each year.
"Every time we do a slate of five or six British movies, like any slate, not every movie works but, across five movies these last 12 months, three of them were very successful for us: Sing Street, modest, but a wonderfully charming Irish movie; Eddie The Eagle was a great result, nearly £9m ($11m) box office; and Brotherhood, just shy of £4m ($5m). They're not as expensive to make as the American films, and consumers keep wanting to see movies about themselves, or to see themselves in the locations or the characters that they recognise or understand or know."
Backing Noel Clarke's Brotherhood, eight years after the success of Adulthood, was a particularly gutsy move, since the conventional wisdom was the urban genre was dead in the water - and Clarke's recent output as a producer, director and writer had been commercially patchy at best.
"There was definite nervousness in the industry about whether it merited a third movie," agrees Kamasa, "but the fact no-one had really tackled that urban space for many years was one of the reasons we wanted to do it."
In UK documentary, Oasis film Supersonic delivered a solid result for eOne, with £748,000 ($930,000) so far, but it has been eclipsed by My Scientology Movie's £1.08m ($1.35m), the first film by documentarian Louis Theroux to be made for the cinema.
Altitude deserves credit for acquiring the title after several other distributors kicked the tyres and evidently decided Theroux was a TV star with no track record at the box office.
In October, the UK's two big Cannes hits, Ken Loach's Palme d'Or winner I, Daniel Blake and Andrea Arnold's American Honey, both backed partly by the BFI, were released a week apart.
Loach's angry polemic quickly became a rallying cry in the battle against the government's benefit cuts - a visibility that has helped the eOne release to £2.9m ($3.6m) so far.
The 163-minute running time of American Honey, released by Universal, proved a challenge for cinema programmers, and the film has grossed just £465,000 ($580,000) to date.
Elusive commercial success
But it is the new generation of UK auteur film-makers for whom real box-office success remains just out of reach.
Of the five nominees for best film at the BIFAs, there is a big commercial chasm between I, Daniel Blake and American Honey and the other three nominees: Notes On Blindness, Under The Shadow and Couple In A Hole. They have managed a combined UK gross of just £177,000 ($220,300), while Adult Life Skills (six nominations) has managed £63,000 ($78,500).
The Survivalist, which won the debut director prize for Stephen Fingleton a year ago at the BIFAs, opened in February, grossing £24,000 ($30,000) for distributor Bulldog, then converting to a much better result on DVD.
"Making successful contemporary British films for the theatrical market is beyond hard," says Ed Fletcher, managing director at Soda Pictures, who had considered buying The Survivalist. "As an industry, we find it a challenge. I really admired The Survivalist but I thought, 'If I run my numbers on this, it will not make sense theatrically.'"
Engaging younger cinema-goers for edgy, independent UK films is proving especially difficult. "That's what we found on [2015's] The Goob," says Fletcher.
"Despite a significant digital spend, it was still older audiences supporting it. It's frustrating. British indie films are not connecting in a way that music always has. Noel Clarke's Brotherhood is a recent exception but it's also titles like Catch Me Daddy and The Goob that need to be part of an industry push to strategically address this."
International films at the UK box office
This year has delivered a £1m ($1.24m) non-Bollywood foreign-language hit in Pedro Almodovar's Julieta for Fox/Pathé. Curzon's Son Of Saul with £501,000 ($623,000), Mustang on £322,000 ($400,600) and Victoria's £511,000 ($636,000) also performed well.
New distributor Phoenix entered the marketplace, targeting the UK's large Polish population with Polish hits such as Pitbull: Public Order, which took £544,000 ($678,500), and Planet Single on £230,000 ($286,800). And Soda and Peccadillo achieved surprise successes with Rams' £272,000 ($339,000) and Embrace Of The Serpent on £270,000 ($337,000), from Iceland and Colombia respectively.
"We've definitely done less foreign-language this year, compared to previous years," says Ed Fletcher of Soda, which released Rams. "That is in part shifting audiences. We're recognising you can't do anything other than a critically driven, must-see film. So for us, Toni Erdmann, which we release next, obviously fits that category."
Fletcher emphasises "point of difference" as being crucial. That is what Rams offered, both in terms of pitch - "it was the Icelandic sheep-farming comedy" - and also "the landscape as a language".
He adds: "Embrace Of The Serpent was one of those films that nobody rushed to acquire. Peccadillo did a fantastic job of making it look really quite sumptuously interesting and spectacular and epic, and conveying that there would be a great story there. And at its essence, it has a point of difference."
For Mike Goodridge, CEO of UK-based sales agent Protagonist, the attitude among distributors to foreign-language films remains very much a "wait and see" approach.
"Very rarely can you pre-sell a non-English language film, unless it's the Dardenne brothers or Pedro Almodovar, or Michael Haneke," he says. For Goodridge, it is not just in language that distinctiveness remains crucial.
"We're looking at a time where it's really tough-going, certainly in the theatrical space. If there's anything you can identify at the moment, it is that cinema, certainly in the arthouse space, offers an experience with the director that is different from a studio movie, different from television."